288 Leadership Lessons From Taco Bell, KFC &Pizza Hut, David Novak, Founder/former CEO Yum! Brands & Author of Take Charge of You
Wednesday 31st May 2023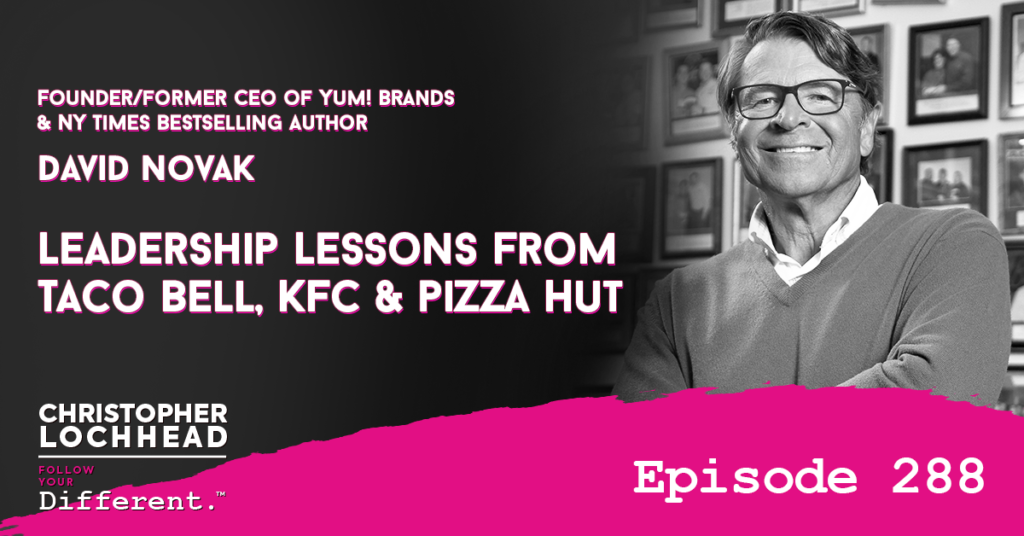 Podcast: Play in new window | Download (Duration: 1:12:08 — 49.5MB) | Embed
Subscribe: Apple Podcasts | Google Podcasts | Spotify | Pandora | Stitcher | RSS | More
It is said that the people who have the most legendary careers are what you might think of as other-directed. The key to a successful life is to remove your joy blockers, and the goal of a career should be to, as Warren Buffett says, dance your way to work. We talk about all these and more on Christopher Lochhead: Follow Your Different with our guest David Novak.
David Novak is the co-founder and was the CEO for 17 years of the legendary Yum! brands. Yum! is the world's largest restaurant company, which owns Kentucky Fried Chicken, Taco Bell, and many others. David also has an amazing podcast called How Leaders Lead, and a new book called Take Charge of You: how self-coaching can transform your life and your career.
Learn how be a legendary leader, executive, and entrepreneur from the best by listening in to this episode.
David Novak on Looking Back on his Career
The conversation begins with David's new book, and how it is a window to his career and life, and the interesting events and tidbits that go along with it.
"I was the first kid in my family to get a college education, got a degree in journalism, didn't get an MBA, ended up becoming a CEO, and have the time of my life building a fantastic company. Now I'm in my next phase of my life where I'm fortunate enough to be able to spend time on the things that truly give me joy." – David Novak
Nowadays, David focuses on Leadership Development, and shares his thoughts and insights in his podcast, How Leaders Lead by David Novak. He also has time to write books, which has been a big passion of his.
David Novak on Reaching One's Goals and What Comes After
The topic shifts on how most of the books and guides in entrepreneurship that is published are focused on personal growth and development, but there are only a few on what happens when you achieve those goals. Because life doesn't stop when you reach those goals – there has to be something else to direct your passion into.
David agrees and adds to it that after proving yourself and learning to manage and eventually lead people, the goal post shifts ever so slightly, and you find other ways to draw success.
"Well, I have to tell you, that a lot of the research out there says that, you know, the people that are the happiest are other directed. What I've found is that the more other directed I got, the more I focused on other people's success more than my own, the more success I ultimately got. And, you know, it's kind of an amazing thing." – David Novak
On the Current State and Rising Up Again
The conversation then goes to the current state of things, where inflation and the looming threat of recession is on the rise. David comments that there is current a huge divide, particularly in the haves and have nots, especially in the environment that they are in.
That is not to say that there aren't any people who thrive in harsher environments, but David wishes that people would at least have the chance to nurture themselves and grow.
"I hope one day, my goal is somehow from all the leadership development I do that there'll be one person that will rise up in this country and inspire people again." – David Novak
To hear more from David Novak and how you can take charge of you, download and listen to this episode.
Bio
David Novak, Founder/former CEO Yum! Brands & NY Times Bestselling Author
Starting with an undergrad degree in Journalism from the University of Missouri, David grew from his first job as a copywriter at a small ad agency to become a New York Times best-selling author, co-founder and former CEO and Chairman of Yum! Brands, the world's largest restaurant company (KFC, Taco Bell, Pizza Hut), and now, founder of the non-profit organization, David Novak Leadership, Inc. and host of top-rated leadership podcast, How Leaders Lead with David Novak.
David was named "CEO of the Year" by Chief Executive magazine, one of the world's "30 Best CEOs" by Barron's, one of the "Top People in Business" by FORTUNE and one of the "100 Best-Performing CEOs in the World" by Harvard Business Review. And he's passed it on. Today, there are over 26 CEOs of major American corporations that David has coached or led earlier in their careers.
Links
Connect with David Novak!
How Leaders Lead | How Leaders Lead – Twitter
Read the book: Take Charge of You
We hope you enjoyed this episode of Follow Your Different™! Christopher loves hearing from his listeners. Feel free to email him, connect on Facebook, Twitter, Instagram and subscribe on iTunes!