211 How A Grandfather Survived The Holocaust, And A Grandson Became An Entrepreneur with Daniel Gefen
Monday 25th September 2023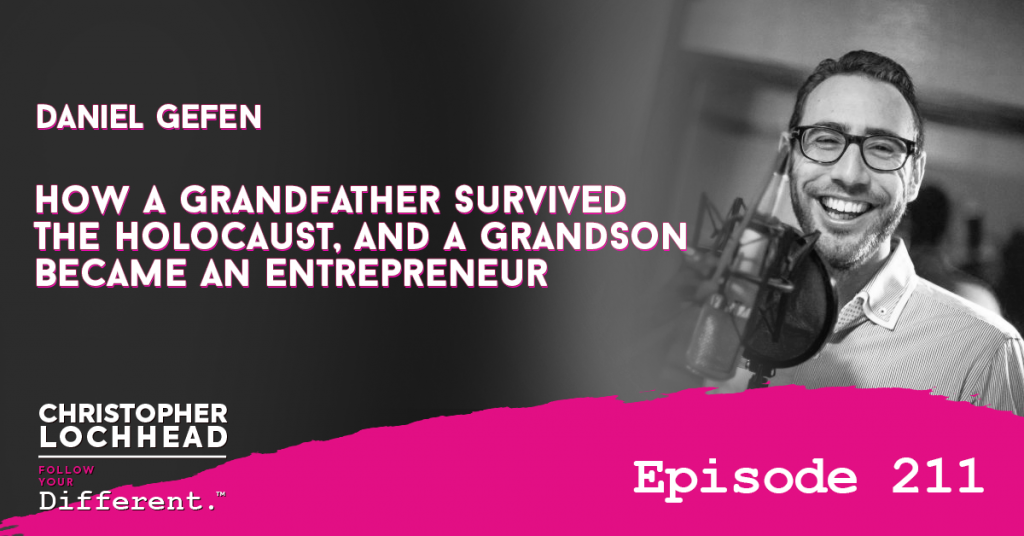 Podcast: Play in new window | Download (Duration: 1:19:14 — 54.4MB) | Embed
Subscribe: Apple Podcasts | Google Podcasts | Spotify | Pandora | Stitcher | RSS | More
In Hebrew, the name "Mosha" means "Salvation". That was the name of a 13-year-old boy who was forced into a Nazi concentration camp, and spent the next five years in 18 more. Yet somehow, he lived.
In this episode of Follow Your Different, Daniel Gefen shares a real, raw dialogue about his grandfather Mosha, and how he has influenced Daniel's life and his drive to become a podcasting entrepreneur.
You'll also hear about how Daniel embraces faith, family, and philosophy to guide his life, and how he turns frustration into fascination.
Mosha, the Survivor
Daniel shares the story of his grandfather, Mosha. Mosha was a survivor of the Nazi concentration camps. He was shot, buried alive, and hanged twice, yet he somehow managed to live on.
After the war, Mosha fled to Switzerland. He had no money, no connections, and couldn't even speak the language. While all he had was himself, he made full use of his talents. He built a farm by himself, and continued to build himself up until he had his own hotel business.
Yet even as a multimillionaire hotel owner, Mosha had always strived to live a simpler life. All his focus was on how he could help others be happy.
"The reason he opened the hotel wasn't to make money. The reason he opened the hotel was because he wanted to serve people. That's how he lived his life. He lived in a very small little apartment above the hotel his whole life, didn't drive a car, and gave away pretty much almost all of his money to charities." – Daniel Gefen
Giving Voice to Others through Podcasting
Daniel talks about how the more recent generations have become too focused on themselves. While it's not a bad thing to have some self-love, being too wrapped up with oneself can narrow one's view.
Sometimes, focusing outwardly and living for something or someone else can give you a higher purpose. For Daniel, it was giving voice to those who have long yearned to share their stories through his podcasts.
"I kind of feel like my career is all about giving people exposure right through podcasting. My whole career is all about giving people the opportunity to promote and share their stories and get themselves out there on the biggest podcast. Ironically, I feel like I'm doing something that my grandfather couldn't do." – Daniel Gefen
Don't Lock Yourself in a Should Prison
Daniel describes how his grandfather's past trauma has also affected future generations of the family. One of the affected parties is his father and Daniel's relationship with him growing up.
Yet he doesn't blame his grandfather nor his father for it. Instead of letting things stay as it is, Daniel strived to reach out and build a strong connection with his father.
Rather than focusing on what other people should do, Daniel decided to focus on what he could do for them. He also learned to choose what's best given the situation, rather than hoping for that perfect ending.
"I have a mentor, a rabbi, who many times has said to me, "You know, do you want to be right? Or do you want to be happy? You can't always have both. Sometimes you can. But a lot of times, you cannot have both. So what do you want? You get to choose." " – Daniel Gefen
To hear more from Daniel Gefen and on how his grandfather inspired him to be an entrepreneur, download and listen to this episode.
Bio:
Daniel Gefen is a serial entrepreneur and founder of Gefen Media Group – a podcast production and booking agency helping clients build a loyal following through the power of podcasting. He is also the host of the top-rated podcast show called 'Can I Pick Your Brain?' which has exceeded over 150,000 downloads and was named top 26 podcasts to listen to by CIO Magazine. He has interviewed over 100 thought leaders, Billionaires and celebrities.
In 2017, he was named one of the top 25 most influential influencers and has been featured in dozens of media publications including Forbes Inc, CIO, Influencive, Success Radio and over 70 leading podcasts.
Daniel lives with his wife Lorren and 4 children in the hills of Bet Shemesh, Israel.
You can listen to his show by searching for 'Can I Pick Your Brain?' on iTunes or other podcast platforms.
Links:
Website: Gefen Media Group
Get Booked: Podbooker.com
LinkedIn: in/GefenMedia
Amazon Books: The Self Help Addict
We hope you enjoyed this episode of Follow Your Different™! Christopher loves hearing from his listeners. Feel free to email him, connect on Facebook, Twitter, Instagram, and subscribe on iTunes!