272 The Culture Playbook with NYT Bestselling Author Daniel Coyle
Monday 25th September 2023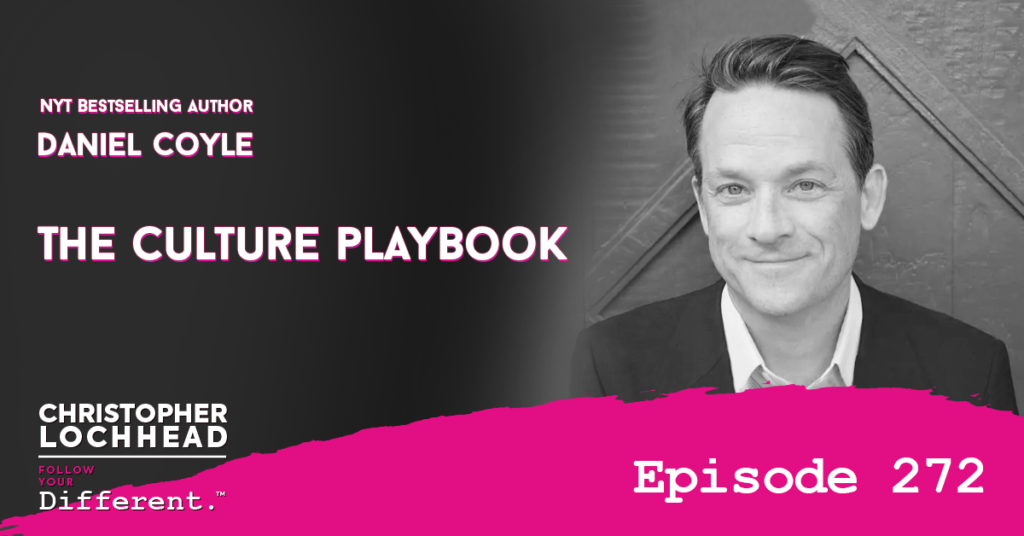 Podcast: Play in new window | Download (Duration: 46:10 — 31.7MB) | Embed
Subscribe: Apple Podcasts | Google Podcasts | Spotify | Pandora | Stitcher | RSS | More
Many people are asking how do we create legendary cultures in a digital / hybrid work environment. On this episode of Christopher Lochhead: Follow Your Different, we ask Daniel Coyle this question: how can we create legendary cultures?
Daniel Coyle is a New York Times bestselling author. His book, The Culture Code, was named the Best Business Book of the Year a little while back by Bloomberg. He has a new book out now, called The Culture Playbook: 60 highly effective actions to help your group succeed.
He is the man on all things culture, so stay and listen to learn more.
Daniel Coyle on Writing His New Book
The conversation starts of with congratulating Daniel Coyle on publishing his latest book, The Culture Playbook. Daniel follows up on his thoughts on how he feels when launching a new project or book.
"We are living through a moment, aren't we? It's like, when you start a project like this, you're never quite sure when it's going to land. And everybody's trying to figure out, "How are we going? How are we going to do this? How are we going to work together now? Everybody's having that conversation now. It is a moment, and it's kind of fun to explore what's possible" – Daniel Coyle
The Transition Period
Daniel was then asked about his thoughts on certain huge companies that are telling their people to go back to the office. Another thing to note was that those who are pushing for these things are usually those who are Native Analogs – people whose life don't revolve in the digital sphere.
Daniel thinks that this current period is a transitional phase, and it's a way for companies to see what works and what doesn't.
"Is it transition and it is totally fascinating to see us people self-organize in this new world. And there's basically two schools of thought about it. The first school of thought is, this was a rupture. People things will never go back to the way they were, people discovered that they had lives outside of work.

Then there's another school of thought, which says, Yeah, this is kind of part of a larger, longer journey, there was a sort of zoom out where people realized, hey, life's a lot bigger than work. But at the same time, that there is kind of a joy and a pleasure and a positivity and a productivity that comes out of being in the office. It's maybe not five days a week, maybe it's three, maybe it's two."    – Daniel Coyle
Daniel admits that he himself falls under the second school of thought, and that going to the office can be quite beneficial for productivity, even if it's just 2 to 3 days off a week.
Organizing Your Office for the New Work Experience
On the topic of adopting the hybrid workplace, one of the issues brought up was the lack of coordination. For example, one could be scheduled to be at the office, yet the people who they have to work or have a meeting with are staying at home.
Daniel agrees that this is currently happening in a lot of offices, and is something that the teams and management need to address. They have to be intentional and work out schedules where everyone in the team is in the office at the same time, so they can meet and collaborate on what needs to be done for their projects.
Management can also help in coordinating schedules, so that different teams that need to work together can have overlapping schedules.
But at the end of the day, the initiative to coordinate should come from the teams themselves. Otherwise, you'll be stuck in your cubicle, still doing zoom calls with your teammates.
To hear more from Daniel Coyle and how to create a legendary culture in your workplace, download and listen to this episode.
Bio
Daniel Coyle is the New York Times best-selling author of The Culture Playbook, The Culture Code, The Secret Race, The Little Book of Talent, The Talent Code, Lance Armstrong's War, Hardball: A Season in the Projects and the novel Waking Samuel.
Winner (with Tyler Hamilton) of the 2012 William Hill Sports Book of the Year Prize, he is a contributing editor for Outside magazine, and also works a special advisor to the Cleveland Indians.
Coyle lives in Cleveland, Ohio during the school year and in Homer, Alaska, during the summer with his wife Jen, and their four children.
Link
Website | The Culture Playbook | Daniel Coyle's Works
We hope you enjoyed this episode of Follow Your Different™! Christopher loves hearing from his listeners. Feel free to email him, connect on Facebook, Twitter, Instagram and subscribe on iTunes!