165 The Gladiator Way w/ American Gladiator Dan "Nitro" Clark
Friday 1st December 2023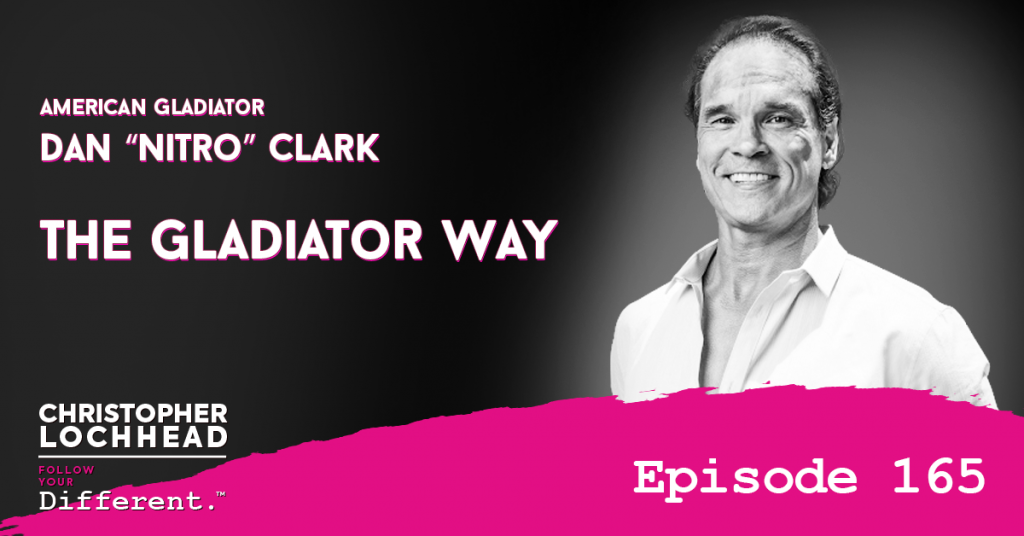 Podcast: Play in new window | Download (Duration: 1:01:55 — 42.5MB) | Embed
Subscribe: Apple Podcasts | Google Podcasts | Spotify | Pandora | RSS | More
Today, we have a super fun episode with American Gladiator superstar Dan Nitro Clark. He's a former NFL player, best selling author, speaker, fitness freak, and heart attack survivor. For a big, manly, strong, muscley looking dude with a reputation like his, you might be surprised to hear he is incredibly open, candid, and vulnerable.
We dig into his life as an athlete and a celebrity. He talks about what it's like to be among some of the earliest athletes in America to take steroids and what he learned from that. We talked about coming back from major setbacks and a whole lot more!
Steroids Use
Dan shares he started using steroids back when he was a freshman College. He wanted to secure a football scholarship badly and he resorted to the "in" thing at that time. Back then, it was unregulated and the only information available about it is that the body recuperates faster.
"I think the fallacy in the misinformation is, anybody who takes steroids is going to get huge. No, you're not going to get huge. You still got to wait. You got to move waves. It still takes in a tremendous amount of work and effort and diet. Man, you got to go be willing to die, every workout." – Dan Nitro Clark
The Downside of Steroids
As a strong promoter of steroids use, Dan still warns of the responsibilities one must take before, while and after using steroids. Steroids make the blood clot more so there are indications with regard to medical operations and procedures. It also increases estrogen levels in the body which explains why some men grow "manboobs."
"It puts you out on a fair playing field. So in that sense, I don't know if there's a lot of harm. I think the harm comes when you start to do monstrous levels. With anything excess, and there's equally when you have low testosterone, there are increased cardiac incidences. All these other side effects, as well and both sides too much too little. The idea is to be in the optimum range." – Dan Nitro Clark
Wearing The Meatsuit
In a rare moment, Dan shares his personal experiences growing up. Looking back, he shares what he experienced with his divorced parents, the untimely death of his older brother at 12 years old, and how he coped with life as a broken young man.
"I didn't have anybody to console me. His death my mom was Japanese, she barely spoke the language. So, you know, I learned to take care of myself emotionally. I learned that big boys don't cry. I learned you don't talk about your feelings. I learned you sucked it up. I think that was the thing. Nobody can hurt me. Nobody is going to touch me. I think that was the whole idea Why? You know, I wanted to be bigger, stronger, faster. I wanted to have this meat suit on." – Dan Nitro Clark
To hear more about Dan, the American Gladiator, download and listen to this episode.
Bio:
Dan is a former pro football player, American Gladiator, #1 Bestselling Author, TV Host, Entrepreneur, and Speaker.
He has been featured on Good Morning America, The Early Show, Access Hollywood, Entertainment Tonight, ESPN, EXTRA, People, Time Magazine, Esquire, Men's Health, Sport's Illustrated, and the Huffington Post to name a few.
If you're looking for an extraordinary speaker on the topic of resilience and motivation, you just found him.
Dan is a thought-leader and storyteller with the rare capability to not only inspire your audience to change but also teach them how.
Links:
We hope you enjoyed this episode of Follow Your Different™! Christopher loves hearing from his listeners. Feel free to email him, connect on Facebook, Twitter, Instagram and subscribe on iTunes!