096 Performance Marketing & Podcasting Media w/ Dan Granger, CEO of Oxford Road
Monday 25th September 2023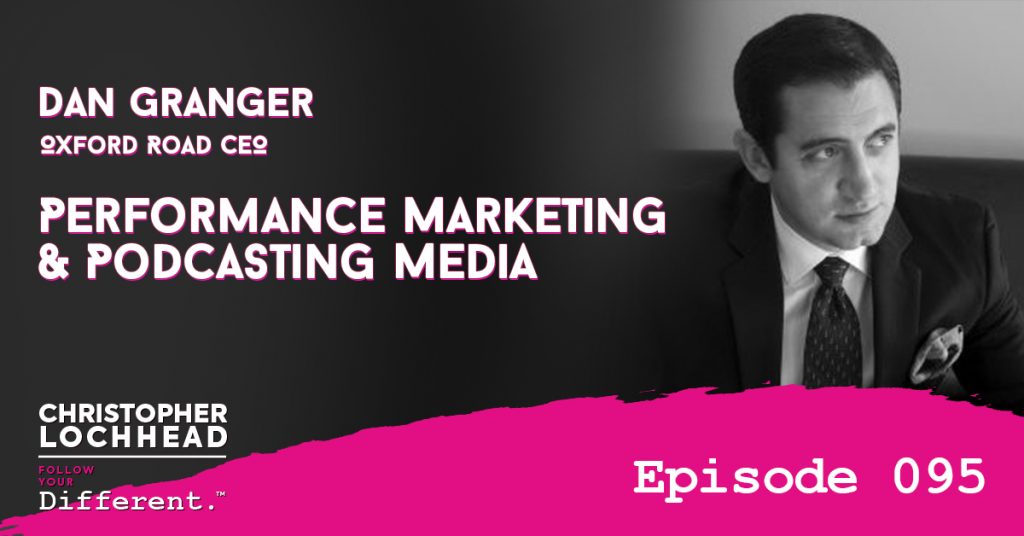 Podcast: Play in new window | Download (Duration: 54:34 — 50.2MB) | Embed
Subscribe: Apple Podcasts | Google Podcasts | Spotify | Pandora | Stitcher | RSS | More
Podcasting has never been hotter! Dan Granger joins us today to have a unique, thoughtful and inspiring conversation about performance marketing & podcasting media. He is the CEO of Oxford Road, the pioneer in digital performance advertising, which he also talks about today.
The Incubation Period
Dan has done an incredible job of being early in new digital areas that produce meaningful results both for a performance and branding perspective for marketers.
He started paying attention to podcasting way back in 2006 but not only until the year 2012 did he start monetizing it, through advertisement placement on podcasts. Officially in 2013, they started working with unheard-of brands like Zip Recruiter, Blue Apron and Hulu.
"I had a 10-year background in radio. What was interesting is we get to ride two simultaneous waves that were really, really influential in the marketplace—both in media and general business." – Dan Granger
Startups Building Businesses in Podcasting
Dan notes that it was all early adapters—geeks and gamers—who tried out podcasting and they resonated with people. Listeners appreciate the fact that something different happens technologically. In addition to that, the audiences were willing to try something that was entirely different and "disruptive."
"I'm listening to audio in a way that has never been consumed before." – Dan Granger on early listeners of podcasts
Podcasting is a big deal. Dan shares how a lot of brands got their growth spurt at the back of the podcast industry. They were efficient in buying these podcasts before it started to become popular with the mainstream.
"It really changes when you go 'I'm really scared to spend this first 10 Grand' to 'I just got sold for a Billion dollars' is a very different culture and priorities." – Dan Granger
Is Podcasting Merging With Radio?
Christopher agrees with Dan about companies differentiating themselves quickly via podcasting. However, he noted the indirect proportion of the amount of growth and the actual dollar brought about by advertising.
"Yes this is a technological advancement, that means you can have more commercials. So my prediction, in not too distant future, we're going to see advertising loads change tremendously. You may have to stick around till after the break." – Dan Granger
Christopher posed an important question about whether podcasting is merging with radio formats. Dan candidly answered that it has many threats more than opportunities and it will be hard to fight this movement.
"There will be individuals who will stay independent — Joe Rogan, Tim Ferris, probably a lot of people like yourself who are really just purist and committed to the craft and love the fact that it's not radio. It's got this pirate radio about vibe to it." – Dan Granger
To hear more about Performance Marketing & Podcasting Media and more relevant information about Dan, download and listen to the episode.
Bio:
Dan Granger is the CEO and founder of Oxford Road, a leading ad agency and ad-tech developer.
Since starting Oxford Road in 2013, Dan has teamed with countless "unicorn" companies on TV, radio and podcast advertisements on some of the country's biggest shows, including Tim Ferriss and Joe Rogan.
Links:
Adweek Contributor Dan Granger
The Future of Performance Marketing With Oxford Road CEO Dan Granger
Time Magazine: "Big Money Is Pouring Into Podcasting. Some Podcasters Love It — But Others Are Freaked Out"
Mickey D's is the latest company to hop on the branded podcast bandwagon
We hope you enjoyed this episode of Follow Your Different™! Christopher loves hearing from his listeners. Feel free to email him, connect on Facebook, Twitter, Instagram and subscribe on iTunes!