054 Claude VonStroke Legendary DJ & Music Entrepreneur
Monday 25th September 2023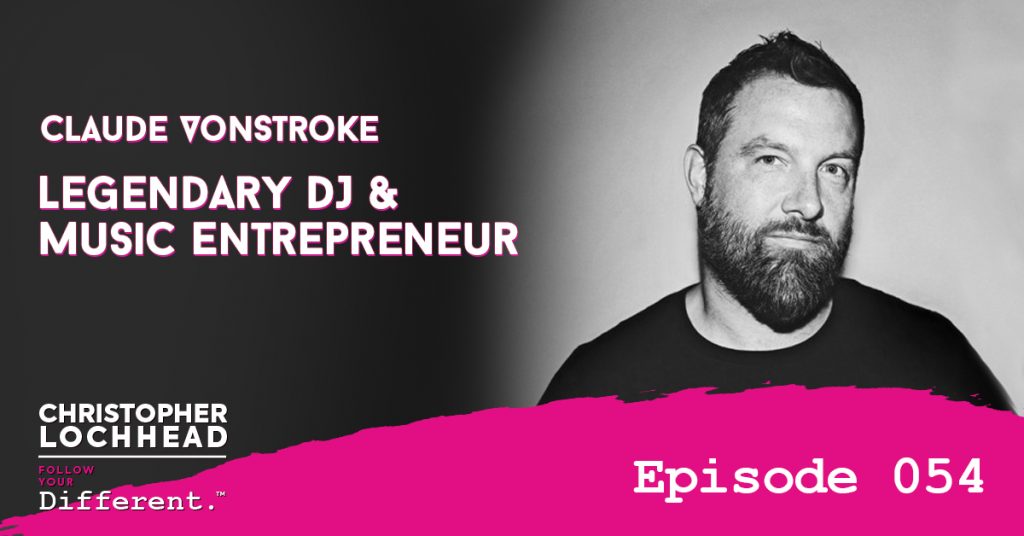 Podcast: Play in new window | Download (Duration: 1:04:11 — 59.0MB) | Embed
Subscribe: Apple Podcasts | Google Podcasts | Spotify | Pandora | Stitcher | RSS | More
Hailed as the best DJ in America, Claude VonStroke regularly performs for five to ten thousand people and even more.
He shares his origin story, how his truly genius and original plan to learn from the best DJs made him America's #1 DJ and how worked for 15 long years to make his dreams come true.
"I'm trying to tell you that going after the golden goose isn't always the best path to success… only a few can get lucky so we don't even try to go that route. We just try to be legit. We just try to be who we are, and because we do that, it works." – Claude VonStroke
Claude's Early Foray into Music
In an industry that celebrates mostly teenage geniuses, Claude stands out as someone who did gain music production until he was about 32. He grew up in a realm where a youngster could not just find anything on the Internet. Nobody in the neighborhood played the music he wanted to create so he had to forge an unusual path.
"There's no generational group of artists, every six years flipping over, that's showing another group of younger people that, 'Oh, you can be a huge techno DJ from Milwaukee.'" – Claude VonStroke
Cleveland-born, Claude's musical influences evolved after moving to Detroit. From listening to Uncle Vic playing Journey in Cleveland, he went on and began listening to The Electrifying Mojo's playlist of Prince and Run-DMC. As the kind of kid who was obsessed with listening to the radio every night, these artists shaped his music taste.
Fifteen Years in the Making
Claude didn't always want to make music. In the past, he also wanted to be a film director. He took a solid fifteen years to realize that he "sucked" at the project and people management aspect of filmmaking.
"The path is just totally different. It's like you need to be a real manager of personalities to be a great filmmaker. But to be a musician, you just kinda have to learn to manage yourself." – Claude VonStroke
Music remained in the closet for years.
Claude knew he was good at it but he didn't want to admit it and didn't see that DJing could be a job. He didn't start going to underground raves until he was 23.
A Genius Plan to Learn
To overcome the fact that he did not know anybody in the music industry, Claude put to use his filmmaking talent. He decided to make a documentary about some techno music and every music DJ who came to San Francisco after moving from Detroit.
In a fascinating turn of events, his inability to license songs forced him to make music that sounded like his interviewee's. By the end of it, he not only got every single piece of information about these DJs. He learned to make the songs that they made, and the rest is history.
"My first record was big because I've been bottled up for 20 years waiting to release a huge record." – Claude VonStroke
To hear more about Claude's story of creativity, entrepreneurship and massive risk-taking, download and listen to the episode.
Bio:
Barclay Crenshaw (a.k.a. Claude VonStroke)
DJ Magazine says he is the best DJ In America
Billboard Magazine says his label, Dirty Bird is one of the top 5 Independence Dance Labels
Mix Magazine named Dirty Bird the label of the decade
He's also got a critically acclaimed Radio Show and podcast called "The Birdhouse"
In this day and age of music cross-pollination, Claude VonStroke sits at the forefront of all that is good, proper and most importantly, fun.
VonStroke is just as relaxed in his home studio building beats as he is dropping massive underground records in a room filled by thousands.
DJ-wise, his relentless touring of every major city, festival and basement after-party around the world has only enriched his unique perspective on music.
As the owner of the record label, DIRTYBIRD, Claude also built an impeccable A&R roster signing acts like Justin Martin, Julio Bashmore, Catz n Dogz, Riva Starr, Tim Green, Breach, Eats Everything, Shadow Child and Shiba San, well before they broke out of their hometown scenes. (And even naming a few of these artists.)
Today, DIRTYBIRD continues to surprise and innovate in the underground dance scene, releasing an enigmatic combination of house, funk, dirty-bass and electronica.
Sonically, VonStroke has released three original artist albums, a remix album and several high profile mix and remix compilations.
Highlights include working with and on records for Bootsy Collins, Rihanna, Disclosure and Green Velvet as well as a few number #1 & #2 hits on Beatport.
Most importantly, VonStroke has kept it original, fun and funky.
A lot of his success can be attributed to a good attitude. Claude does not scowl and look mean while he DJs.
He does not pretend to know everything and he truly loves his fans.
He is grateful to be curating, creating and performing music for a living and he knows that the reason people go to parties is to shake their booty and have fun.
Catch him play at numerous festivals, clubs or even better at his legendary DIRTYBIRD BBQ series of outdoor events.
Links:
10 MOMENTS THAT DEFINED CLAUDE VONSTROKE
Meet the Women Running One of Electronic Music's Biggest Labels
The 5 Best Independent Dance Labels of 2017
#1 Label of the Decade, Mix Mag
We hope you enjoyed Claude VonStroke on this episode of Follow Your Different™! Christopher loves hearing from his listeners. Feel free to email him, connect on Facebook, Twitter, Instagram and subscribe on iTunes!