069 Trust w/ Christian Anschuetz & Bob Evans
Wednesday 20th September 2023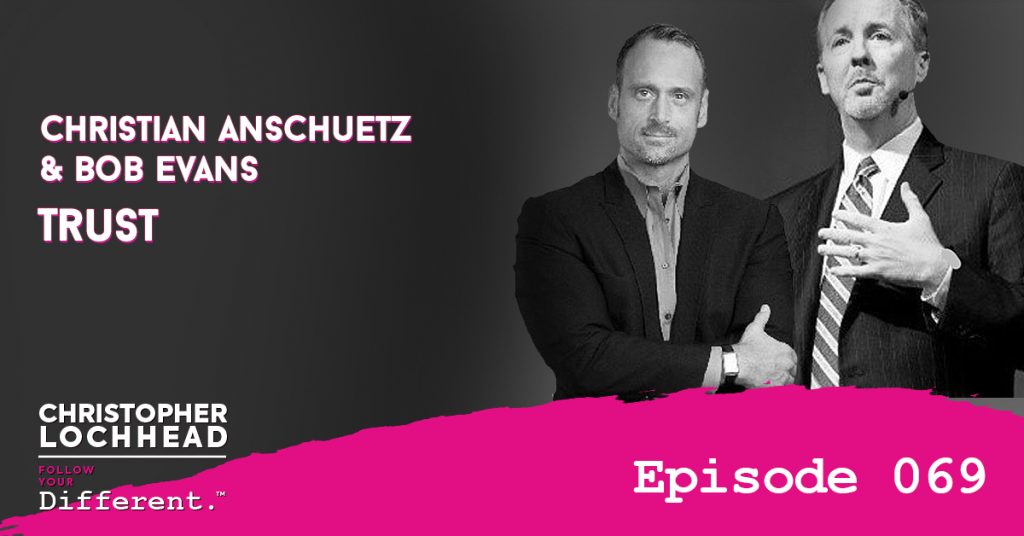 Podcast: Play in new window | Download (Duration: 1:29:16 — 81.8MB) | Embed
Subscribe: Apple Podcasts | Google Podcasts | Spotify | Pandora | Stitcher | RSS | More
In this episode, former Marine and Entrepreneur Christian Anschuetz⁠ and Bob Evans, host of "Cloud Wars Live" podcast⁠, joins us for a conversation about the connection between trust and happiness. They explore the dichotomy of why trust has never mattered more but remains so low in major institutions.
Trust is Collapsing
The conversation starts about personal definitions of trust and how trust and love coincide. The guests share anecdotes on their personal lives and ultimately, how trust adds to overall happiness in any relationship. Given the background of the guests, the discussion took a quick turn in discussing the trust issues of consumers to institutions.
"Whether it's on a corporate level or a personal level, who we are, on a large part, is the promise or commitment that we make and whether or not we keep those promises or commitment." – Christian Anscheutz
According to PR Firm Edleman⁠, only 48% of people trust the government and 47% trust the media. Moreover, The Atlantic says, "Trust Is Collapsing in America." Major corporations are not exempt from this discussion.
Breaking Promises
At a fundamental level, businesses are expected to have a set of commitments and promises around a product and service. These things make customers come back to the product/brand. However, we live at a time where a lot of major institutions have broken a lot of major promises to consumers, resulting in a massive takedown of trust.
"Trust is being eroded and trust is being created and both seem to be happening on a rocket speed today." – Bob Evans
Christian and Bob observed that as big companies rise, failure in internal leadership, model setting, and problem recognition also results. It may be an advanced world now. However, these companies have no clue in keeping their customers' trust.
Overriding Policies
Internally, policies guide management decisions, while externally, policies help the company lead in new markets. However, policies don't square well most of the time, especially in terms of bridging the gap between the consumer and the company. No matter how much employees want to help consumers, their hands are tied because of certain company policies.
"How do companies fail to see this and how do they fail to act? It's not a matter of doing stuff a little better or being more efficient. This is survival and death." -Bob Evans
To further enhance personalization with consumers, Christian and Bob suggest that companies should explore Artificial Intelligence in customer service. AI can understand a consumer's profile and history. It can contextualize an appropriate response without causing risks for the company.
To hear more about trust from Christian and Bob, download and listen to the episode.
Bios:
Chief Digital Officer, UL
Christian Anschuetz is the Chief Digital Officer (CDO) for UL (formerly known as Underwriters Laboratories) where he is responsible for identifying, prioritizing and embedding technology innovation and digital trends into the vision, strategy, and operating models required to sustain and accelerate the company's growth. Before assuming the role of CDO, he served as UL's global Chief Information Officer (CIO).
Before joining UL, Christian was the CIO for Publicis Groupe, the 3rd largest communication company in the world.
In addition to holding several other executive positions, Christian also founded a technology services boutique focused on providing cybersecurity services to firms as early as 1998.
Christian holds degrees from the University of Michigan and Stayer University. He is a proud veteran of the United States Marine Corps and the founder of the innovative nonprofit startup, Project RELO.
Bob Evans
Bob grew up outside of Pittsburg, with hard-working parents and his 6 siblings. He graduated from the University of Pennsylvania in 1978 and entered the business world, flowing his passion for information technology and writing.
He rose to become the editor of Information Week, one of the top two publications in technology at the time. Later on, he became the SVP and Content Director for Information Week's parent company TechWeb/CMP
After thirty years in the media business, he left to join the world of software vendors, after a quick stop at ERP vendor SAP, Bob was recruited by the world 5th richest person, a legendary category designer and entrepreneur –Larry Ellison the founder of Oracle.
At Oracle Bob served as SVP and Chief Communications Officer for Larry.
Today Bob runs his own strategic communications firm, is a prolific writer, a tech industry commentator, public speaker, and a legendary guy.
He hosts the widely popular Cloud Wars Live Podcast.
Links:
Christian Anscheutz – Linkedin
We hope you enjoyed Bob Evans and Christian Anscheutz on this episode of Follow Your Different™! Christopher loves hearing from his listeners. Feel free to email him, connect on Facebook, Twitter, Instagram and subscribe on iTunes!