183 Life Is In The Transitions | Bruce Feiler, 7X NY Times Bestselling Author
Monday 20th November 2023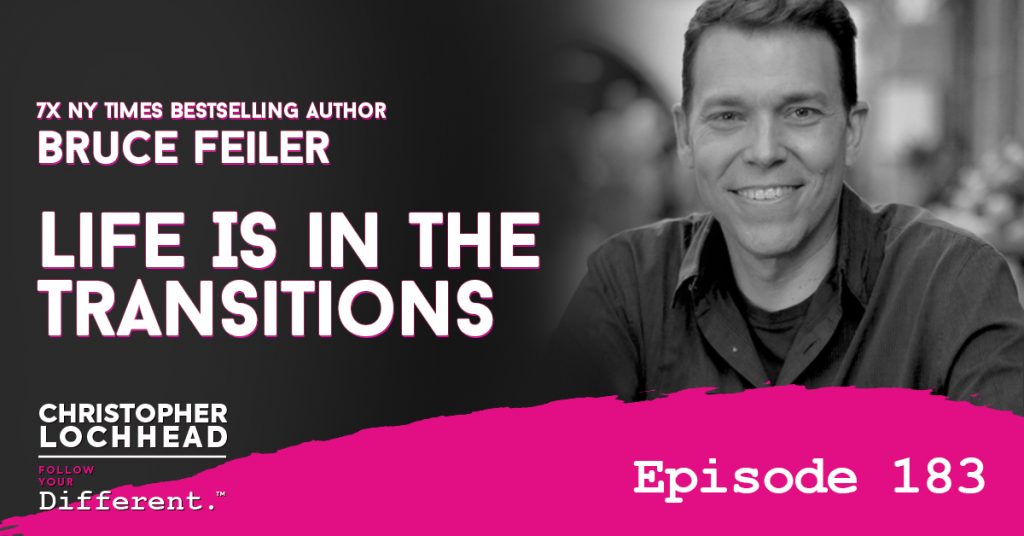 Podcast: Play in new window | Download (Duration: 1:25:48 — 58.9MB) | Embed
Subscribe: Apple Podcasts | Google Podcasts | Spotify | Pandora | RSS | More
Bruce Feiler is a legendary thinker and writer and unlike in a normal interview, we go deep in this episode. Bruce has a monster new book out called Life Is in the Transitions. Today, we have a very big conversation about what Bruce calls "life quakes," both voluntary (new job, getting married, moving) and involuntary (death of a loved one, loss of a job, divorce, etc).
We also talk about why the linear, up and to the right "hero story" we get told about life is bullshit, why C19 is a collective, involuntary, life quake, what that means for all of us, and much more!
Life Quakes
Bruce shares how all the events that have occurred in his life led to his professional career today. He shares what he calls "life quakes" which pertains to a moment of big wrenching change that happens in one's life.
This pandemic has coincided with his book, Life is in The Transitions, which asks "how do you deal with the life quakes that happen in your lives?" Bruce even shares the "life quake" that he went through in order to have this mindset.
Involuntary and Voluntary
Bruce talks about how reading helped him discover the false narrative that is being blocked into human beings. He speaks about the narrative of life, being a linear path with only one bump along the way to success and happiness.
This has led Bruce to believe that 53% of life quakes are involuntary and only 47% are voluntary, which he further explains in this episode.
"I had to figure out what is going on now. How we see the world and how we need to update the way we look at our life. How do people tell their stories? This is what I uncovered. The linear life is dead. It's been replaced by nonlinear life. The nonlinear life involves many more life transitions. That became the big idea that emerged from my experience." – Bruce Feiler
Life Transitions
Bruce shares how life quakes can either be voluntary or involuntary. Life transitions, on the other hand, must be voluntary. He advises people to make decisions that will bring back the power to control one's life.
In addition, he discusses how finding a higher calling can make you feel part of the team. A team that will help you get through your life transition together. It may rather be a rough and painful journey but it is a road paved with growth and renewal.
"If we look at life transitions as periods that we have to suffer our way through, we are wasting half of our life. If we look at them as periods, they're going to be difficult and painful, but there's also opportunities for growth and renewal. That's the story of your life." – Bruce Feiler
To know more about life quakes and the transitions that come with it, listen to this episode.
Bio:
BRUCE FEILER is one of America's most popular voices in contemporary life.
He is the author of seven New York Times bestsellers; the presenter of two prime-time series on PBS; and the inspiration for the drama COUNCIL OF DADS on NBC.
Bruce's two TED Talks have been viewed more than two million times. Employing a firsthand approach to his work, Bruce is known for living the experiences he writes about. His work combines timeless wisdom with timely knowledge turned into practical, positive messages that allow people to live with more meaning, passion, and joy.
His new book, LIFE IS IN THE TRANSITIONS: Mastering Change at Any Age, describes his journey across America, collecting hundreds of life stories, exploring how we can navigate the growing number of life transitions with greater purpose and skill. "One of those books that's so profoundly aligned with the zeitgeist that you end up underlining the whole book," wrote Arianna Huffington in Thrive Global. "Bruce Feiler is the perfect person to lead us on this journey."
The book was a Top 10 New York Times bestseller.
For more than a decade, Bruce has explored the intersection of families, relationships, health, and happiness. His book THE SECRETS OF HAPPY FAMILIES collects best practices from some of the country's most creative minds. The book was featured on World News, GMA, and TODAY and excerpted in the Wall Street Journal, the New York Times, and Parade. THE COUNCIL OF DADS describes how, faced with one of life's greatest challenges, he asked six friends to support his young daughters.
The book was profiled in PEOPLE, USA Today, and Time and was the subject of a CNN documentary hosted by Dr. Sanjay Gupta.
Links:
We hope you enjoyed this episode of Follow Your Different™! Christopher loves hearing from his listeners. Feel free to email him, connect on Facebook, Twitter, Instagram, and subscribe on iTunes! Get amazing, different stories on business, marketing, and life. Subscribe to our newsletter The Difference.