017 WTF?! Willing to Fail: 1-800-Got-Junk Founder Brian Scudamore
Wednesday 20th September 2023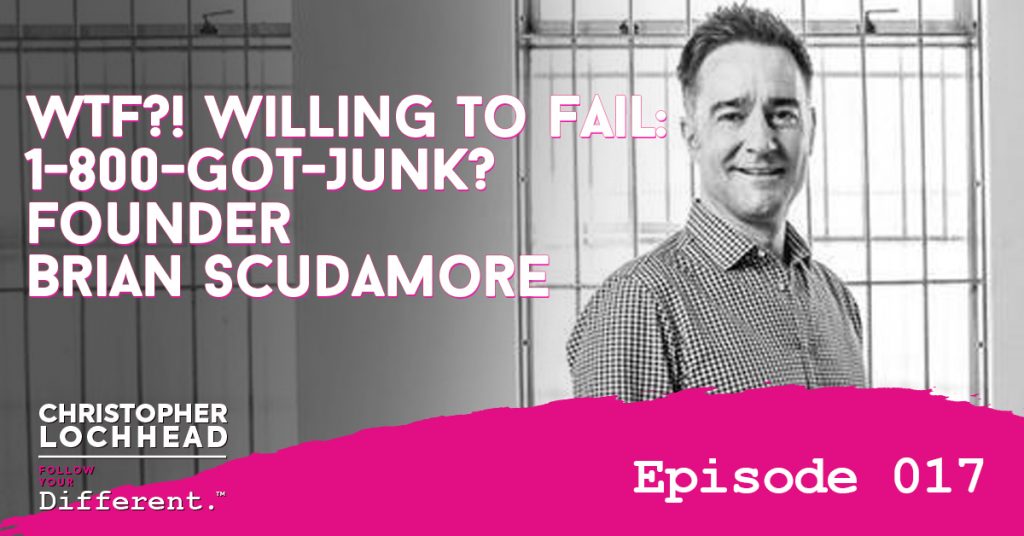 Podcast: Play in new window | Download (Duration: 44:55 — 41.2MB) | Embed
Subscribe: Apple Podcasts | Google Podcasts | Spotify | Pandora | Stitcher | RSS | More
Today, Brian Scudamore talks about perseverance and why failures are so legendary. The founder of 1800-GOT-JUNK?, the world's largest junk removal business, also shares how you can be a legendary entrepreneur even in a non-sexy field.
Professionalizing Junk Removal
When 1-800-GOT-JUNK? took off, the general reaction of other people is asking why they didn't think of it first when it was such a simple concept. But it was, in fact, difficult to execute, and Brian saw a gap within the space.
Nobody had professionalized junk removal. So they set out to build the business and added uniforms and friendliness into what they do. All these efforts have changed the game for the junk space.
Differentiating the Brand
1-800-GOT-JUNK? has had various slogans that capture their very essence, like "We'll stash your trash in a flash" and "FedEx of junk removal." They wanted to be identified as a brand that everyone would know about.
"We were trying to give people a sense of what is it that we're really trying to create. We're differentiating ourselves." – Brian Scudamore
They also had a headline about their junk removal process, previously comprised of three steps. At present, this process is simply, "You point, junk disappears." It's like magic, and people have become so familiar with this process that whenever truckies show up, customers will just start pointing to their trash, mocking the brand in a fun way.
Willing to Fail?!
From an outsider's perspective, Brian might have gotten lucky because they were the first to have thought of making junk removal a business. But before its legendary takeoff, 1-800-GOT-JUNK? took eight years to reach a million in revenue.
If anything, it's slow growth, but because of the momentum and their sheer perseverance, the business became a success. They failed and failed, but Brian has never wanted to be someone who wins easily.
"To me, failure needs to be my best friend in order for me to grow as a person, to be better as a leader, to inspire others in our business to live their best life." – Brian Scudamore
To hear more about how Brian launched his business to new heights by being willing to fail, download and listen to the episode.
Bio:
Brian Scudamore has always taken the road less traveled.
At nineteen, he pioneered the industry of professional junk removal with 1-800-GOT-JUNK?, turning a chore people avoid into an exceptional customer service experience.
He then scaled that success into three more home-service brands, WOW 1 DAY PAINTING, You Move Me, and Shack Shine.
Brian's "Willing to Fail" philosophy stems from his belief in the power of dreaming big, taking risks, and learning from mistakes.
Through franchising, he's giving thousands of aspiring entrepreneurs the chance to live their dreams of business ownership.
Links:
Amazon – WTF?! (Willing to Fail): How Failure Can Be Your Key to Success
We hope you enjoyed Brian Scudamore in this episode of Follow Your Different™! Christopher loves hearing from his listeners. Feel free to email him, connect on Facebook, Twitter, Instagram and subscribe on iTunes!