197 Embrace The Suck w/ Navy SEAL Brent Gleeson
Friday 1st December 2023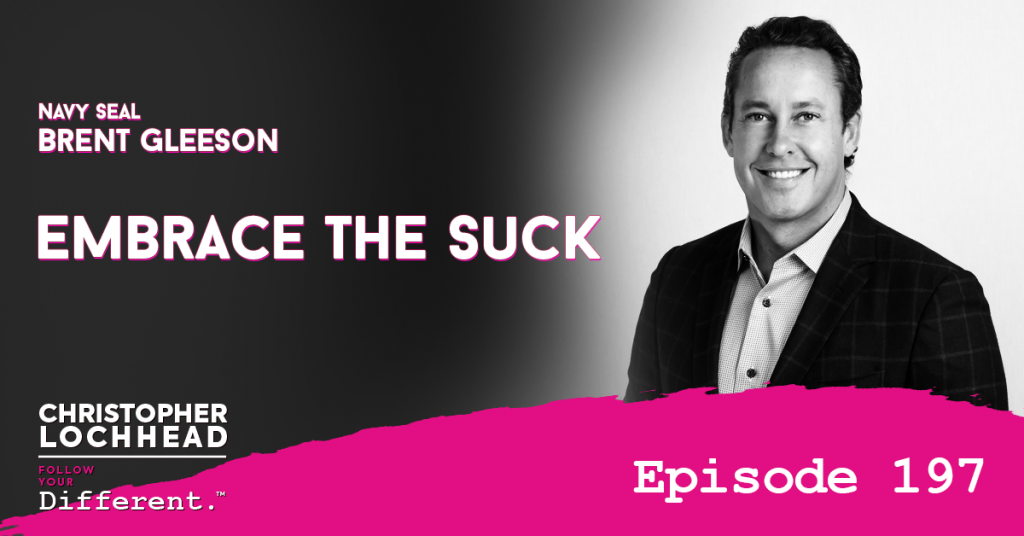 Podcast: Play in new window | Download (Duration: 1:05:36 — 45.0MB) | Embed
Subscribe: Apple Podcasts | Google Podcasts | Spotify | Pandora | RSS | More
In today's episode, we have legendary combat veteran Navy seal Brent Gleason. He's got a red, hot, rocking, new book out called Embrace The Suck. Brent is a successful entrepreneur, author and speaker and his new book is catching everybody's attention. Today, we get into why Brent thinks we need to lean into pain, how to deal with failure and rise up to any challenge, no matter what.
Leading Through Change
Brent gives us an inside look on what it was like as a legendary combat veteran Navy seal. Moreover, he shares his perspective on the pandemic and what he thinks leaders should be doing. He thinks organizations should reevaluate the needs of its people based on a lot of factors.
"The global pandemic has caused an even heightened level of leadership, complexity, and challenge. As leaders, we're supposed to show empathy and be innately in tune with what motivates each individual on our team, within our direct reports and our peers. Now with everybody working predominantly in a remote setting, everybody has a different environment that they're now in. In addition, some people thrive in remote settings and others feel isolation and uncertainty. Greater levels of digital silos are now creating communication challenges. Obviously your organization is going to go through a lot of change." – Brent Gleeson
Leaning Into The Pain
In his book, he shares psychological, emotional, and physical pain and suffering and how various people deal with pain. There is a purposeful suffering that everyone must engage in to achieve loftier goals and causes greater than ourselves. These will serve to develop individuals in expanding the boundaries of one's comfort zone. In turn, lead to a more fulfilling, happier, and purpose-driven life.
"When have you ever achieved anything meaningful in your life that did not have something attached to it? Like some level of pain, suffering, or adversity. The answer is nothing. When have you ever done something that gave you true fulfillment that was trapped within the confines of your comfort zone? Nothing. It's only when we peak beyond the boundaries of the comfort zone and see what's out there. That is what expands your comfort zone and moves the goalposts. You make it a ritual part of your existence and part of your mindset." – Brent Gleeson
Taming The Tiger
Brent discusses how in life there are choices down the road that lead you to temptation. He shares how one can tame the tiger and resist temptation. In life, humans are inevitably tempted and human centered, the goal is to mend the relationships or goals one is focusing on.
He shares how it ultimately comes down to the philosophy of simply limiting choices and creating an environment that supports your objective. He discusses how one should set themselves up for success by being purposeful in the environment and what one creates. Lessening the opportunity to be distracted or tempted by things that do not align with the actions necessary to achieve the desired outcome.
"In order to tame my tiger, I had to transform my entire lifestyle and mindsets to limit the choices. I removed every possible element of temptation from my life that would stand in the way of the goals I had made. So my social life, my dietary habits, workout regimen, even going as far as removing people from my life that I knew would stand in the way of achieving that goal. If I wanted to achieve my goal, all that stuff had to go." – Brent Gleeson
To know more about the legendary Brent Gleeson, his new book and his incredible life journey. Download and listen to this episode.
Bio:
Brent Gleeson was a member of SEAL Team 5, some of the first SEALs deployed to Iraq in early 2003. He completed combat deployments in Iraq, Africa, and other theaters of war.
After returning to civilian life, Brent earned an MBA and has built award-winning, multi-million dollar organizations that have repeatedly landed on the Inc. 500 list of fastest growing private companies.
He is the author of TakingPoint and has starred in several reality shows including Mark Burnett's 'Stars Earn Stripes.'
Links:
Taking Point Leadership – Books
We hope you enjoyed this episode of Follow Your Different™! Christopher loves hearing from his listeners. Feel free to email him, connect on Facebook, Twitter, Instagram, and subscribe on iTunes!