170 Tech Icon Bob Evans of Cloud Wars Live Podcast
Wednesday 20th September 2023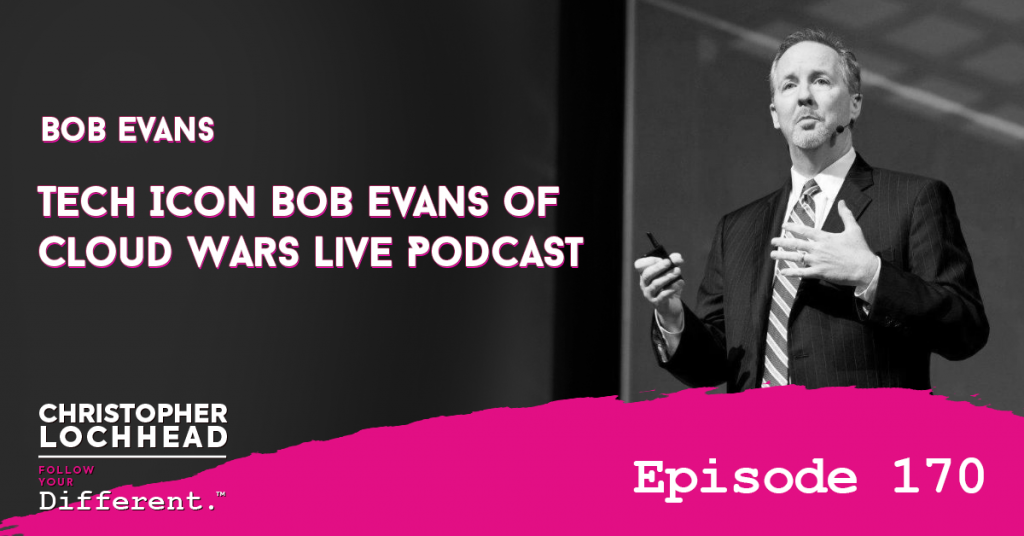 Podcast: Play in new window | Download (Duration: 1:13:24 — 50.4MB) | Embed
Subscribe: Apple Podcasts | Google Podcasts | Spotify | Pandora | Stitcher | RSS | More
Today we have Bob Evans, tech industry icon, the host of Cloud Wars Live Podcast, and a regular guest at Follow Your Different. Yes, he's back. We have a wide-ranging conversation that intertwines business life, what's going on right now, technology, and many other things.
We also talked about several topics such as moments of transformation, stepping up to your calling in times of challenge, and in times of crisis and particularly, about what Bob calls constructive fear.
Positive Transformation
Being good friends for years now, Bob recounts his previous phone conversations with Chris and how the past year had been very challenging for him. Bob saw how much Chris had endured from all the personal horrific experiences he had, and how he overcame the challenges and successfully launch the world's first Podstorm.
"There are only two choices, continue to walk through fire or just get in a fetal position with a bucket of back Jack Daniels and a big bag of weed and fucking forget it ⁠— which, by the way, I did a lot of too." – Christopher Lochhead
Christopher shared his realizations where many of us in our country are suffering because of Covid19 and the recession. He also shared about the civil unrest and that moving forward with your life is really a matter of personal choice.
Constructive Fear
Bob also shares how life-changing Akshay Nanavati and his book Fearvana. He was particularly moved with the thought of dealing with fear and taking action, which is he also called constructive fear.
"I think fear is one of the most potent human capabilities or weapons we have, but only if it's used in the right way, in a constructive way, when we allow it to overrule our thinking or our higher-level capabilities." – Bob Evans
The Youth, The Future and More
Since Chris works with a lot of entrepreneurs and a lot of young leaders, who will be big leaders of tomorrow, Bob asked about how to encourage them to answer their calling. They also talk about letting your emotions reign from time to time and how the future will have dazzling opportunities.
"There's no time in history you'd pick other than now. Human beings have never been more wealthy than they are now. They've never been more healthy than they are now. Do we have problems? Yeah, of course, we do. But I think now is an extraordinary time and to your question on younger people, do shit that matters. Make a difference." – Christopher Lochhead
To know more about Bob, his thoughts on technology and more, download and listen to this episode.
Bio:
Bob grew up outside of Pittsburg, with hard-working parents and his 6 siblings.
Graduated from the University of Pennsylvania in 1978 and entered the business world, flowing his passion for information technology and writing.
He rose to become the editor of Information Week, one of the top two publications in technology at the time.
He became the SVP and Content Director for Information Week's parent company TechWeb/CMP
After thirty years in the media business, he left to join the world of software vendors, after a quick stop at ERP vendor SAP,
Bob was recruited by the world's 5th richest person, a legendary category designer, and entrepreneur — Larry Ellison, the founder of Oracle.
At Oracle Bob served as SVP and Chief Communications Officer for Larry.
Today Bob runs his own strategic communications firm, is a prolific writer, a tech industry commentator, public speaker, and a legendary guy.
He hosts the widely popular Cloud Wars Live Podcast.
Links:
We hope you enjoyed this episode of Follow Your Different™! Christopher loves hearing from his listeners. Feel free to email him, connect on Facebook, Twitter, Instagram, and subscribe on iTunes!