Four-Star General Stanley McChrystal Offers COVID-19 Leadership Advice for President Donald Trump On Top Podcast
Sunday 1st October 2023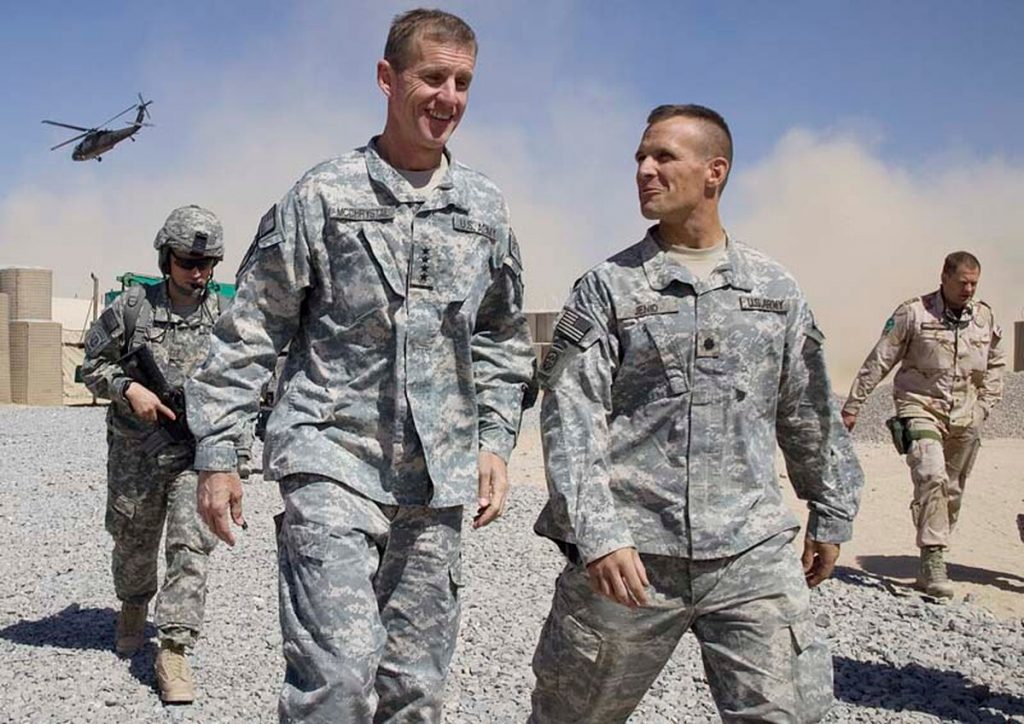 Respected retired military leader shares ideas for business and government leaders grappling with the public health and economic crisis.
Today #1 charting Apple podcaster and #1 bestselling Amazon author Christopher Lochhead released a new episode of the award-winning "Follow Your Different" podcast with retired Four-Star General and leadership coach Stanley A. McChrystal.
During a wide-ranging, unedited podcast dialogue, General McChrystal — a decorated serviceman best-known for his command of Joint Special Operations Command in the mid-2000s — shares his unvarnished assessment of:
–  the current COVID-19 healthcare and economic crisis.
–  seminal leadership strategies for business and government executives, and;
–  specific advice for U.S. President Donald Trump.
On the U.S. federal government's response:
"In a word, it's been pathetic."
"We're losing Americans that didn't have to die."
"There's just no excuse for us letting it get out of our control as we have in 

the United States

."
"We went into a level of denial and there was senior leadership saying, 'No, it's not really a problem … And so that slowed everything else down."
"One of the most dangerous things we could have is getting to the point where people are contemptuous of their own government."
"We'll have investigations about what happened. … We'll drill into certain things that fell, fell way short of what we needed. But the question is, will we hold people accountable?"
Advice for President Trump:
"I would tell him: Start by telling the truth. Be straightforward with people. The challenge now is there is a percentage of America that doesn't believe anything."
"Don't surprise them each week. … I think that transparency is critical."
Suggestions for business and government leaders:
"I think first we need to make an assumption that this is going to last for a year to year and a half."
"It will wax and wane, but it will be in our lives until a vaccine is here, and then there's the threat of other pandemics."
"I think the governor(s) should be talking every day. Every governor should get in on a 20-minute call in the morning of video teleconference roll in there and they say, what's happening?"
The general declares: "Business leaders have a social obligation." He further encourages business leaders to "take a longer-term view."
General McChrystal also warns: "We say we're saving the jobs to the workers, and to a degree we are, but (in) reality, there's been some corporate- level behavior that I think is difficult to defend. I personally have a problem if a government bails out a company where the senior leadership of the company is making multimillions of dollars."
On the need for shared digital networks:
"If we connected them all, connected them enough in network … so that everyone had real-time connectivity, getting clear information … then they could leverage all of the work that's being done in the entire network. Suddenly we'd be dramatically more effective because you wouldn't have to rebuild redundantly capability in each of the states and municipalities."
On leadership:
"We're going to have to be able to let data drive us much more rapidly … and we're going to have to make some pretty major course corrections when suddenly the data tells us something different from what we had thought."
"The leader's got a role to first give people a sense of direction. And that sense of direction begins with the leader standing up and the leader accepting responsibility for their role. The leader has got to be visible, even if it's virtually, the leader has got to accept responsibility."
Listen to the podcast:
About Four-Star General Stanley McChrystal
Stan McChrystal is best-known for his command of Joint Special Operations Command (JSOC) in the mid-2000s, where he was credited with the death of Abu Musab al-Zarqawi, leader of Al-Qaeda in Iraq.
His last assignment was as Commander, International Security Assistance Force; and Commander, United States Forces in Afghanistan.
General McChrystal was awarded the Distinguished Service Medal by Army Chief of Staff General George Casey and the Defense Distinguished Service Medal by Secretary of Defense Robert Gates.
General McChrystal founded McChrystal Group in January 2011 to deliver innovative leadership solutions to businesses globally — helping them transform and succeed in challenging, dynamic environments.
As founder and partner, he advises senior executives at multinational corporations on navigating complex change and building stronger teams.
He is also a best-selling author and educator.
About Christopher Lochhead
Christopher Lochhead is a #1 charting Apple podcaster and #1 bestselling Amazon author.
His two books "Play Bigger" and "Niche Down" and two podcasts "Follow Your Different" and "Lochhead on Marketing" have won countless awards and become cult classics for entrepreneurs and marketers.
After getting thrown out of school at 18, Lochhead became an entrepreneur, three-time Silicon Valley, public company CMO (Mercury Interactive, Scient, Vantive) and an investor / advisor to over 50 venture-backed startups.
The Marketing Journal calls him "one of the best minds in marketing"; NBA legend Bill Walton calls him a "quasar"; and The Economist calls him "off-putting to some."
Former Navy SEAL and president of McChrystal Group, Chris Fussell, says: "There's not a more forward-thinking leader out there. Chris is always driving the right conversations.
Photo courtesy of The Military Times