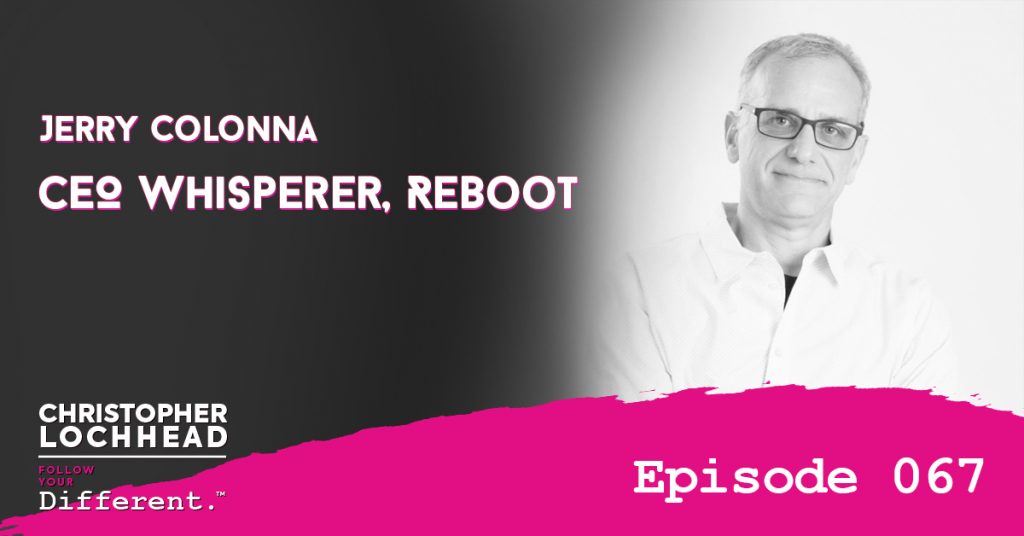 Podcast: Play in new window | Download (Duration: 1:21:03 — 74.2MB) | Embed
Subscribe: Apple Podcasts | Google Podcasts | Spotify | Pandora | Stitcher | RSS | More
WIRED calls Jerry Colonna the CEO Whisperer. He believes better human beings make better leaders. Today, he joins Lochhead in a fun and deep adult conversation about his new book, Reboot, and about growing up, what it takes to become a warrior leader and a lot more.
Writing a Book He Would Read
Jerry shares that Reboot is the only book he could write. Anything else would have been complete and utter bullshit. After all, he has had too many scars to bullshit his way through life.
He didn't even know what he wanted to write when he received his agent's offer. But soon he realized that they wanted him to be himself and show up. And the experience, coupled with his readers' reactions, could easily reduce him to tears.
"I wrote the book that I needed to read 20 years ago." – Jerry Colonna
Words Coming from Life
Towards the beginning of his book, Jerry ran by some of the many hardships people could go through. A co-founder quitting, investors pulling funding, spouses giving up, and many more. Every one of these instances is not some theoretical experience and can happen to anyone.
Such are the moments to stare deeply into our own experience and ask ourselves some important questions. What are we made out of, what have we chosen? But more broadly, in what ways have we been complicit in creating conditions we don't want?
"It's much easier to look at the world and say, 'Why are you doing this to me? Why is this happening to me?' But that's uninteresting." – Jerry Colonna
Complicit Versus Responsible
In writing his book, Jerry used the word "complicit" purposefully. He says that it differs from "responsible", in that being complicit is like "going along with" and also unconscious. And like Joseph Campbell and Carl Jung said, until we make the unconscious conscious, it will direct our lives and we will call it fate.
We can realize how we become complicit in creating such conditions by answering the question of how they have served us. After all, that which persists does so because it delivers something.
"We might maintain structures not in our best interest because they serve this sort of larger wish for love, safety and belonging." – Jerry Colonna
To hear more about Reboot, warrior leaders with open hearts and more life-altering nuggets from Jerry, download and listen to the episode.
Bio:
The founder and CEO of Reboot.IO, Inc. Colonna is a certified professional coach.
Colonna draws on his wide variety of experiences to help clients design a more conscious life and make needed changes to their career to improve their performance and satisfaction.
He established his coaching practice in 2007. Prior to this work, Colonna was a venture capitalist focused on investing in early-stage technology-related startups.
In 2002, Colonna became a partner with J.P. Morgan Partners (JPMP), the private-equity arm of J.P. Morgan Chase where he led the firm's investments in companies such as ProfitLogic, Inc.
Colonna served as a director at ProfitLogic until its purchase by Oracle, Inc.
During his time at JPMP, his commitment to the non-profit sector increased significantly. In the fall of 2001, he worked with The Partnership for the City of New York to help launch the Financial Recovery Fund, a $10 million-plus program that made recoverable grants to small businesses impacted by the attacks on the World Trade Center.
He was named co-Executive Director of NYC2012 in January 2002, the organization designed to secure the City's designation as the representation in the competition to host the 2012 Olympic Games.
In that year, he helped raise more than $6 million to further those efforts.
He joined JPMP from Flatiron Partners.
With his partner, Fred Wilson, Colonna launched Flatiron in August 1996. Flatiron became one of the most successful, early-stage investment programs.
During his tenure with Flatiron, Colonna was responsible for the firm's investments in companies such as Geocities Inc. and Gamesville Inc. Colonna joined his first venture firm, CMG@Ventures L.P. in February 1995 as a founding partner.
CMG@Ventures was the first "Internet-specific" venture firm.
Prior to joining @Ventures, Colonna worked for ten years for CMP Media, Inc.
From 1985 to 1993, he served in a variety of roles at InformationWeek, including a three-year stint as its Editor.
Colonna also serves as Chair of the Board of Trustees at Naropa University. Naropa University comprises a four-year undergraduate college and graduate programs in the arts, education, environmental leadership, psychology and religious studies.
It is the only accredited Buddhist-inspired university in North America.
He also serves as Chair of the Board of Trustees at the Tibetan Village Project, a not-for-profit, non-political organization dedicated to creating sustainable livelihoods for Tibetans through social entrepreneurship and educational opportunities.
He is also a director at the Good Work Institute, whose mission is to educate and connect a network of local community members and actively support their collaborative efforts to regenerate their places.
The recipient of numerous awards and a compelling speaker on topics ranging from leadership to starting businesses, Colonna has been named to Forbes ASAP's list of the best VCs and Worth's list of the 25 most generous young Americans.
A graduate of Queens College, Colonna lives in Boulder, Colo.
Links:
WIRED – This Man Makes Founders Cry
We hope you enjoyed Jerry Colonna on this episode of Follow Your Different™! Christopher loves hearing from his listeners. Feel free to email him, connect on Facebook, Twitter, Instagram and subscribe on iTunes!