275 Sonic Brand & Why You Need One  with Emmy™Award-Winning Sonic Branding Category Queen Audrey Arbeeny
Monday 25th September 2023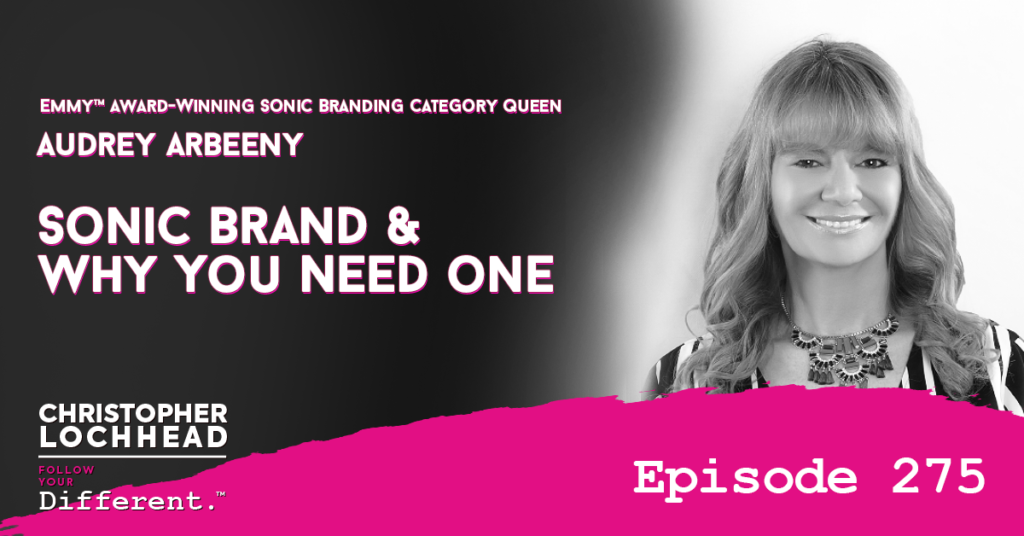 Podcast: Play in new window | Download (Duration: 1:16:13 — 52.3MB) | Embed
Subscribe: Apple Podcasts | Google Podcasts | Spotify | Pandora | Stitcher | RSS | More
If you've ever watched the Olympics, gone to a Major League game, or even turned on your Xbox, chances are you've seen our guest's great work. On this episode of Christopher Lochhead: Follow Your Different, we have a dialogue with Audrey Arbeeny, the Category Queen of Sonic Branding.
Audrey Arbeeny presented the discipline of Sonic Branding, way back in 1993 at the Design Management Institute in Amsterdam. Now that Sonic Branding has exploded, particularly as digital products have, it has been become a giant category across all kinds of areas marketing, branding, product design, and experience design in the arts world and the film to entertainment world.
So if you are interested about Sonic Branding, and how it blitzed through the competition, stay tuned to this episode.
Audrey Arbeeny on Sonic Branding
The conversation starts off with defining what Sonic Branding is. Audrey has this to say on the matter:
"I believe what you're doing is the same thing as when we did the original Major League Soccer, Anthem, and we do our Sonic Branding. The deputy commissioner in the interview said, he heard from player after player that when they heard that song, it put them in the right frame of mind it put them in a place that they wanted to be in, and it prepared them to get ready for the game.
I have certain songs I play also, when I need to get in a certain frame of mind. And that's what Sonic Branding is. You want to get to that emotional center of the brain that triggers play." – Audrey Arbeeny
Biomusicology
If you're wondering if there is a word for that, yes there is. It's called Biomusicology, and it covers how sounds and music can affect our brain and biology. Sometimes, music can even evoke physical reactions from us, as seen in the revelry in anthems, or that welling feeling you might get while listening to an orchestra.
"We're a vibratory system. And that's what it is. And from as early as time as you could remember, that's what sound did. It connected people. It communicated and it made people feel, feel physically emotionally connected." – Audrey Arbeeny
Audio Brain Advocates for Health and Well-being
Audrey shares a personal experience where music and hearing familiar sounds in someone's vicinity had helped people ease their pain and their well-being.
So while Sonic Branding is being used on all these global brands, Audrey also hopes to advocate the use of music and different sounds to promote health and well-being to everyone.
"Yes, we do all these global brands? We've been music supervisors for 10 Olympics for NBC Olympics. That's 25 years. Yes, we've done great things like that. But we've also done a lot in health care. And I've done a lot of research in health and well-being. And I've worked with kids that were deaf and blind, and done music therapy with them.

Because when you're in that situation, nobody really takes the time to make sure you're enjoying that meal and spends a lot of time they have a lot of kids to take care of. So that's my North Star. That's my passion point. And audio brain has done a lot of a lot of pro bono work in that area." – Audrey Arbeeny
To hear more from Audrey Arbeeny, Sonic Branding, and how music can help your well-being, download and listen to this episode.
Bio
Audrey Arbeeny
As Owner and Emmy™ Award-Winning Executive Producer/ Creative Director for Audiobrain, a globally recognized sonic branding boutique dedicated to the intentional development of music and sound, Audrey Arbeeny has realized her dream of combining her lifelong love of music and science with proven business skills. Audrey oversees Audiobrain's projects from start to finish, coordinating logistics, strategy, experience design, resources, and talent. In addition, Audrey oversees Audiobrain's ongoing research in areas of psychoacoustics and biomusicology. With over 20 years of experience, she is recognized throughout the world as a pioneer in sonic branding, presenting on this discipline as early as the 1993 Design Management Institute in Amsterdam. Audiobrain has consistently stayed leaders in this field through innovation, research, education, advanced technological skills, and forward- thinking initiatives for some of the world's largest brands.
Music has long been an important part of Audrey's life. She began formal piano training at the age of four. She is also an accomplished flutist and studied voice at Carnegie Hall, under the late Silas Engum, for many years. In addition to her musical talents, she has extensive recording, editing, licensing, interactive, and sonic branding experience.
Audrey is highly skilled in many areas of sonic branding development and implementation. Her environmental branding leadership includes her role as Music Supervisor the past 7 Olympic Broadcasts for NBC, garnering her 2 Emmy™ awards for her work on the 2008 Beijing and 2012 London Games. She has also done extensive experience design for IBM's Marketing Exposition and Sense Layering Team, The Retail Federation's Design for the Senses Pavilion, Holland America Cruise Lines Onboard Experience Design, and United Healthcare Retail Environments to name a few.
She has been Creative Director / Head of Production for the strategic development of brands' sounds including Microsoft's Xbox 360, Virgin Mobile USA, Glaxo Smith Kline, Google, Logitech, Major League Soccer, KIA Motors Corp. The New York Giants, McDonald's, Merck, and HBO to name a few. In 2015, Audrey was elected to the Board of Governors for the National Academy of Television Arts and Sciences New York Chapter. She also teaches sonic branding at New York's Pratt Institute, the first and only course of its kind.
Audrey is currently in the process of undertaking a research study focusing the effects of sound on patients, staff, and families in intensive care units with a world-renowned medical facility,  "Music and sound are far more important than most people realize, and we'll be developing studies to substantiate our theories about its effect on wellness and healing". This constant search for knowledge, exploration and new ways of thinking about sound are why Audrey is one of the most respected influencers in her industry. She is a sought-after guest speaker and has educated on sonic branding all over the world.
Links
Follow Audrey Arbeeny today!
Web | LinkedIn | Twitter | Facebook
We hope you enjoyed this episode of Follow Your Different™! Christopher loves hearing from his listeners. Feel free to email him, connect on Facebook, Twitter, Instagram and subscribe on iTunes!