058 1 Life Fully Lived w/ Tim Rhode
Wednesday 20th September 2023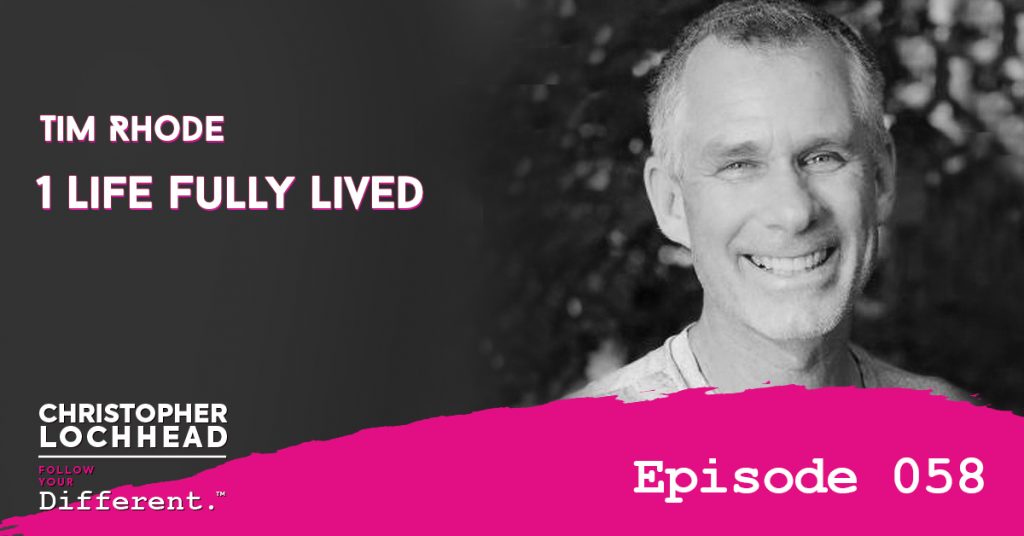 Podcast: Play in new window | Download (Duration: 1:06:46 — 61.4MB) | Embed
Subscribe: Apple Podcasts | Google Podcasts | Spotify | Pandora | Stitcher | RSS | More
Tim Rhode, founder of the non-profit 1 Life Fully Lived, has helped thousands of people turn their lives around. On this episode, this favorite buddy of Lochhead's talks about life design, going from entrepreneur to non-profit founder and more.
"Are you living in what we call the one life fulfillment triangle? Where do your passions meet your talents where there's opportunity in the marketplace?" – Tim Rhode
Transitioning from Entrepreneurship to Non-Profit
Tim did not get a ton of non-profit experience prior to founding 1 Life Fully Lived. He was like any realtor who eventually became a mini-tycoon and founded the organization in a most unconventional way. He did not merely dump his cash in a foundation but was actually very involved in it.
The transition has been an amazing journey. Tim says that he owes it to the many talented people who know who they are and believe in 1 Life Fully Lived. With them, he is able to live every day in a state of flow, always seeking improvement.
"The journey has been getting to know who could most use all of this and how can we best serve—and what's the real estate term—the highest and best use of 1 Life Fully Lived to help make a difference in a world that can certainly use a 1 Life movement now." – Tim Rhode
Why People Struggle
Tim points out some of the reasons why people are constantly struggling on top of the economic uncertainties that bog them down.
"They're struggling because they're basically being taught to struggle by people who are struggling, not having quite figured it out themselves." – Tim Rhode
This ecosystem knows nothing but struggle and people can get used to being part of it. Christopher concurs with this. When you grow up in such an environment, it is all you are going to think life is about.
Designing a Best Life
To overcome the ceaseless struggle, people need to be exposed to new ideas, thought processes and good role models. These models will then spark the question of what-could-be in those who are stuck and have yet to find their footing.
Most schools teach us that getting a degree and doing well on SATs is the only way to become successful in life. However, 1 Life Fully Lived seeks to shake up that system and teach people valuable entrepreneurial skills. And in so doing, they hope these people would have not only financial freedom by the time they're old and gray but also the health and vitality to still "get the goods in the woods."
To hear about people doing great things alongside with Tim and how to create a diverse, mission-driven network of people, download and listen to the episode.
Bio:
Tim Rhode sold over 2,500 homes when from 1986 to 2000. He bought and sold over 100 properties and coached more than 200 investing students for foreclosures.com.
Today, Tim is the founder of non-profit, 1 Life Fully Lived and co-founder of men's mastermind group GoBundance where he helps thousands live their best lives.
Links:
We hope you enjoyed Tim Rhode on this episode of Follow Your Different™! Christopher loves hearing from his listeners. Feel free to email him, connect on Facebook, Twitter, Instagram and subscribe on iTunes!