231 The Science and Technology of Growing Young with Sergey Young
Friday 1st December 2023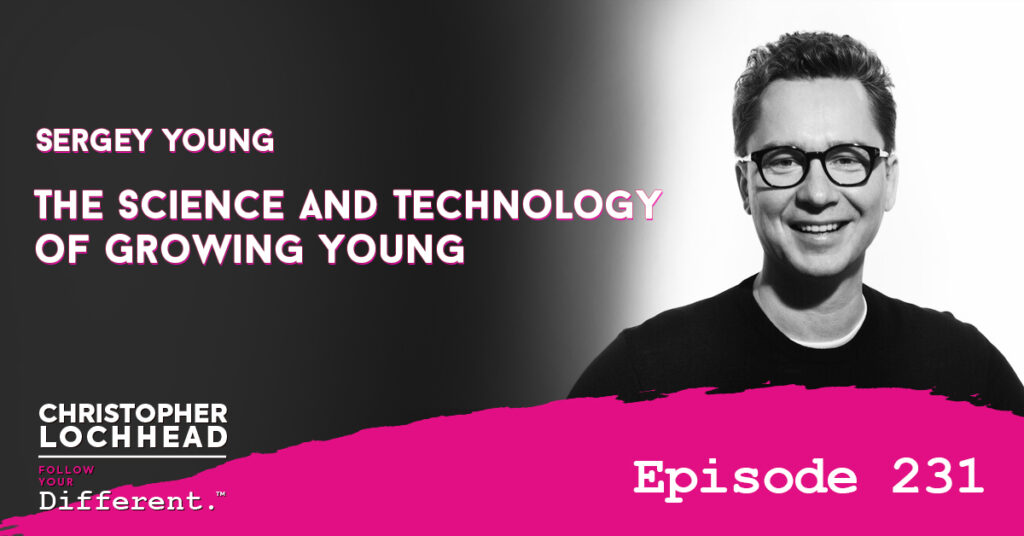 Podcast: Play in new window | Download (Duration: 1:27:20 — 60.0MB) | Embed
Subscribe: Apple Podcasts | Google Podcasts | Spotify | Pandora | RSS | More
In this episode of Follow Your Different, we'll have a dialogue that just might change how you think about aging, and maybe even life itself. Who better to have this dialogue than with Sergey Young, author of the book called The Science and Technology of Growing Young.
Sergey believes that entrepreneurs and startups are already creating the longevity, technology, and category breakthroughs needed to design a new category of human that lives to 200 and beyond. He also believes that people in the future will have a health span well past 150, and that most of us living right now can get to 120.
We dig deep into this new into what's happening in this new mega category of longevity. We also talk about what Sergey calls the near and far horizons of longevity breakthroughs, and how the conversion of bio and tech is already saving and extending lives.
The Science and Technology of Growing Young
Sergey talks about the journey on writing his book, The Science and Technology of Growing Young. He misses it so much that he's already thinking about his next book, which will be as legendary as the current one.
When asked about any particular topic in the book that he wanted to discuss, Sergey points to the last chapter, which talked about the morality of immortality. The reason for this is that his publisher thinks that the last chapter deserved its own book. To which Sergey responded:
"My response was like, each chapter in the Growing Young book deserves to be a separate book. Because human health, happiness, or desire to live longer is such a complex subject. So you can do like 1000 books on the back of that." – Sergey Young
Sergey Young on the Morality of Immortality
Following up on the publisher's comment, Sergey believes that the morality of immortality is probably the most contentious topic, because it is always very shocking. He shared that most polls, depending on the country, have 60 to 80 percent of the people saying no to life extension.
"I was always surprised why. And what I learned is, we have created the science and technology to extend our lives. But we haven't created life that we want to extend." – Sergey Young
This is because when most people hear about longevity of life, they think it's just to extend their lives for 5-10 years. Though in this case, Sergey's book discusses working on healthspan, and not necessarily lifespan.
"What I want to do is to insert another 20 to 25 years, right in the middle of your life cycle, to give you more time on Earth, to be with your loved ones, to realize your dreams, to change your career, and to have kids from multiple generations." – Sergey Young
Sergey Young on Virtual Avatars
Sergey then talks about virtual avatars, and what he thinks will be a good use for it in the future.
He shares that he misses his conversations with his grandfather, and would give anything to be able to talk to him again. Virtual Avatars could be a way to have such moments with your love ones, even as they have moved on.
"I'm actually expecting this with a weird combination of excitement and fear. At the same time, like many of us, I always try to think about the application of this new technologies, which sounds scary. But if applied in the right person at the right time, they actually doing a lot of good things." – Sergey Young
Sergey also mentions Elon Musk and the research on neuro link. While some people think this is really against human nature, it might eventually be helpful to those suffering from neuro-genetic diseases. Also, being able to integrate with computers mean that we can explore more depths and harsher environments without sacrificing human life.
If you want to hear more from Sergey Young and his thoughts on how to grow young, download and listen to this episode.
Bio
Sergey Young is a longevity investor and visionary on a mission to extend healthy lifespans of one billion people. To do that, Sergey founded Longevity Vision Fund to accelerate life extension technological breakthroughs and to make longevity affordable and accessible to all.
Sergey is on the Board of Directors of the American Federation of Aging Research (AFAR), and is a co-sponsor of the AGE REVERSAL Prize Design. Once ultimately launched, this XPRIZE aims to dramatically delay the biological aging process through widely available interventions that extend the human life and health span.
Sergey Young has been featured as a top longevity expert and contributor on CNN, BBC, Fox News, and Forbes. As the author of books such as 'The Science and Technology of Growing Young' and the mastermind behind the online life extension platform SergeyYoung.com, Sergey is passionate about sharing news from the exciting world of longevity.
Links
Follow Sergey today!
Website: SergeyYoung.com
LinkedIn: in/SergeyYoung
Get the book: The Science and Technology of Growing Young
We hope you enjoyed this episode of Follow Your Different™! Christopher loves hearing from his listeners. Feel free to email him, connect on Facebook, Twitter, Instagram, and subscribe on iTunes!