190 Lessons Learned From Running Dunkin Donuts For 35 Years | Robert Rosenberg
Wednesday 20th September 2023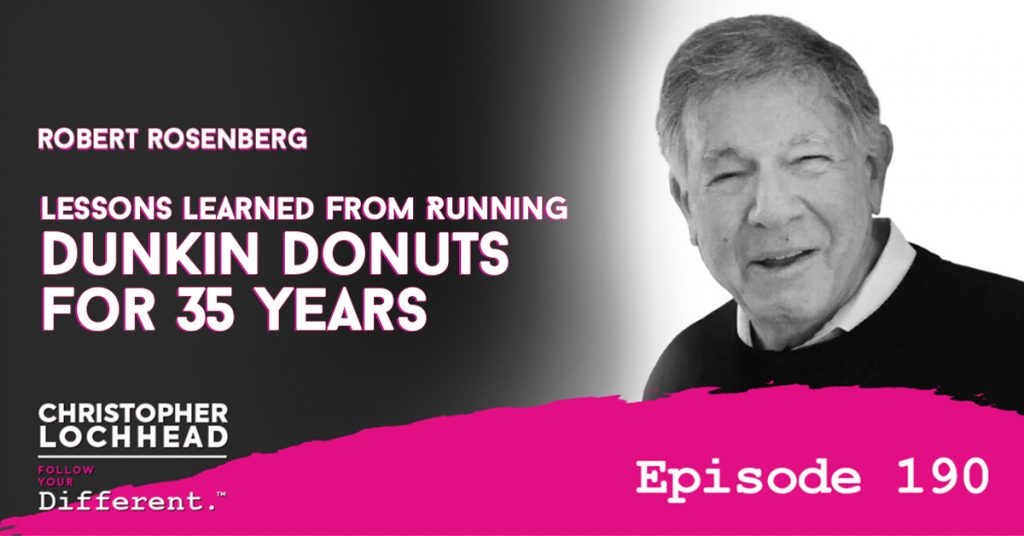 Podcast: Play in new window | Download (Duration: 1:07:05 — 46.1MB) | Embed
Subscribe: Apple Podcasts | Google Podcasts | Spotify | Pandora | Stitcher | RSS | More
Robert Rosenberg is a legendary entrepreneur CEO and author who has helped change the world today. He also has a brand new book, Around the Corner to Around the World: A Dozen Lessons. In his book, he talks about how he ran Dunkin Donuts and Baskin Robbins.
Today, we have a real conversation with Robert about his story and the lessons that he has learned through the successes and setbacks in his life. He lets us in on the real story behind one of the most legendary marketing campaigns of all time. He even shares with us the story of how munchkins a.k.a doughnuts holes came to be, and so much more exciting topics!
The Best and The Brightest
Robert specifically talks about David Halberstam's book: The Best and The Brightest. The book made him realize the importance of humility and listening, rather than talking. He discusses how this has led him to place processes and policies that have helped strengthen and grow the business even further.
"It was a learning moment, I was maybe 35. So it was 10 years, I'd love to say I came into the job at 25 and was all grown up, but I wasn't, clearly. This was a grown-up moment, and it was essential for the next four or five years, each with different responses, different strategies. Basically, we never look back and we were well on our way not to make that mistake again. I'm forever thankful and that came out of a book, but a lot of things for me came out of books." – Robert Rosenberg
The Story of Munchkins
An interesting part of the conversation is when Robert shared how munchkins came to be. He also shares his amazement on how this Halloween product turned into the phenomenon that it is today.
"That was the beginning of a product that now when you look back 50 years later is still a mainstay on the menu. And a treat for people all the time. Not just for Halloween, but 24/7 and 12 months a year." – Robert Rosenberg
Aspiration and Superior Strategy
The ability to build the value of the brand, through a real commitment to product quality, and through great organization and an incredible team has led Dunkin Donuts into the industry it is today. Robert even shares his 3 P's: good planning, great people, and a real commitment to products.
"You don't necessarily pick the times it comes. Believe me, for 35 years, it's gone, come and you have to be prepared for that because day to day activities, things come in over the transom constantly at you. It's easy to get waylaid and in my view, if the strategy isn't spot on, if the organization isn't appropriate and spot-on, this little else you can do in terms of activity that can save the day and create success." – Robert Rosenberg
To know more about Robert Rosenberg and his story and Lessons Learned From Running Dunkin Donuts For 35 Years, download and listen to this episode.
Bio:
Robert M. Rosenberg (born 1938) is an American businessman, professor, and author. He was the chief executive officer of Dunkin' Donuts for thirty-five years from 1963 to 1998 and also served on the board of directors of Sonic Corp and Domino's Pizza. He was also an adjunct professor at Babson College's F. W. Olin Graduate School of Business.
In 1963, at the age of 25,[9] Rosenberg assumed leadership of his family business, Universal Food Systems, as CEO and president. At the time, the company consisted of several small businesses grossing $20 million per year, including 100 Dunkin' Donuts locations in the U.S., generating $10 million in annual sales. Rosenberg transformed Universal Food Systems to focus on Dunkin' Donuts.
On February 6, 1968, Rosenberg took the company through its initial public offering. In September 1983, Rosenberg became chairman while continuing to serve as CEO of Dunkin' Donuts. The company remained publicly traded until 1989, earning investors a 35% compound rate of return. During his tenure as Dunkin' Donuts CEO, Rosenberg served on the board of the International Franchise Association. In 1970, he served as the association's chairman.
In late 1989, Dunkin' Donuts announced its acquisition by Allied-Lyons PLC, a large UK food and beverage group which also owned Baskin-Robbins. Rosenberg continued to lead the company that became known as Allied Domecq Retailing (later Dunkin' Brands) which also acquired Togo's sandwich shops. By the time Rosenberg retired in 1998, the company had about 6,500 locations around the world.
Following his retirement, Rosenberg went on to become an adjunct professor at Babson College's F. W. Olin Graduate School of Business. He also served as a trustee of the college. In addition to teaching at Babson, Rosenberg was on the board of directors at Sonic Corp., from April 1993 to 2016, and Domino's Pizza, from 1999 until April 2010, where he served both companies as chairman of their compensation committees.
Links:
Book: Around the Corner to Around the World: A Dozen Lessons I Learned Running Dunkin Donuts
We hope you enjoyed this episode of Follow Your Different™! Christopher loves hearing from his listeners. Feel free to email him, connect on Facebook, Twitter, Instagram, and subscribe on iTunes!