179 Black Entrepreneurs Matter / Women Entrepreneurs Matter w/ UCSC Prof. Robert Fairlie
Monday 25th September 2023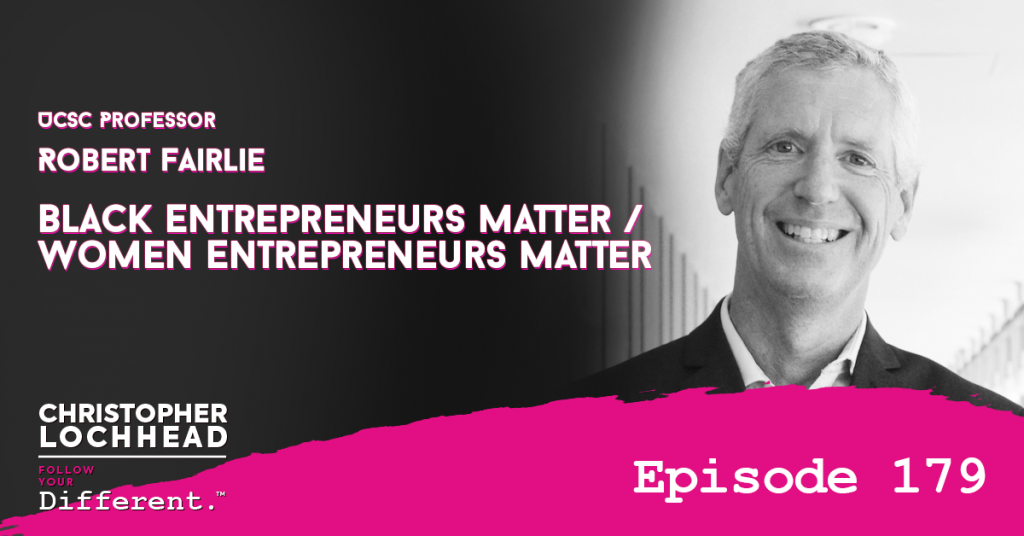 Podcast: Play in new window | Download (Duration: 52:30 — 36.0MB) | Embed
Subscribe: Apple Podcasts | Google Podcasts | Spotify | Pandora | Stitcher | RSS | More
Why is there a disproportionate impact against Black-owned and Women-owned Businesses?
Today in Follow your Different, Robert Fairlie, a professor at the University of California and a researcher for the National Bureau of Economic Research, shares his research on the impact of Coronavirus on small businesses and black and women-owned businesses.
Impact of COVID-19
Rob shares the alarming figures that small businesses faced. From 15 million active businesses to 12 million, to the 15% unemployment rate in just one month (Bureau of Labor Statistics), Rob gives us facts and figures how devasting Covid-19 has impacted businesses.
"I think they are starting to get become more attention focused on the business side of it and the importance of business owners. Not only do they create a route out of poverty or an alternative for income but they also create jobs." – Rob Fairlie
Impact on Black-owned Businesses
Prof. Farlie says that there is a hugely disproportionate impact between White-owned businesses and African American-owned businesses. According to the data found from February to April, there's a 41% decrease of active African-American business owners compared to a 17% decrease of active White business owners.
"I'm just worried that this is going to increase racial inequality and gender inequality. It's not just going to be for a few months as we deal with COVID, but it's going to be longer. Retirements kind of maybe setting us back and that's a bigger, much bigger worry." – Rob Fairlie
Impact on Women-owned Businesses
One of the reasons why there is a bigger drop in women-owned businesses is because they are in industries that cater to personal services that were shut down because of health risks. Another reason is that women-owned businesses are often smaller in scale and they do not have the resources to face all the regulations to operate during the pandemic.
"There has been some new research and I'm working with a couple of co-authors to try to do a little more work on this. This shows that mothers are taking a disproportionate hit compared to fathers in terms of reducing their hours of work, dealing with children, dealing with homecare. This isn't just evidence from the US, this is evidence from a lot of countries around the world." – Rob Fairlie
To learn more about Prof. Rob Fairlie and the impact of COVID-19 on Black and Women-owned businesses, download and listen to this episode.
Bio:
Robert Fairlie is Professor of Economics at the University of California, Santa Cruz and Research Associate, NBER.
His research interests include entrepreneurship, education, information technology, inequality, labor economics, and immigration.
Further, he received his Ph.D. and M.A. from Northwestern University and B.A. with honors from Stanford University.
In addition to this, he has held visiting positions at Stanford University, Yale University, UC Berkeley and Australian National University. He has received funding for his research from numerous government agencies and foundations.
He has testified to the U.S. Senate, U.S. House of Representatives, U.S. Department of Treasury, and the California State Assembly regarding the findings from his research, and received a joint resolution from the California Legislature.
Links:
UCSC Economics Faculty: Professor Robert Fairlie
Research Papers on Impacts of COVID-19 on Small Business Owners
Senate Bill referencing research
THE IMPACT OF COVID-19 ON SMALL BUSINESS OWNERS: EVIDENCE OF EARLY-STAGE LOSSES FROM THE APRIL 2020 CURRENT POPULATION SURVEY
IZA Institute of Labor Economics: Robert Fairlie
We hope you enjoyed this episode of Follow Your Different™! Christopher loves hearing from his listeners. Feel free to email him, connect on Facebook, Twitter, Instagram, and subscribe on iTunes!