238 Hear Yourself: How To Find Peace In A Noisy World with Prem Rawat
Monday 20th November 2023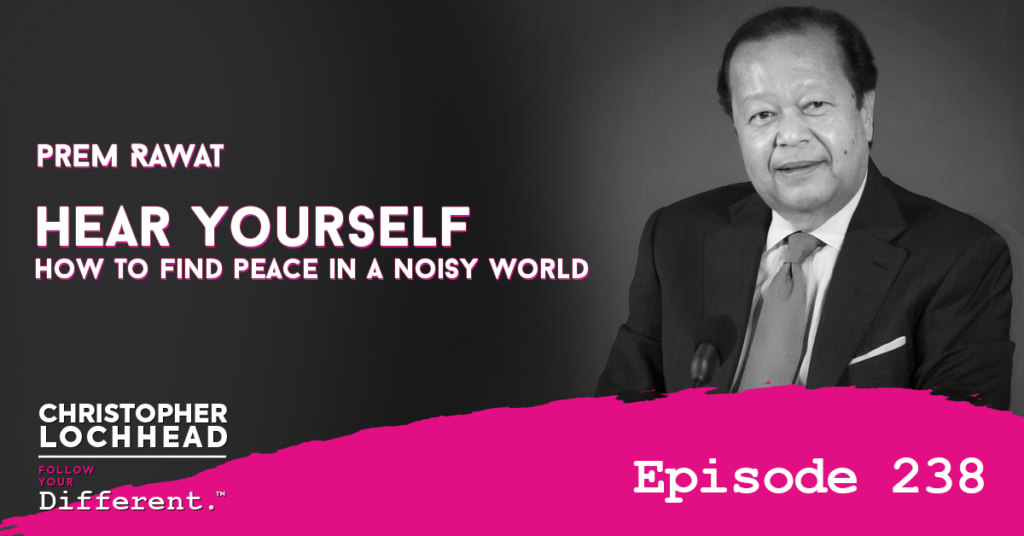 Podcast: Play in new window | Download (Duration: 1:02:06 — 42.6MB) | Embed
Subscribe: Apple Podcasts | Google Podcasts | Spotify | Pandora | RSS | More
Is peace really possible? Our guest today says it is. In this special episode of Follow Your Different, Prem Rawat talks about how to find peace in a noisy world.
Prem Rawat has been teaching peace since he was a little boy in India. He became a counterculture icon in the 60s and the 70s, as Americans sought out different ideas and beliefs. He's been a source of great controversy and massive followership over the years. Prem has been sought out and welcomed by spiritual, social and political and business leaders around the world.
Prem Rawat has a new book out, called Hear Yourself: How to Find Peace in a Noisy World. We are here to discuss all that and more, so stay tuned.
Prem Rawat on the Current State of the World
When asked about his current thoughts, Prem talks about the current state of the world. For him, it seems that there's just too much drama and chaos in the world right now. Though the current situation right now plays a big factor as to why it may be so, people are still whipping it up and causing drama left and right.
While it is the nature of humanity to seek out exciting events and drama, it seems that we have become morbidly so, despite the situation being something as it is right now. Much so that we choose to forgo peace to chase the next drama.
"Well, you know, here's the paradox, because (when) you look at human beings, human beings are remarkable. We've been able to conquer disease, we've been able to invent so many wonderful things that that has helped other people. Though at the same time we can create medicine that can that can prolong life, we can also create machine guns that can take away the lives. So we always live in this paradox.

I always feel that we have to choose, and I talk about peace. I feel that we have to choose peace. It's not just going to happen automatically, that is not going to drop from the sky, on people, whether they like it or not. It's just that Something that we have to choose. And the question then becomes, is that what we're choosing?" – Prem Rawat
Choosing Peace
Prem continues on how we should actively choose peace. Because the way we are treating it right now, it's just something that we expect to happen to us, despite being distracted by everyday noise. If you want peace for yourself, you have to distance yourself from the noise and drama, and choose peace.
"Well, peace is already within you, (but) you have to gain access to it. And that's what this book is all about: getting in touch with yourself. Because we are so distracted. In fact, being with yourself, in an environment is considered the worst form of punishment you can possibly have. We have become so attracted to everything else that we became distracted from ourselves. That is a pretty sad state of affairs, when it comes to ourselves. That being with you, just being with you, is the worst thing you could ever do." – Prem Rawat
Can We Really Have Peace?
Prem shares his life of going around the world and speaking to the international crowd about peace. Though he thinks that just doing that was not enough, and that is why he wrote his book. With it, he hopes that it can spark a meaningful conversation or even a debate about peace.
Though there are those who say peace is not possible, that it is in the human nature to seek conflict or drama. For Prem, this is not so, as peace is already within all of us. So for him, these people can be considered sourgraping, in a sense.
"It's a question of sour grapes. there's a lot of people say it this way. It's like, oh no, peace is not possible. It's not going to happen. But when peace is already inside of us, why isn't that ever going to happen? And isn't it up to us? If we can create wars, why can't we create peace?" – Prem Rawat
To hear more from Prem Rawat and how to find peace in this noisy world, download and listen to this episode.
Bio
Prem Rawat
For more than fifty years, Prem has shared his enduring message with people of any age, race, gender, nationality, religion, personal lifestyle or life condition, that peace within is possible and it is your birthright. He has reached hundreds of millions of people in over 100 countries through his powerful storytelling and profound message.
As a best-selling author and public speaker, he has adapted age-old stories for a modern audience, adding his unique perspective on the "business of life." These stories continue to resonate and transform millions of people's lives. His most recent book, Escúchate (Hear Yourself), quickly reached Amazon Spain's top non-fiction best seller's list, and precedes the soon-to-be released English version. Other publications by Prem include: Peace is Possible (published by Penguin) previously titled Splitting the Arrow: Understanding the Business of Life, as well as the illustrated books, The Pot With The Hole, and The Stonecutter.
Prem has personally developed an innovative wellbeing series called the Peace Education Program (PEP) that helps anyone interested to discover their inner strength and reflect on their own humanity.
Around the globe, Prem has also shared his practical approach to knowing yourself through a video-based course, Peace Education and Knowledge (PEAK), available free of charge on his media platform, TimelessToday. In these challenging times, Prem's message, his inspiration and the experience he points to, are more relevant than ever.
The Prem Rawat Foundation, established in 2001, supports charitable activities throughout the world, including Prem's Peace Education Program, which is now taught in places as diverse as prisons, countries ravaged by war, schools, universities, police academies, veteran centers and in hospitals in over 80 countries across 6 continents. From Cape Town, South Africa to California, from East Timor to Colombia, the Peace Education Program has reached people across wide spectrums of societies and inspires them to discover their innate personal peace.
To further advance his ability to reach people interested in his message, Prem became a pilot, logging more than 14,000 hours of flying time worldwide. He is also a composer, musician, photographer, husband, father of four children and grandfather of four.
Links
Follow Prem Rawat today!
Website: PremRawat.com
Twitter: @PRBookFans1
Youtube: @PremRawatOfficial
Instagram: @timelesstoday
Check out the book: HearYourselfBook.com
We hope you enjoyed this episode of Follow Your Different™! Christopher loves hearing from his listeners. Feel free to email him, connect on Facebook, Twitter, Instagram, and subscribe on iTunes!