306 Beat The Odds: From Abused Orphan to Loving Father with Peter Mutabazi, Bestselling Author: Now I Am Known
Monday 25th September 2023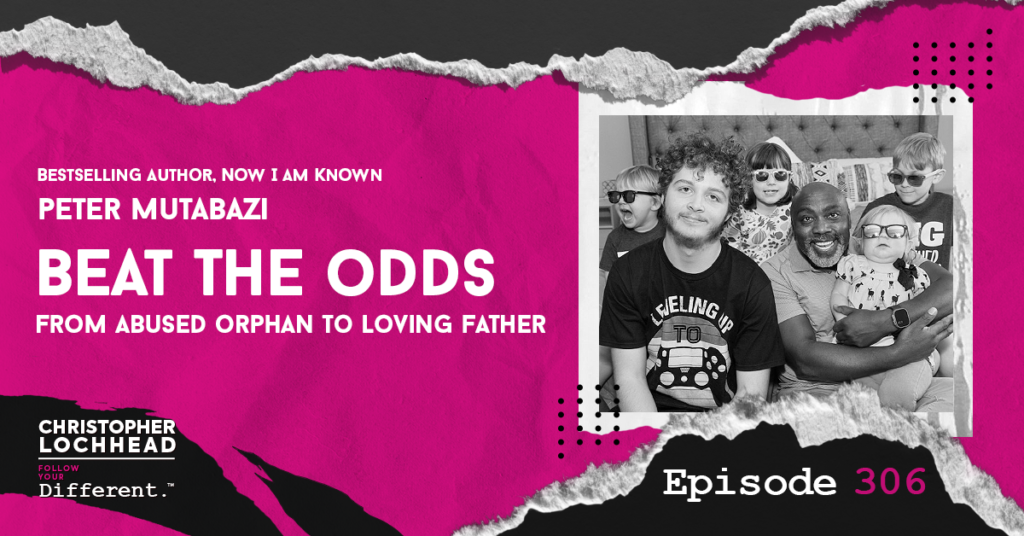 Podcast: Play in new window | Download (Duration: 1:01:59 — 42.6MB) | Embed
Subscribe: Apple Podcasts | Google Podcasts | Spotify | Pandora | Stitcher | RSS | More
When we come face to face with the raw enormity of the human spirit, it can be truly stunning. And when we encounter a person who is so magnanimous, they inspire us to ask questions like, "What could I do?" Today on Christopher Lochhead: Follow Your Different, we talk to one such person, Peter Mutabazi.
Peter grew up in shocking poverty, was called garbage and physically abused by his father. He ran away from home, and by 10 years of age became a "street kid" in the capital of Uganda Kampala. Today, Peter lives in America, and he's living a legendary life as a foster dad. He is also running a foundation called I Am Known Foundation, and his mission is to help increase foster parenting to help care for the most vulnerable children in our country.
By the end of this episode, you will gain a visceral understanding of how a person can literally traverse from the worst imaginable situations as a child to achieving success, happiness, and a deep sense of what he calls true worth.
Peter Mutabazi on Teenage Adoption
The conversation starts off on the topic of adoption, particularly on teenage adoption. While most of the conversations about adoption revolve around adoption as a child, teenage adoption is very rarely talked about.
For Peter, this age period is particularly vulnerable for them, as they prepare to be part of society when they become 18. If there was no one to guide these teenagers, then they would have nowhere to go afterwards, and no way to establish themselves.
"When you're 15 and you have only three years left in the foster care system, and you have nowhere to go, it's critical for anyone to step up and guide you to the world you've never lived, that you don't know. So I feel like they're the most vulnerable and need the most talk."

– Peter Mutabazi
Peter also comments that teenage adoptees are easier to be with. This might be due to the fact that they can pretty much handle themselves in their day-to-day lives, provided that they have the support and resources to do so.
Peter Mutabazi on his Origin Story
Peter tells the story of his youth in a village called Kabaddi, which was located at the border of Uganda and Rwanda. From the get-go, life was harsh to them, as even the basic necessities are hard to come by at times.
Peter shares that he wasn't even given a name until he was 3 years old, as the survival rate of babies was so low, they did not want to give them names and form attachments before they are sure that he could survive.
"I also got to learn that I didn't have a name until when I was three years old. Why? Because for every 100 children were born in my village 60 would die before the age of two. So most moms were afraid to name a child because they didn't want to get attached."

– Peter Mutabazi
To add another layer of difficulty to all that, Peter's father was what you'd call abusive, in every sense of the world. Peter quips that in a normal family, even if you suffer through hardships, there's always some comfort of knowing that you have a home to return to. In his case, it was the most agonizing place to be in because of his father.
So at the young age of 10, Peter decided that he had had enough. He ran away from home.
To hear more from Peter Mutabazi and his story of growing up with an abusive father to being the father to those in dire need of it, download and listen to this episode.
Bio
Peter Mutabazi
Peter Mutabazi is an entrepreneur, an international advocate for children, and the founder of Now I Am Known, a corporation that supplies resources to encourage and affirm children.
A single father and foster dad, Mutabazi is a former street kid who has worked for World Vision, Compassion International, and the Red Cross.
He has appeared on media outlets such as the BBC and The TODAY Show and continues to be a passionate speaker. He currently lives in Charlotte, North.
Links
Connect with Peter Mutabazi!
NowIAmKnownFoundation.org | Now I Am Known | Facebook | Instagram
Check out his book here: Now I Am Known | Amazon