332 The Future of Tech Startups with Paul Martino of Bullpen Capital
Friday 1st December 2023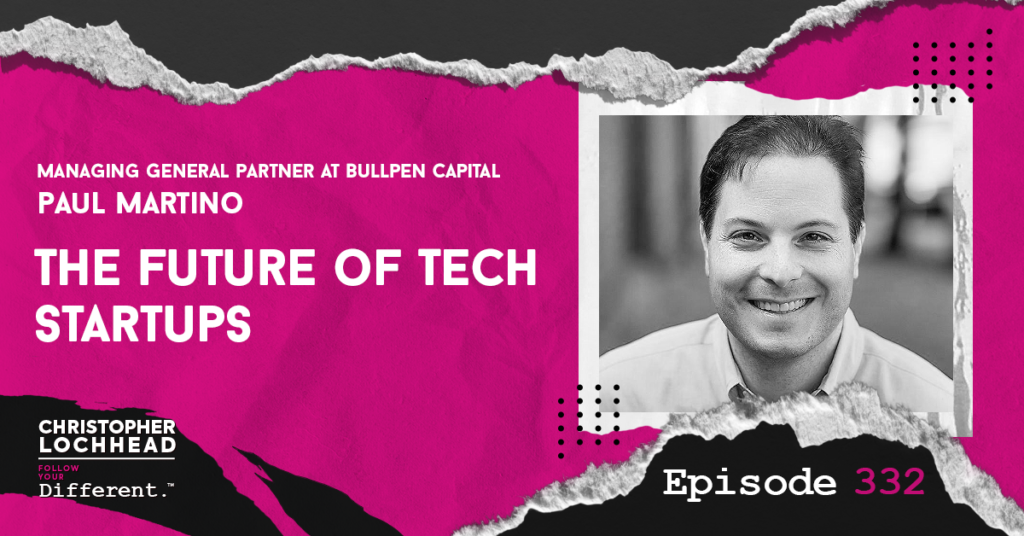 Podcast: Play in new window | Download (Duration: 1:29:33 — 61.5MB) | Embed
Subscribe: Apple Podcasts | Google Podcasts | Spotify | Pandora | RSS | More
If you have been following Silicon Valley and tech news, you might be wondering what the future of tech startups in general are and what trends venture capitalists are following nowadays. Our guest, Paul Martino, might be able to answer those questions for you.
Paul Martino is the founder of eight companies including Tribe; one of the world's first social networks, and aggregate knowledge a big data advertising company. Paul holds over a dozen patents on core social networking concepts, content targeting and recommendation systems.
This is a fun, fascinating and deeply insightful conversation with one of our favorite thinkers in the tech startup world.
You're listening to Christopher Lochhead: Follow Your Different. We are the real dialogue podcast for people with a different mind. So get your mind in a different place, and hey ho, let's go.
Paul Martino on Venture Capital, Fundraising, and Market Sentiment
The conversation begins with Paul Martino and Christopher Lochhead talking about the challenging environment for venture capitalists.
Paul Martino acknowledges the tough 18 months, highlighting a temporary upswing but anticipating further challenges.
Christopher shares mixed signals from CEOs, noting a tough market despite some positive indicators. Paul observes a significant change in fundraising capital availability in Q2, attributing it to increased confidence with NASDAQ's rise.
As Christopher mentions entrepreneurs preferring angel investors over traditional VCs due to difficulties and lowered valuations, Paul disapproves of VC complacency during tough times and assures entrepreneurs that committed VCs like him are open for business, emphasizing their entrepreneurial mindset. He also understands the logic behind entrepreneurs relying on existing investors during market uncertainty.
Paul Martino on the impact of market downturn on early- and late-stage companies
They then continue to discuss the challenges faced by late-stage companies dealing with overvalued situations.
Paul emphasizes the distinction between a down round and a recap, suggesting that a down round, while not ideal, is manageable. He also stresses the importance of CEOs accepting a realistic valuation to issue new options and retain employees, criticizing those who let ego hinder practical decisions.
Christopher raises concerns about companies with significantly reduced growth rates, questioning their true value. Paul gives a hypothetical example of a $10 billion company dropping to $3 billion, highlighting the need for companies to adapt and not shy away from necessary adjustments to move forward.
Paul Martino on San Francisco's decline and potential for recovery
The conversation shifts to the topic of the decline of vibrant cities like San Francisco and Portland.
Paul observes the eerie emptiness in once-bustling areas, expressing concern for the loss of the lively environment. Lochhead shares similar sentiments, reminiscing about the exciting times they experienced during previous boom periods. They discuss the root causes of these issues, focusing on policy changes like Prop 47 and Prop 57 in California that decriminalized theft under $1,000, leading to increased crime rates.
Paul believes it will take a new generation of pragmatic leaders to address institutional problems and revive cities, estimating a 20-year timeframe for San Francisco's recovery. The conversation highlights their shared disappointment in witnessing the decline of the cities they once knew.
To hear more from Paul Martino and the future of tech startups, download and listen to this episode.
Bio
Paul Martino is a Managing General Partner at Bullpen Capital. Paul is the founder of eight companies including Ahpah Software (a computer security firm acquired by InterTrust; Tribe (one of the world's first social networks), and Aggregate Knowledge (a big data advertising attribution company acquired in 2014 by Neustar).
Paul's early online gaming innovations in multi-player user experience from over 30years ago are the inspiration for several of the modern social gaming offerings.
He holds over a dozen patents on core social networking concepts, content targeting, and recommendation systems.
Prior to forming Bullpen In 2010, he was an active angel investor and personally invested in the first rounds of Zynga (NASDAQ: ZNGA), TubeMogul (NASDAQ: TUBE), and uDemy.
He sold a company into Millennial Media prior to its public offering (Condaptive), as well as to Marketo prior to Its public offering (Crowd Factory).
While at Bullpen, Paul has led several of its key investments including FanDuel (merged with Flutter Entertainment (LSE:FLTR)), Swish Analytics, Jackpocket, Grove, Ipsy, SpotHero, Ocrolus, and Life360 (ASX:360). Paul served on the board of directors of FanDuel for over 5 years during a period of tremendous high growth.
Since forming Bullpen, Paul has stayed active as an entrepreneur forming companies specifically at the Intersection of sports, gaming, gambling, and technology.
His most recent endeavor, Bankroll, is building a next generation sports betting focused elevated dining restaurant in his hometown of Philadelphia.
Paul also created a film production company, 818 Media, that produced the film Inside Game. Inside Game tells the story of the 2007 NBA betting scandal in which referee Tim Donaghy's leveraged unreported inside information to wager on games including those that he officiated.
Link
Connect with Paul Martino!
We hope you enjoyed this episode of Christopher Lochhead: Follow Your Different™! Christopher loves hearing from his listeners. Feel free to email him, connect on Facebook, Twitter, Instagram, and subscribe on iTunes