164 How to Build Billion-Dollar Startups | Osman Rashid founder Chegg & Convo.com
Monday 25th September 2023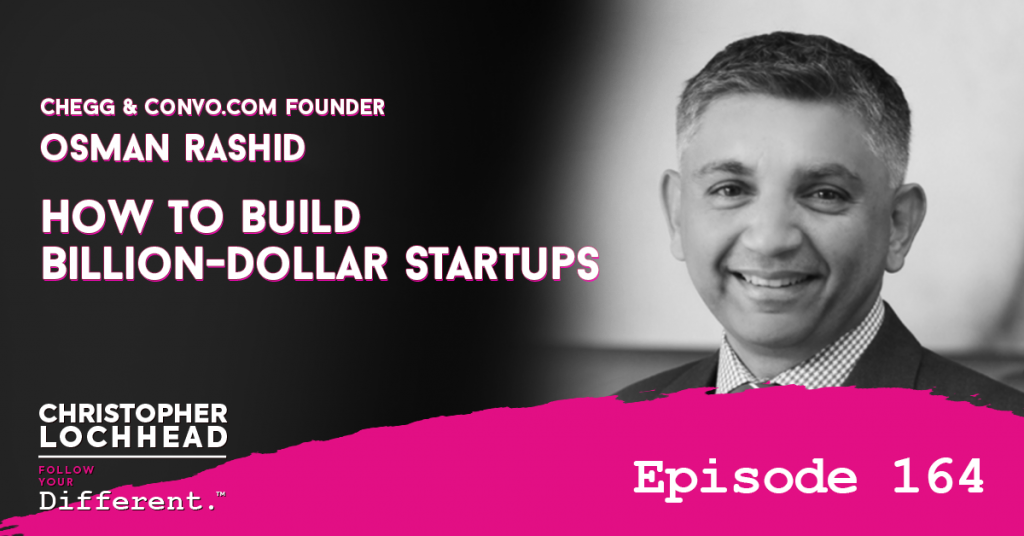 Podcast: Play in new window | Download (Duration: 53:11 — 36.5MB) | Embed
Subscribe: Apple Podcasts | Google Podcasts | Spotify | Pandora | Stitcher | RSS | More
Today, the second in a two-part series on entrepreneurship with none other than Osman Rishad, the founder of $8B, publicly-traded Chegg and now Convo.com. This is an inspiring conversation with a legendary entrepreneur about building billion-dollar startups.
This is an inspiring, timely conversation between Christopher Lochhead and Osman, as the former believes entrepreneurs are going to play an outsized role in carrying us forward in recovering from the situation we all find ourselves in, and most importantly, in designing a future that really works.
Fear of Being Irrelevant
Osman narrates to Christopher how some people are still asking why he is continuing to "fight" or spearhead more companies and projects. He shares that he has given this question a thought and realized a lot of things why he keeps on pushing forward.
"I felt that I wasn't adding any value. Frankly, that's when I realized maybe my number one fear in life is the fear of being irrelevant, that you have nothing to do. I actually love what I'm doing. I mean, I love building things. So it is not 'work' for me." – Osman Rashid
He further shared that nothing will stop him from doing what he loves, because everything else fell into its righteous place, such as marriage and building a family.
Do Something of Value
Christopher points out how hustle porn stars sold us a false narrative that entrepreneurship should equate to airplanes and Lamborghinis. Both agreed that although there is nothing wrong with financial independence, there are other important goals that should be celebrated.
"I get happy when people around me get financial independence, economic freedom, as you said. But the goal is to build a great company. If you are doing something of value, then the financial outcome happens automatically. But if that's your actual focus, I would say the failure rate is going to be even higher than that." – Osman Rashid
Hallmark of Legendary Entrepreneurs
Believe it or not, both Christopher and Osman believes you have to be a special kind of stupid to become a legendary entrepreneur. Being stupid means small and ordinary issues do not weigh you down.
"At that time, I had no idea, I thought I was just being dumb about the whole thing. That's the beauty of it because I never thought about being a legendary entrepreneur. I'm not even sure I'm one right now. There are some amazing people out there. It was all about 'look, I've got this problem to solve for tomorrow. If I don't solve this, I'm in deep doo-doo. So I'm going to solve this thing. The way I think of entrepreneurship, you have to be a little bit crazy in the head to go for it." – Osman Rashid
Osman further advises to find a specific problem that bothers you and try to solve it and within those process, you become an entrepreneur.
To hear more about building a billion-dollar startup and for more information about Osman, download and listen to this episode.
Bio:
Osman Rashid is an executive and entrepreneur in the field of education technology.
Currently he is the founder and CEO of Galxyz, an intergalactic science adventure that he founded in late 2013.
Previously, he was co-founder and CEO of online textbook rental leader and student hub Chegg, remaining involved until early 2010 after dramatically growing the company from its inception in 2005.
He was also co-founder and CEO of Kno, Inc., (acquired by Intel in November 2013) a digital education platform company. Kno, Inc. has received funding from Andreessen Horowitz, Intel Capital, Goldman Sachs, FLOODGATE and GSV Capital, while Chegg was funded by KPCB, IVP, Gabriel Ventures and others.
Currently he is involved with ChildLife Foundation as a member of the Board of Trustees.
Osman Rashid was born in London and did his early schooling in Ghana and finished middle and high school from Islamabad, Pakistan.
He later moved to the United States where he received his bachelor's degree in electrical engineering from University of Minnesota in 1993.
Links:
We hope you enjoyed this episode of Follow Your Different™! Christopher loves hearing from his listeners. Feel free to email him, connect on Facebook, Twitter, Instagram and subscribe on iTunes!