019 Nice Guys Finish First w/ Matt Hanson
Monday 20th November 2023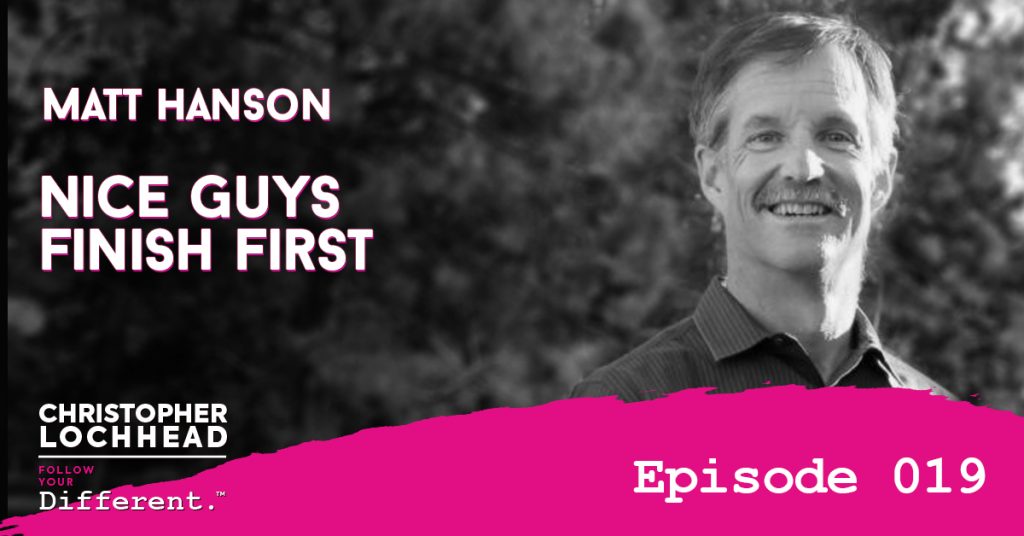 Podcast: Play in new window | Download (0.0KB) | Embed
Subscribe: Apple Podcasts | Google Podcasts | Spotify | Pandora | RSS | More
Which should come first—lifestyle or career? On today's episode, Matt Hanson shares the story of how he designed his life and business exactly the way he wanted. He also offers powerful insights into marriage, sales, relationships, and the joy of being a small e-entrepreneur.
Making Your Life Work
Matt made the decision as a young man to live the way he wanted. It was never easy, but his wife of 28 years has stayed by his side through every decision he made. This included committing to a life away from the city.
He didn't want to live the way people did in the Bay Area. He also knew he wasn't fit to be part of the rat race, so he headed to another direction. And now, he's reaping the fruits of staying true to himself.
"The lifestyle certainly came first and figuring out a way to support the lifestyle kinda came second." – Matt Hanson
Lifestyle First, Career Second
He then looked for ways to live by his lifestyle choice. Over time, he stumbled upon real estate, which has allowed him to continue his lifestyle while making a very good living. Matt says that this is the right way to approach life.
Matt likes walking into houses being built whenever he sees them. He also enjoyed the idea of houses and understanding whether they were designed right. And the more he saw, the more he learned just how unique each and every house is, in terms of layouts and proportions as well as marketability.
"Far and away, the majority of houses I walk into, I would never buy in a million years." – Matt Hanson
Being Personal
Mike says that real estate, much like everything in life, is tougher than it looks. It is an emotional career choice. And Matt has figured out that sticking to formula wasn't how he could stand out.
"I take the satisfaction, the closing, the fact that people are happy… I take it very personally." – Matt Hanson
To hear more about why Matt's mustache is a force to be reckoned with and how he found his voice in real estate, download and listen to the episode.
Bio:
Matt Hanson is a ski enthusiast, mountain lover, and realtor. His love for building houses came to be when he made the decision to move to Lake Tahoe. He was voted Realtor of the Year by his peers in North Lake Tahoe.
Links:
LinkedIn – Tahoe Truckee Homes
We hope you enjoyed Matt Hanson on this episode of Follow Your Different™! Christopher loves hearing from his listeners. Feel free to email him, connect on Facebook, Twitter, Instagram and subscribe on iTunes!