233 How Ten Global Cities Take On Homelessness with Linda Gibbs & Muzzy Rosenblatt
Monday 25th September 2023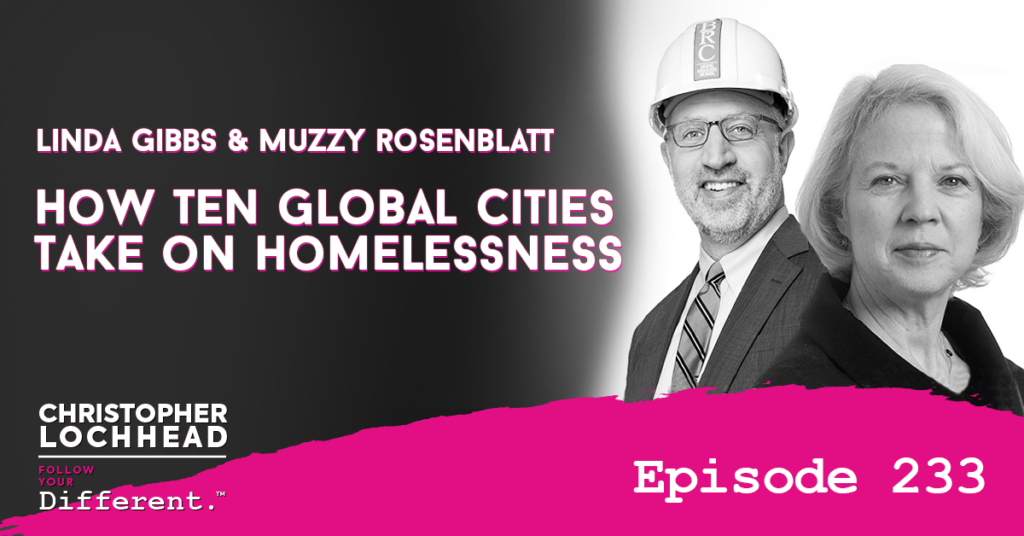 Podcast: Play in new window | Download (Duration: 1:40:54 — 69.3MB) | Embed
Subscribe: Apple Podcasts | Google Podcasts | Spotify | Pandora | Stitcher | RSS | More
Homelessness is a daunting, heartbreaking, and complex problem. There are currently about half a million Americans experiencing homelessness to this day. So in this episode of Follow Your Different, let's dig into what we can do to make a difference with our guests Linda Gibbs and Muzzy Rosenblatt, two of the authors of a powerful new book called How 10 Global Cities Take On Homelessness.
Linda Gibbs served as a Deputy Mayor for Health and Human Resources for New York City from 2005 to 2013. During her tenure, New York City was the only top 20 city in America whose poverty rate did not rise. Today, Linda is a principal at Bloomberg Associates, which is a philanthropic consulting arm of Michael Bloomberg's nonprofit organization. They work with cities globally to make a difference, particularly in areas of homelessness. Also with us is Muzzy Rosenblatt, who is the CEO of BRC, a nonprofit that has worked for 50 years to provide housing and treatment services to homeless adults in New York City.
It's safe to say that Linda and Muzzy are definitely experts in grappling with homelessness. The insights they share in their book are based on two extraordinary careers that are dedicated on solving the issue of homelessness. So if you have ever been homeless at some point in your life, or know someone who is in this situation, this dialogue is something you will want to hear from start to finish.
Linda Gibbs on Solving the Homelessness Problem
When asked why we can't seem to solve the homelessness problem, Linda shares that it's not really a complex problem, but it is hard one to tackle. It doesn't take a brilliant idea, or a new, innovative solution to solve it. The solution is easily staring us in the face, but we can't implement them due to certain factors.
One of the reasons is the vast amounts of resources that needs to be allocated to make it happen. You need to have the money to put the basic programs that can help people in motion. Though according to Linda, that's not even the biggest issue.
"The harder part, quite frankly, is it requires people who work in many different organizations at different levels of government. It requires that they all work together, like a well-oiled machine. The biggest problem is that these different systems, they all have their flaws. Also, many of the systems who have to be working together to fix the problem, are the very systems that generate the problem. And so, getting them to the table and working together toward one unified objective is the biggest challenge by far." – Linda Gibbs
Linda Gibbs on Why They Care
Before going further with the discussion, we asked both our guests why they people should care about the homeless. Linda shares that this is not something that people choose willingly for themselves. There are multiple factors as to why someone would be homeless. As a community, Linda thinks that we can do better for ourselves and our neighbors, especially those who are in dire need of our help.
"We live in, in many ways, a deeply flawed society, and we have to do better. We have to address the consequences of those flaws. And it's incumbent on us that we need to fix those flaws, and we need to be committed to the longer-term reforms. Though we also have to address the faults now while we focus on those longer-term strategies." – Linda Gibbs
Muzzy Rosenblatt on the Importance of Solving Homelessness
Muzzy agrees with Linda's views, but also recognize that some people might not see the same as them. He would encourage everyone to help, but doesn't force them to do so.
Though he points out that it can be beneficial for cities to tackle their city's issue of homelessness instead of just doing temporary measures to alleviate them. For one thing, the money being spent on keeping things in the current status quo is coming from taxpayer's money, so instead of having a stop gap or a short-term solution, why not solve the problem once and for all?
Also, getting the homeless back into a financially stable condition means more taxpayers and workforce in the long run. Don't think about it as spending money on the homeless, but rather investing in the future of the city and the community.
If you want to hear more from Linda Gibbs & Muzzy Rosenblatt and their new book, How 10 Global Cities Take On Homelessness, download and listen to this episode.
Bio
Linda Gibbs
Linda Gibbs served as Deputy Mayor for Health and Human Services for New York City from 2005 to 2013.
Supervising the city's human service, public health and social justice agencies, she spearheaded major initiatives on poverty alleviation, juvenile justice reform and obesity reduction. Two of the collaborative efforts she shaped to address significant social challenges are "Age Friendly NYC," a blueprint for enhancing the livability of older New Yorkers, and "Young Men's Initiative," an initiative addressing race-based disparities facing Black and Latino young men in the areas of health, education, employment training and the justice system. Gibbs also improved the use of data and technology in human service management, contract effectiveness, and evidence-based program development. During her tenure, New York City has been the only top 20 city in the U.S. whose poverty rate did not increase while the national average rose 28%.
Prior to her appointment as Deputy Mayor, Gibbs was Commissioner of the New York City Department of Homeless Services (DHS) and held senior positions with the New York City Administration for Children's Services and the Mayor's Office of Management and Budget.
Muzzy Rosenblatt
Muzzy Rosenblatt is the Executive Director of BRC, the Bowery Residents' Committee, one of New York City's most comprehensive social services agencies. Through its holistic and individualized approach to service, BRC helps thousands of homeless men and women gain the knowledge and skills they need to help themselves to overcome adversity and dependency; regain their health, mental health and sobriety; restore their self-sufficiency and self-respect.
Since arriving in 2000, Muzzy has led the agency through a period of growth that has strengthened its financial condition, improved the quality of services provided, and established BRC as a leader and innovator among not-for-profit social services agencies.
From 1988 to 1999, he held several positions in New York City government, including First Deputy Commissioner and then Acting Commissioner of the New York City Department of Homeless Services. Among his accomplishments at DHS were the dramatic restructuring of service delivery that transformed a patchwork of city-run custodial shelters into a service-rich residential treatment system operated by nonprofit agencies and the development of evaluative criteria to ensure resources are provided to those in need.
Muzzy received his MPA from the Robert F. Wagner Graduate School of Public Service at New York University (1992), and his BA from Wesleyan University (1987). He is a native New Yorker, and resides in Forest Hills, New York, in the borough of Queens.
Links
Follow Linda and Muzzy today!
Linda Gibbs
Twitter: @BloombergAssoc
Muzzy Rosenblatt
LinkedIn: in/Muzzy-Rosenblatt
More on their new book:
Amazon: How Global Cities Take On Homelessness
University of California Press
We hope you enjoyed this episode of Follow Your Different™! Christopher loves hearing from his listeners. Feel free to email him, connect on Facebook, Twitter, Instagram, and subscribe on iTunes!