337 Inside the Mind of "CEO Whisperer" Jerry Colonna, Bestselling Author of "Reunion – Leadership and the Longing to Belong"
Friday 1st December 2023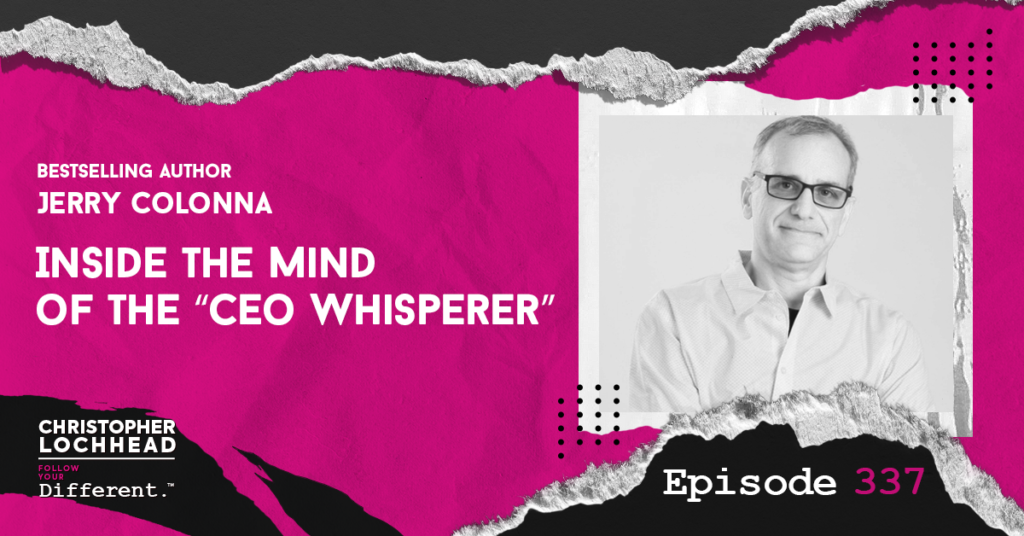 Podcast: Play in new window | Download (Duration: 1:30:30 — 62.1MB) | Embed
Subscribe: Apple Podcasts | Google Podcasts | Spotify | Pandora | RSS | More
On this episode of Christopher Lochhead: Follow Your Different, we have the great pleasure of talking to the "CEO whisperer" Jerry Colonna, once again.
Jerry Colonna is back, and he has a new book to share with everyone. It's called Reunion – Leadership and the longing to Belong. If you think radical, intimate conversations about careers are a powerful and important thing, you're gonna love everything about this conversation with Jerry.
You're listening to Christopher Lochhead: Follow Your Different. We are the real dialogue podcast for people with a different mind. So get your mind in a different place, and hey ho, let's go.
Jerry Colonna on Fame and being the same person all the time
The conversation starts off with Christopher Lochhead and Jerry Colonna discussing the impact of their voices in podcasting, highlighting how listeners feel connected as they follow along Christopher and Jerry's dialogues, as if they're actually part of the conversation. They also think that being authentic online and offline is always a good thing, sharing their personal anecdotes and experiences.
Christopher mentions meeting famous people and how Bill Walton handles fame graciously. On the flip side, Jerry reflects on the unnerving aspect of being known by strangers due to his work.
They both emphasize the challenge of balancing public perception and personal identity, especially in the digital age. But at the same time, they appreciate the connection with their audience but acknowledge the unique dynamics of being recognized.
Jerry Colonna on having Empathy and Compassion in Leadership
Jerry discusses the importance of empathy and compassion, highlighting that being fully present and authentic allows for genuine connections. He attributes the current low levels of empathy in leadership roles to various forces and suggests that those in power may benefit from maintaining the status quo.
Jerry Colonna, known as a prominent CEO coach, defends the relevance of discussing human aspects in business conversations. He believes that better humans make better leaders and expresses a responsibility for leaders to contribute to making the world a better place. Though he is also concerned about the divisive state of society and urges business leaders to engage in dialogue to address the issues tearing communities apart.
Jerry Colanna on Suffering and how to cope & make a difference
Christopher and Jerry then explore the challenges of coping with widespread suffering and violence.
Jerrry draws insights from Buddhist teachings, emphasizing the need for empathy and compassion. He discusses the choices people face in response to suffering and highlights the Buddhist perspective on addressing and transcending it. Jerry also introduces the concept of the tragic gap, urging individuals to stand between the present reality and a better future.
Christopher shares his view of embracing change as the only sensible choice, rejecting defeatism. The conversation concludes with a quote from Captain Paul Watson, emphasizing the importance of focusing on the present to shape a better future.
To hear more from Jerry Colonna, his thoughts on his new book, and leadership in general, download and listen to this episode. You can also check out his previous episode here at FYD episode 067.
Bio
Jerry Colonna is an executive coach who uses the skills he learned as a venture capitalist to help entrepreneurs.
He draws on his wide variety of experiences to help clients design a more conscious life and make needed changes to their career to improve their performance and satisfaction.
Previously he was a partner with JPMorgan Partners (JPMP), the private equity arm of JP Morgan Chase.
He joined JPMP from Flatiron Partners, which he launched 1996 with partner, Fred Wilson. Flatiron became one of the most successful, early-stage investment programs in the New York City area.
Links
Connect with Jerry Colonna!
About Jerry | Reunion / Get the eBook! | Reboot Leadership | Twitter/X | LinkedIn
Wired: This man makes Founders cry
We hope you enjoyed this episode of Christopher Lochhead: Follow Your Different™! Christopher loves hearing from his listeners. Feel free to email him, connect on Facebook, Twitter, Instagram, and subscribe on iTunes