203 How To Be A Bootstrap Entrepreneur On A Mission w/ Thousand Helmets CEO Gloria Hwang
Monday 20th November 2023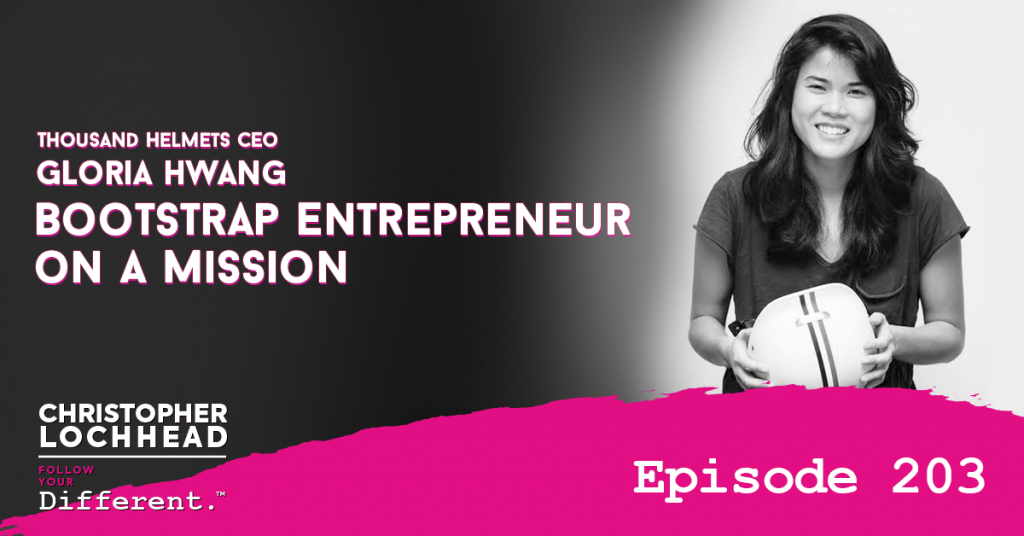 Podcast: Play in new window | Download (Duration: 1:21:08 — 55.7MB) | Embed
Subscribe: Apple Podcasts | Google Podcasts | Spotify | Pandora | RSS | More
Gloria Hwang was a long-time cyclist who never wore a helmet. She thought they were too bulky, inconvenient, and space-agey looking. Then, a friend of hers died in a bike accident. She decided something had to be done about helmets. Gloria, a savvy professional who's been working for five years inside the legendary Tom's shoes, saw the new mobility category designed right in front of her eyes.
With a very small amount of money and a Kickstarter campaign, she started Thousand Helmets. In this episode, we talk about Gloria's story, as an entrepreneur and category designer and her mission of saving lives.
The Mission of Thousand Helmets
When Gloria decided to buy a helmet for herself, she saw a bunch of passable-looking helmets, but there's nothing she wanted to wear. The number one reason people don't ride a bike, skateboard, or scooter is they just don't feel safe. So, she believed that making a helmet that people would want to wear could help save a lot of lives:
"I really believe that I can create a product that people want to wear and I could solve a lot of problems. They could help save lives, and I could get people moving around cities in a different way." – Gloria Hwang
Prioritizing the Customer's Perspective
As helmets have been around since forever, Christopher asks Gloria how she saw an opportunity to create a different category of helmets. She says that it was all about customer insight as she was once a customer. Their first products were based on a human-centered design perspective and not on a market perspective.
"As a consumer, you have a whole different set of customer needs and problems than what's on the shelves. Then you kind of know that there is something out there for you that needs to be created." – Gloria Hwang
Design Philosophy
Gloria shares the fundamental concepts in their product development process. The first one is style, and the second one is safety so that people can be safe and look stylish at the same time. The last one is convenience, which created the idea of their secret PopLock function to avoid theft when people leave their helmets behind.
"There's the execution where things need to be beautiful and high quality, but it always goes back down to what the customer would be thinking right now and what problem they encounter when they're deciding to pick up a helmet. So, at the end of the day, it's kind of trying to get a good understanding of what that customer wants." – Gloria Hwang
To know more about Gloria Hwang and how to be a bootstrap entrepreneur, download and listen to this episode.
Links:
Designer Spotlight: Thousand Bike Helmets Become A Stylish Safety Accessory
We hope you enjoyed this episode of Follow Your Different™! Christopher loves hearing from his listeners. Feel free to email him, connect on Facebook, Twitter, Instagram, and subscribe on iTunes