276 The Voice In Your Head, Why It Matters, & How To Harness It with Psychologist & Author of "Chatter" Ethan Kross
Wednesday 20th September 2023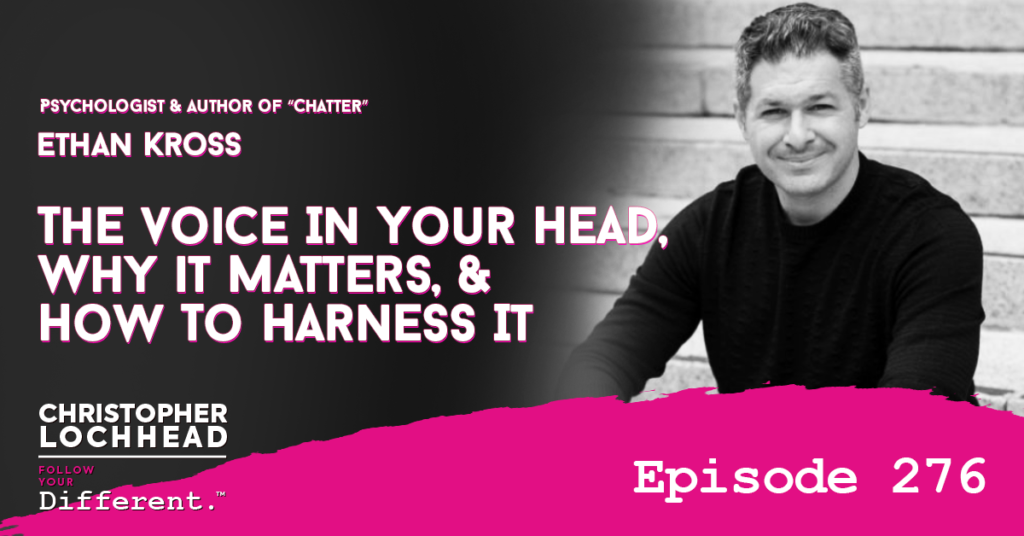 Podcast: Play in new window | Download (Duration: 1:16:56 — 52.8MB) | Embed
Subscribe: Apple Podcasts | Google Podcasts | Spotify | Pandora | Stitcher | RSS | More
On this episode of Christopher Lochhead: Follow Your Different, we talk about those voices in your head with our award-winning guest, Dr. Ethan Kross. Who knows, you might learn something useful from listening to it.
Dr. Ethan Kross is an award-winning psychologist and professor at the University of Michigan and the Ross School of Business. He has a new book out called Chatter: the voice in your head, why it matters and how to harness it. Bestselling author Adam Grant says, "this book is going to fundamentally change some of the most important conversations in your life, the ones you have with yourself."
So if you want to know how you can work with those voices in your head to make your life better, stay tuned to this episode.
Ethan Kross on the Voices in your head
The conversation starts off with the topic of Ethan Kross' new book, Chatter. Ethan explains that we all have an inner voice, which is the ability to silently use language to reflect on our lives.
"it's a tool of the mind. It's a tool that that distinguishes us from every single other animal species. You use language silently in your head to do all sorts of things like, simulate and plan for the future. You use this inner voice to do something I find to be magical, which is tell stories about our experiences in this world. Stories that help us understand who we are." – Ethan Kross
Chatter
According to Ethan, there are times when this inner voice we possess doesn't work so well.
"Sometimes when you experience adversity, you reflexively tried to use this tool to think through a problem, but you don't come up with a clear solution. You end up for lack of a better term spinning, worry, ruminating catastrophizing. And that's what I call chatter." – Ethan Kross
Chatter sometimes takes the form of an inner critic. Sometimes, it's a self-disparaging voice. Sometimes it's an inner monologue filled with anger and aggression. But the idea here is that you're just getting stuck in this negative thought loop, and you can't break free.
Ethan Kross on Metacognition
We bring up the topic of "thinking about thinking", and Ethan shares his thoughts on the matter. For Ethan, most people actually do a lot of thinking about thinking, or metacognition.
"Basically, Metacognition refers to exactly what you're talking about: thinking about thinking. And I think we spend a lot of time doing this in ways that create misery. And, like, when we're worried about stuff we keep on, you know, we start worrying, like, think about what worry is, there's something in the future that you're concerned about. At some point, you start worrying about the fact that you're worrying." – Ethan Kross
He then used sleep as an example. At first, it's simple: you sleep when you are tired. But as we think about other things like "are we getting enough sleep," and the effects of not staying up late, etc. We start to worry about too many hypothetical things in our head, and we, ironically, lose sleep over it.
To hear more from Ethan Kross and how to channel your inner voice to be more productive in life, download and listen to this episode.
Bio
Ethan Kross, PhD, is one of the world's leading experts on controlling the conscious mind. An award-winning professor at the University of Michigan and the Ross School of Business, he is the director of the Emotion & Self Control Laboratory.
He has participated in policy discussion at the White House and has been interviewed on CBS Evening News, Good Morning America, Anderson Cooper Full Circle, and NPR's Morning Edition. His pioneering research has been featured in The New York Times, The New Yorker, The Wall Street Journal, USA Today, The New England Journal of Medicine, and Science.
He completed his BA at the University of Pennsylvania and his PhD at Columbia University.
Links
Connect with Ethan Kross!
Website | LinkedIn | Twitter | More about Ethan | Chatter
We hope you enjoyed this episode of Follow Your Different™! Christopher loves hearing from his listeners. Feel free to email him, connect on Facebook, Twitter, Instagram and subscribe on iTunes!