187 Inside President Trump's Business, Taxes & More w/ Author of Whitehouse Inc. Dan Alexander (Part 1)
Wednesday 20th September 2023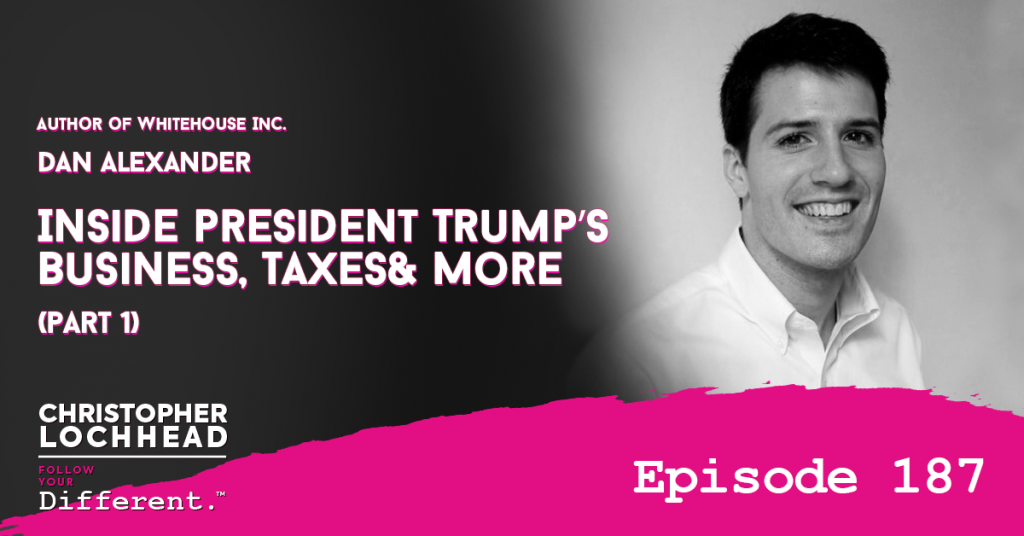 Podcast: Play in new window | Download (Duration: 1:05:10 — 44.7MB) | Embed
Subscribe: Apple Podcasts | Google Podcasts | Spotify | Pandora | Stitcher | RSS | More
This is a giant one! Our prediction is that this episode will break the internet. Today, the first of two episodes, we go deep with the Forbes reporter who, in all likelihood knows more about President Trump's business, than anyone outside The Trump Organization, Dan Alexander. He's got a deeply researched book called Whitehouse Inc. How Donald Trump Turned The Presidency Into A Business.
We think it is important for every American voter, whether you love President Trump or not, to know what kind of business person he is. President Trump has promoted himself as an entrepreneur, so now we get to go deep into his business.
Stunning Revelations
There are many stunning revelations in this first part of the series. Dan answers the question, is the President actually a billionaire. He examines for us how well or how poorly the president businesses are currently doing, where he makes money, and loses money. He also dives deep into how much the President would have made if he had sold all of his assets, and put them in a blind trust and whether or not that would have been a better move for him.
"I believe it was 1982. Donald Trump was on the first one [Forbes 400]. He should not have been, but he snuck his way onto that list. His father deserves to be on it. He did not. He sort of conned his way onto the list." – Dan Alexander
Owning Complex Businesses
Also, you're going to discover what happened politically, after the Government of Qatar rented office space in a building in San Francisco, that the President owns 30% of. We also get into the potential conflicts of interest the President faces as he owns such a complex business organization. Further, we get Dan's take on the New York Times report on Mr. Trump's taxes.
Conversation with Eric Trump
You can also find in this episode about Dan's conversation with Eric Trump and what Eric Trump told Dan, about his father's involvement in the business during the presidency. Eric also revealed to Dan, what the Trump organization's real business strategy is, and a whole lot more.
Dan and Christopher try to unpack this information as best as possible.
"I asked Eric about it. I said, 'what are your plans here?' He told me, flat-out, that he planned on updating his dad on the financials of the business. This was like a month or two after his dad said the exact opposite. So right there, upfront, one of the core promises falls by the wayside. Then you have Trump promises that he's not going to do any new foreign deals. He does limit some of his foreign deals, as I mentioned earlier. He does do new foreign deals, he ends up selling land in the Dominican Republic while he's in office." – Dan Alexander
To know more inside information on President Trump's Business, Taxes & More and for more information about the author of Whitehouse Inc., Dan Alexander, download and listen to this episode.
Bio:
Dan Alexander is a Senior Editor at Forbes where he covers President Donald Trump and he's the author of White House, Inc.
Links:
Forbes.com, Yes, Donald Trump Is Still A Billionaire. That Makes His $750 Tax Payment Even More Scandalous
Sfchronicle.com, SF's 555 California, partly owned by Trump, could be sold
NY Times Book Review: White House Inc.
We hope you enjoyed this episode of Follow Your Different™! Christopher loves hearing from his listeners. Feel free to email him, connect on Facebook, Twitter, Instagram, and subscribe on iTunes!