282 How To Do The Impossible with Colin O'Brady, First Man To Solo Cross Antarctica & Author of The 12-Hour Walk
Monday 25th September 2023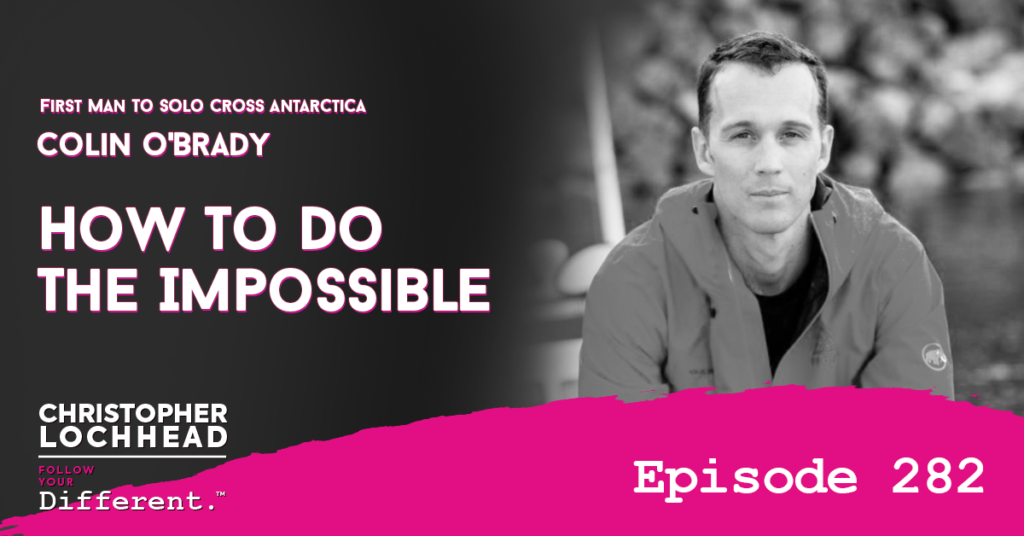 Podcast: Play in new window | Download (Duration: 1:20:59 — 55.6MB) | Embed
Subscribe: Apple Podcasts | Google Podcasts | Spotify | Pandora | Stitcher | RSS | More
On this episode of Christopher Lochhead: Follow Your Different, we talk about how ordinary people do legendary things and push ourselves to go beyond ourselves with our guest, Colin O'Brady.
Colin O'Brady is an extraordinary extreme athlete. He has summited Everest twice, and he is the first person ever to solo trek across Antarctica. And he's a 10-time world record breaking explorer and adventurer, and is considered to be one of the most legendary endurance athletes on the planet.
Yet Colin considers himself a regular dude, and will share his story on how we can all do some serious legendary things in our lives.
Colin O'Brady on his reasons for doing what he does
The conversation starts off with the question of why Colin does what he does.
"Why do I do what I do? Yeah, it's an easy question as you're like, "Why would somebody walk alone across Antarctica for 54 days, dragging a 375-pound sled by themselves?" I asked myself that question sometimes." – Colin O'Brady
That said, Colin is very happy with his achievements, especially with his wife as his number one supporter. They have built their business together, and she has helped Colin with these world record expeditions and how to execute them. And they don't forget to have fun while doing so.
"I remember calling her around day 35 and in a sadly scrapped crackly sat phone connection I said to her, "Hey, if I ever tell you I want to do this again. Make sure to remind me that I don't."" – Colin O'Brady
Type 2 Fun
Colin asks if we are familiar with the phrase, type 2 fun.
"So type one fun is like fun. We you know, normal fun. You know, you're drinking with your buddies, you're dancing, you're partying, you're hanging out with your wife and are watching a beautiful sunset. It's just fun, just fun for fun. Type two fun is it's not super fun." – Colin O'Brady
For Colin, type 2 fun is the fulfillment one gets from pushing their body to the limits, and exploring the human potential. Not just in the physical sense, but also emotional and mental sense.
The Desire to be outside is part of our DNA
We talk about our outdoor trips, and while it is not as extreme as Colin's adventures, we do get that exhilaration and joy of exploring the outdoors.
Colin agrees with this, and remarks that as human, it is in our DNA to explore the outdoors.
"I think it's in our DNA to be outside in nature. Like you said, kind of those moments where after a busy week, or a busy month, you look up and you kind of watch the clouds go pass for a second, or something like that. There's something very grounding in those experiences." – Colin O'Brady
To hear more from Colin O'Brady and how to do the impossible, download and listen to this episode.
Bio
Colin O'Brady is a 10-time world record breaking explorer and one of the world's best endurance athletes.
He isn't your typical adventurer despite his unmatched athletic accomplishments including a world-first solo crossing of Antarctica, a world-first ocean row across Drake Passage (from South America to Antarctica), and summiting Mt. Everest twice. Colin is an expert on mindset, a highly sought-after keynote speaker and a New York Times bestselling author.
Colin is also a television host, an executive producer and an entrepreneur who has built and sold companies. And, he's done it all after overcoming a devastating accident – that nearly left him unable to walk – to prove that anything is possible.
Links
Connect with Colin O'Brady!
Check out his new book:  12 Hour Walk: Invest One Day, Conquer Your Mind, and Unlock Your Best Life
We hope you enjoyed this episode of Follow Your Different™! Christopher loves hearing from his listeners. Feel free to email him, connect on Facebook, Twitter, Instagram and subscribe on iTunes!