206 Wild Rituals: Dr. Caitlin O'Connell of Harvard on Lessons Animals Teach Us About Connection, Community, and Ourselves
Wednesday 20th September 2023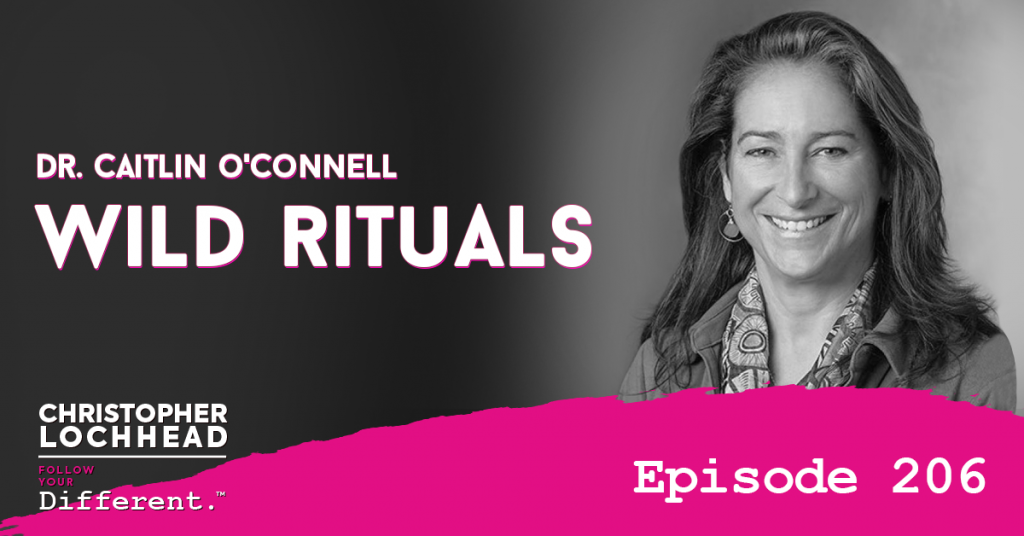 Podcast: Play in new window | Download (Duration: 1:12:25 — 49.7MB) | Embed
Subscribe: Apple Podcasts | Google Podcasts | Spotify | Pandora | Stitcher | RSS | More
In today's episode of Follow Your Different, we are joined by Behavioral Ecologist and world-renowned Elephant Scientist, Dr. Caitlin O'Connell. She spent more than 30 years studying animals in their natural habitats. Dr. Caitlin has also taught at places like Stanford and Harvard.
She's got a brand-new book out called Wild Rituals, where she explores 10 lessons animals can teach us about connection, community, and our own humanity. Her book comes out at a time in history when the human race is dealing with some pretty deep existential questions. Dr. O'Connell is here to help us deepen our understanding of ourselves by teaching us all about these legendary animals.
Taking Social Rituals for Granted
As the pandemic continues to keep everyone socially distant, people have started noticing social rituals and activities that we used to take for granted. Dr. Caitlin talks about the rituals in wild animal societies and how intense each social interaction was, even for something as simple as a greeting.
She further explains that in our current isolation, people have realized the importance of these rituals in our lives, no matter how basic it may have seemed.
"The reason I was inspired to write about rituals in wild animal societies was really just to remind us of how important ritual is in our own lives, and how similar our rituals are to other animals." – Dr. Caitlin O'Connell
Different, But the Same
Dr. Caitlin discusses how we as a species have evolved, and how tools like language have accelerated our growth. Yet it is important to remember that everyone came from the same humble beginnings, but took different paths.
She reminds everyone we all evolved this need for ritual for the same purpose, despite the differences we display them.
"It's easy for people to do that because we are the only species that evolved language. Then by that language, suddenly we just accelerated away from the branch on our evolutionary tree. But the thing to remember is that we all came from the same humble beginnings, whether or not we moved in another direction." – Dr. Caitlin O'Connell
The Importance of Rituals
Dr. Caitlin and Christopher dive into the importance of social rituals, and why we cling to them almost instinctively. Dr. Caitlin shares that inclusion in such rituals makes us feel comfortable and connected.
"Well, rituals are very calming, they're very soothing, they comfort us and, and make us feel connected. They, especially group rituals, when you're doing something as a group, let's say in a marching band or synchronized swimming, or singing with your friends to cheer your team on. They make you feel included and more bonded to the people that you're with." – Dr. Caitlin O'Connell
She also explains that as the population grew and society became more diverse, some social rituals have evolved to help identify each other from different groups. Yet as all of these group rituals help people feel bonded to the group, rituals can also lead down a dark path.
To know more about Dr. Caitlin O'Connell, as well as the dark path and how we can avoid it as social animals, download and listen to this episode.
Bio:
Dr. Caitlin O'Connell has been called a modern renaissance creative.
She is currently on the faculty at the Eaton Peabody Lab at Harvard Medical School studying elephant low-frequency hearing while also overseeing a non-profit foundation, (Utopia Scientific) promoting the importance of science and conservation.
Dr. Caitlin is an award-winning author and photographer and has been studying elephants in the wild for the last thirty years, having written dozens of scientific papers and numerous feature magazine articles and two memoirs about her experiences.
She taught creative science writing for Stanford and The New York Times and co-developed the award-winning Smithsonian documentary, Elephant King.
Dr. Caitlin is currently developing a new elephant docu-drama, Elephant Crown, and working on several feature movie and television scripts aimed at getting real science into popular media.
She has authored eight popular books about elephants, including an award-nominated thriller series about the ivory trade that is also being released as a graphic novel.
Links:
Website: Dr. Caitlin O'Connell's Official Website
Amazon Books: Wild Rituals: 10 Lessons Animals Can Teach Us About Connection, Community, and Ourselves
Twitter: @Dr. Caitlin O'Connell
Instagram: @Dr. Caitlin O'Connell
Harvard links: @Dr. Caitlin O'Connell
We hope you enjoyed this episode of Follow Your Different™! Christopher loves hearing from his listeners. Feel free to email him, connect on Facebook, Twitter, Instagram, and subscribe on iTunes!