264 Why Startups Should Slow Down, Why Hospitals Are Like Airlines, What's Next with Covid19, Theranos, & The War In Europe with #1 HealthTech Investor Bryan Roberts
Monday 25th September 2023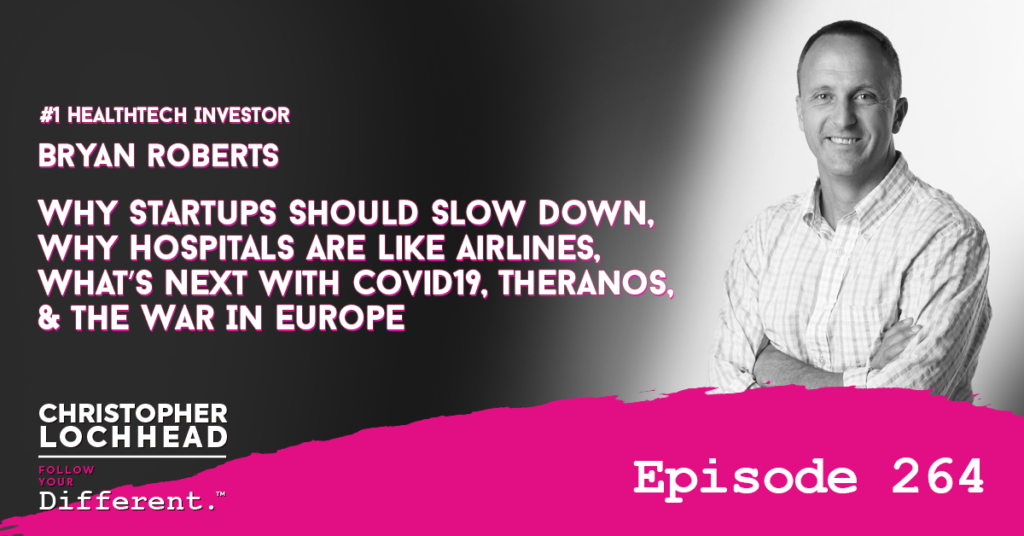 Podcast: Play in new window | Download (Duration: 59:47 — 41.0MB) | Embed
Subscribe: Apple Podcasts | Google Podcasts | Spotify | Pandora | Stitcher | RSS | More
On this episode of Christopher Lochhead: Follow Your Different, we have a conversation about a wide range of topics. From why startups should slow down, the current state of Covid19 and how it has affected our healthcare systems, to Silicon Valley's response to Russia's attack on Ukraine. Who better to have this conversation than with one of the smartest minds I know, Bryan Roberts.
Bryan Roberts is a Senior Partner at legendary venture capital firm Venrock in Silicon Valley. He is the man that many people consider the number one healthcare tech VC on the planet.
So if you want to know our thoughts and be part of the dialogue, stay tuned to this episode. Also, pay special attention to what Bryan thinks CEOs should be thinking about and doing to survive and thrive over the next 12 months.
Bryan Roberts on the Growth of Startups
We open up the conversation about the state of startups over the past 6 months. According to Bryan, the have been some noticeable changes on how the public and markets interact recently. Before, when the public markets go down, it usually takes 6-12 months before the private markets also start going down. This is because those two markets are working on different capitals. But recently, there has been a crossing over of public to private and vice-versa, which has made the shifts in the market almost simultaneous due to these crossovers.
Bryan Roberts then talks about how he wishes startups would slow down a bit. He knows that this is contrary to the current popular belief that blitz-scaling and creating value quickly for your product is better, but he has this to say on the matter:
"I think there's something to be said for, for getting your stuff right. Like, it takes 10 years to build a good product, and probably takes 5 years to build a functional product that you're embarrassed about." – Bryan Roberts
For Bryan, rushing growth might look good in the short term, but it might not translate the same long term. In 2-4 years, all your customers will figure out that the products are not delivering the value you are selling them for, and you are left with a declining product and scrambling for the next short-term fix.
Covid19 and Its Effects on Healthcare
On the topic of the pandemic, Bryan thinks that it has pushed changes in behavior towards healthcare forward for a decade or two in the span of a year. People suddenly have to learn things about healthcare they never bothered about before. They might get pissy or annoyed about it, but they still did it because it was an essential knowledge now. Virtual Primary Care and telemedicine are some of the examples of the things even older people had to learn and have access to.
Of course, it won't replace the brick-and-mortar / traditional way we have access to medicine and healthcare. There are still some things that cannot be handled virtually or over the phone. But it is good that services that can transition over to remote access are doing so, and is reaching more people than ever.
Bryan Roberts on Covid Deniers
Despite all the evidence and news that has been going on, it seems that there are still people who downplay the severity of Covid19. While it has been tempered to lower numbers nowadays due to vaccines and weaker strains, it still doesn't deny the fact that we got our collective asses kicked by this pandemic this past two years.
For Bryan, it would be a disservice to the countless healthcare workers and their efforts for the past couple of years if people continue to say that this pandemic was some government ploy or a way for healthcare to make more money.
He also stresses that it's a dangerous line of thought, given how this particular virus operates. While past viruses like Ebola had such a high mortality rate that it eventually dies out when contained, Covid does not. Which means it has more time to spread. It can even spread before the person spreading it shows symptoms, so it's really hard to say if a public space is safe or not, unless everyone follows protocols and whatnot.
To hear more from Bryan Roberts and his thoughts on different current events and developments in healthcare, download and listen to this episode.
Bio
Bryan Roberts joined Venrock in 1997.
He is based in Palo Alto and seeks to partner with early-stage entrepreneurs innovating across the healthcare and life sciences industries.
Bryan is currently involved with several companies across therapeutics, genomics, and HCIT, including 10X Genomics, Devoted Health, Element Biosciences, Encoded Therapeutics, Included Health (formerly portfolio companies Grand Rounds & Doctor on Demand), and Lyra Health. Past investments include Ariosa Diagnostics (acquired by Roche), athenahealth (NASDAQ: ATHN), Ikaria (acquired by Mallinckrodt), Illumina (NASDAQ: ILMN), Ironwood Pharmaceuticals (NASDAQ: IRWD), Sirna Therapeutics (acquired by Merck), and Zeltiq (acquired by Allergan).
Immediately prior to joining Venrock, Bryan received his Ph.D. in Chemistry & Chemical Biology from Harvard University. He received his B.A. from Dartmouth College.
Links
Find out more about Bryan Roberts
We hope you enjoyed this episode of Follow Your Different™! Christopher loves hearing from his listeners. Feel free to email him, connect on Facebook, Twitter, Instagram and subscribe on iTunes!