050 Can Sales & Marketing Work Together? with Brian Burns
Tuesday 26th September 2023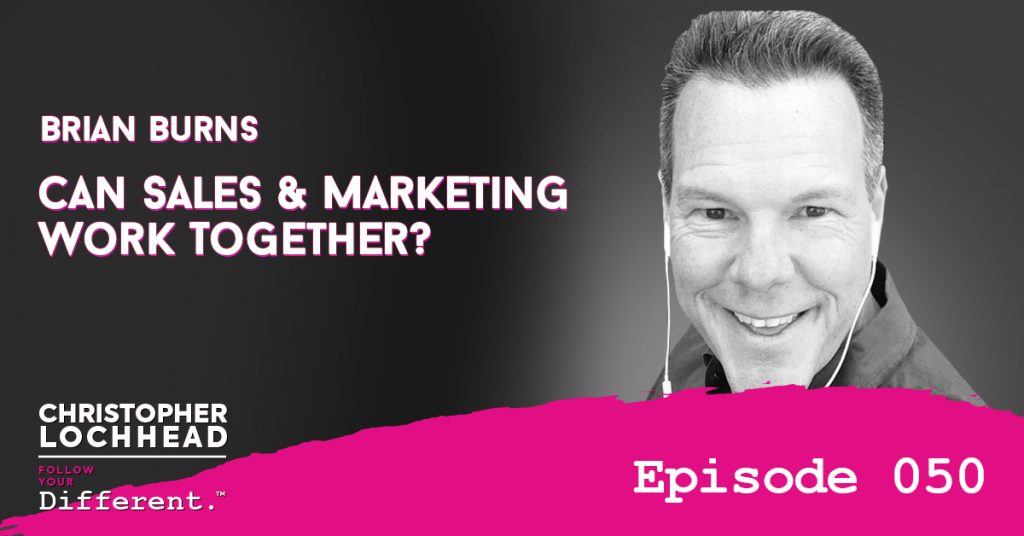 Podcast: Play in new window | Download (Duration: 52:11 — 48.0MB) | Embed
Subscribe: Apple Podcasts | Google Podcasts | Spotify | Pandora | Stitcher | RSS | More
On this episode, a no BS leader in the sales world, legendary author and podcaster Brian Burns.
Brian and Christopher had a captivating free-range conversation about sales & marketing and they unearth some powerful ideas for how the two can work together and they tackled the always important topic of – sales and marketing alignment.
"Certainly in marketing, we've got a lot of shiny objects to play with and what I found working with CMOs is they pick the shiny object who enhance their portfolio versus enhance the company's position." – Brian Burns
Sales and Marketing Alignment
Have you ever run into this issue? Lochhead found some easy ways to get it right where sales and marketing were completely in sync.
First is for CMOS to treat the quarterly sales number like it was your 100% responsibility.
"If you're the head of sales and I'm the head of marketing and we're working together, it's not your number, it's our number. It's not your company, it's our company." – Christopher Lochhead
Breaking the Gap between Sales and Marketing
Being in a field is where you will really learn.
"I think the misalignment of sales and marketing, generally is the fault marketing." – Christopher Lochhead
To hear more about Brian a no BS leader in the sales world, download and listen to this episode.
Bio:
Brian Burns is the sales guru in Silicon Valley and a host of two podcasts in the top 15 in business on iTunes, The B2B Revenue Leadership show, and The Brutal Truth about Sales and Selling.
He has authored four books on B2B sales and marketing and he has over 25 years of experience.
Links:
We hope you enjoyed Brian Burns on this episode of Follow Your Different™! Christopher loves hearing from his listeners. Feel free to email him, connect on Facebook, Twitter, Instagram and subscribe on iTunes!