293 Solar Energy, Opportunities & Myths with Bill Nussey, Author of the no.1 Bestseller "Freeing Energy"
Wednesday 20th September 2023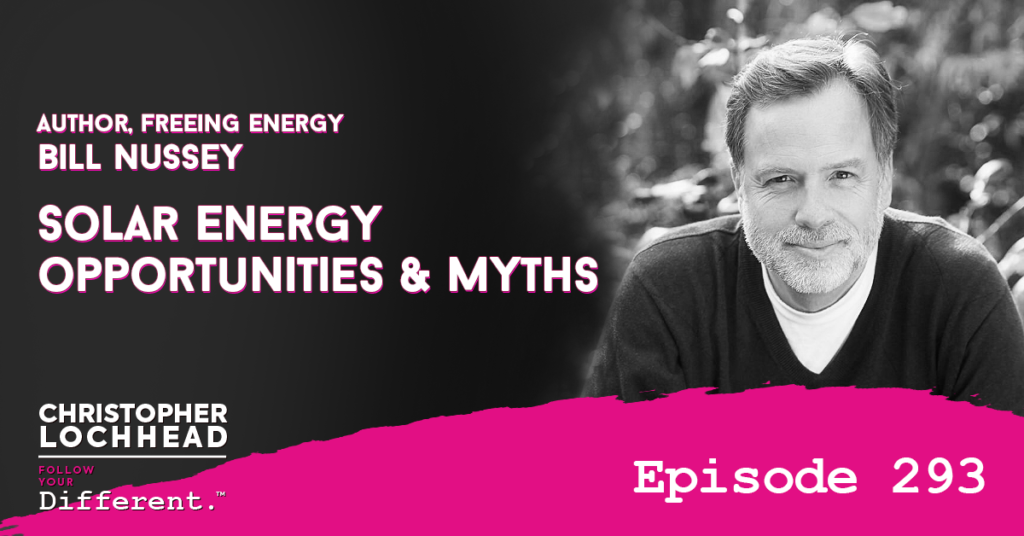 Podcast: Play in new window | Download (Duration: 1:29:44 — 61.6MB) | Embed
Subscribe: Apple Podcasts | Google Podcasts | Spotify | Pandora | Stitcher | RSS | More
Most of us are interested in what is happening in the electric energy revolution. So it is logical that people want to understand how this different future will impact ourselves, our families, our communities, our work, and our world. On this episode of Christopher Lochhead: Follow your Different, we talk to Bill Nussey to clear the air about renewable energy.
Bill Nussey is a best-selling author, and his book, Freeing Energy is a fact-based, clear-eyed look at how innovators are using what he calls a local approach to solar to develop whole new categories.
What you're about to discover is how learnings from the information technology and entrepreneurship world are now driving breakthroughs, in energy and in specific solar energy. We go right at some of the myths about solar energy, and the trillions in New Category potential that Bill sees for entrepreneurs and investors in solar energy.
Bill Nussey on Legacy Power Technology
Bill starts of the conversation by describing how outdated the current grid system that we are using to power homes and businesses around the country.
He describes past inventors like Graham Bell and Wright Brothers, and how proud they would be if they were to see how far their inventions have evolved over time. Unfortunately, the same could not be said about the technology running our power grids.
"If I were to go back to Thomas Edison, Nikola Tesla, George Westinghouse, any of the fathers of the original grid 100 years ago and bring them forward. They would look around and say, "WTF, this is the exact same system."

Every other part of the industry & technology has been completely changed, yet this is the same. – Bill Nussey
Why Nothing has Changed
All of this could be traced back to the business model being outdated, yet no one is taking a huge leap in changing. That's because they are afraid of losing the monopoly they have over distribution, should their new venture fail. Every one of them is risk averse and more than happy to just keep the status quo.
Though it might look broken at times, it's not to say that the grid can't handle the capacity. It's just that overall consumption is steadily growing, especially during peak hours when everyone is at home, using their devices and charging up their EVs.
That said, this also fuels the rhetoric of how monopolies work, which is "if it is not noticeably broke, then we don't have to fix it."
Myths about Renewable Energy
Bill then talks about the general misconceptions and myths surrounding renewable energy, particularly those who insist that it is worse than what we currently have now.
One major misconception that still prevails is that creating the materials to harvest renewable energy is simply too expensive and generates a lot of waste that it supposedly should prevent. The main target of this argument was solar panels, which back then was costly to make, and usually have a long Return of Investment (ROI) for potential adopters.
While it may have been a reasonable argument in the past, nowadays technology and further development has made it so that manufacturing these materials don't require as much energy and resources as it did before. If you are willing to spend a little extra, you can even have the manufacturer create 0% net carbon panels for you.
New technology will continue to make more efficient, and more affordable things in the future. It's all a matter of if and when you are willing to adapt to the new circumstances.
To hear more from Bill Nussey and how the Renewable Energy category can thrive in the near future, download and listen to this episode.
Bio
Bill Nussey spent most of his career as a tech CEO.
His first company, which he co-founded in high school, provided graphics software for early, text-based personal computers.
Bill's second company, Da Vinci Systems, was started out of his college dorm room and grew to serve millions of users across 45 countries. Later, he spent several years as a venture capitalist with Greylock.
In 1998, he left the firm to become CEO of a portfolio company, iXL, which went public and grew to $500 million in revenue.
After iXL, he joined Silverpop as CEO. The company grew to nearly $100 million in recurring revenue and became a global leader in cloud-based marketing. In 2014, IBM acquired the company and made it the foundation of the IBM Marketing Cloud.
Shortly after the acquisition, Bill was promoted to IBM's VP Corporate Strategy, helping the CEO and SVPs set IBM's strategic roadmap. Bill's companies have created thousands of jobs and billions of dollars in value.
Bill's journey into clean energy began with a TED Talk, which grew into 100+ articles and, most recently, the #1 ranked renewable energy podcast called The Freeing Energy Podcast.
All of this supported and ultimately led to his upcoming book called Freeing Energy.
Supported by 320 interviews across the world, the book's mission is to help readers understand a powerful new approach to accelerating the shift to clean energy. The core ideas focus on decentralized (or local) energy, novel business models, and the inspiring people driving these changes.
In 2018, Bill co-founded Solar Inventions whose mission is to commercialize a set of scientific breakthroughs for improving silicon photovoltaics.
Bill received a degree in electrical engineering from North Carolina State University and an MBA from Harvard Business School.
He holds several patents, has published three books and sits on several commercial and non-profit boards. Bill and his family are involved in a handful of projects providing off-grid, resilient electricity in places like East Africa and Puerto Rico.
Connect with Bill Nussey
FreeingEnergy.com | LinkedIn | Twitter
More about the book: Green Energy Times book review
We hope you enjoyed this episode of Follow Your Different™! Christopher loves hearing from his listeners. Feel free to email him, connect on Facebook, Twitter, Instagram and subscribe on iTunes!