167 The State of The United States w/ Asha Rangappa, Ex-FBI Agent, Yale Lecturer & CNN Analyst
Friday 1st December 2023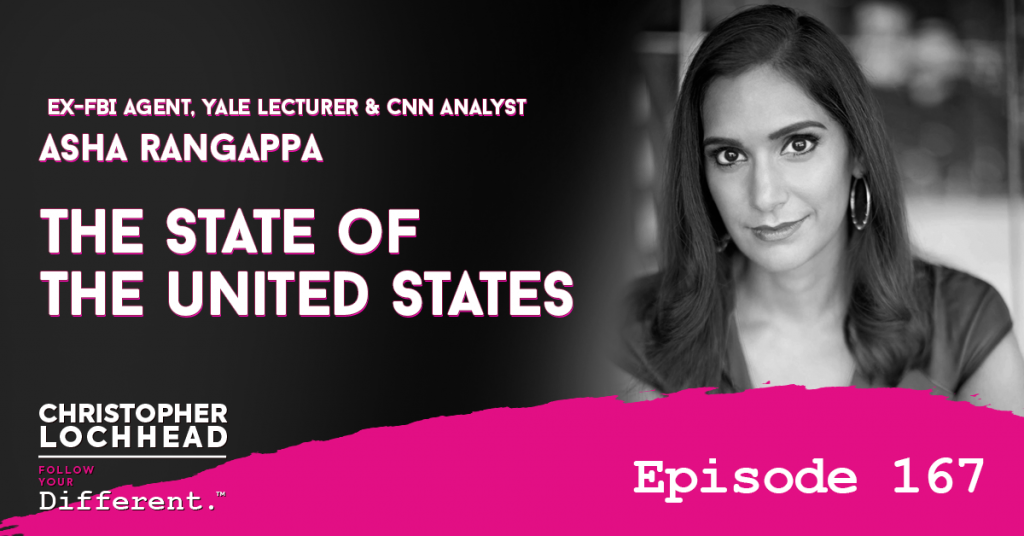 Podcast: Play in new window | Download (Duration: 50:41 — 34.8MB) | Embed
Subscribe: Apple Podcasts | Google Podcasts | Spotify | Pandora | RSS | More
Imagine being able to sit down and have a meaningful conversation about the state of the United States. We speak with a woman who is a Yale-educated lawyer, a graduate of the FBI famed Academy in Quantico Virginia, and a former FBI counterintelligence investigator. This woman is a senior lecturer at Yale and a legal and national security analyst for CNN. That woman is none other than Asha Rangappa.
We have a powerful conversation about the state of affairs in the United States and the decline of social capital. We talk about the destructive power of disinformation and disengagement, and more. This is a big insight into what's going on in our world today.
Shakespeare and Current Events
Asha narrated how she became a Shakespeare aficionado. She even found herself playing roles in several Shakespeare theatre adaptations. She shares how she finds Shakespeare's stories as universal, which also explains why these get a lot of modern adaptation.
"You can actually look at characters and understand motivations of people today through his words. So I'm a big fan. I don't know if that answers the question of why Shakespeare but I find him especially relevant to current events." – Asha Rangappa
30% of Americans Don't Trust Each Other
Asha recounted to Christopher how the United States is at a moment of the lowest level of general social trust since World War Two. Social capital is referred to as "the value that we get from our relationships with other people." She further explained that strong social capital is essential for a healthy democracy.
A high social capital means there is a generalized social trust. In short, people care about the well being of their fellow man.
"Most Americans don't trust each other. This is actually a question on the General Social Survey they've asked, but asking it since 1972, and we're at the lowest response, which is about 30% of people say that most Americans can be trusted." – Asha Rangappa
Worst Possible Choices Being Made
Asha believes we are currently in a crisis point. She agrees with Christopher that circumstances are forcing people to decide on the future that they want to live in.
"On the roster of choices have been made, whether it's with the pandemic or the economy or in response to the protest, and I'm talking about, the Trump administration. So, I think that it has brought to the fore what I was talking about before that, we are at a precarious moment. I have felt that this has been a precarious moment, even before this. I think the urgency of it might be brought home to a greater degree, because of this kind of critical state that we're in at this moment." – Asha Rangappa
To know more about Asha and her thoughts on the destructive power of disinformation and disengagement and the general state of the United States, download and listen to this episode.
Bio:
Asha Rangappa is a Senior Lecturer at Yale University's Jackson Institute for Global Affairs and a former Associate Dean at Yale Law School.
Prior to her current position, Asha served as a Special Agent in the New York Division of the FBI, specializing in counterintelligence investigations.
Her work involved assessing threats to national security, conducting classified investigations on suspected foreign agents, and performing undercover work.
While in the FBI, Asha gained experience in electronic surveillance, interview and interrogation techniques, firearms, and the use of deadly force. She has taught National Security Law and related courses at Yale University, Wesleyan University, and the University of New Haven.
Asha graduated cum laude from the Woodrow Wilson School of International and Public Affairs at Princeton University and was awarded a Fulbright scholarship to study constitutional reform in Bogotá, Colombia.
She received her law degree from Yale Law School and served as a law clerk to the Honorable Juan R. Torruella on the U.S. Court of Appeals for the First Circuit in San Juan, Puerto Rico. She is admitted to the State Bar of New York (2003) and Connecticut (2003).
Asha has published op-eds in The New York Times, The Wall Street Journal and The Washington Post among others and has appeared on NPR, BBC, and several major television networks.
She is an editor for Just Security and is currently a legal and national security analyst for CNN.
Asha lives in Hamden, Connecticut with her two children.
Links:
We hope you enjoyed this episode of Follow Your Different™! Christopher loves hearing from his listeners. Feel free to email him, connect on Facebook, Twitter, Instagram, and subscribe on iTunes!