253 America's Biggest Problem: The Lack of Authentic Dialogue
Monday 25th September 2023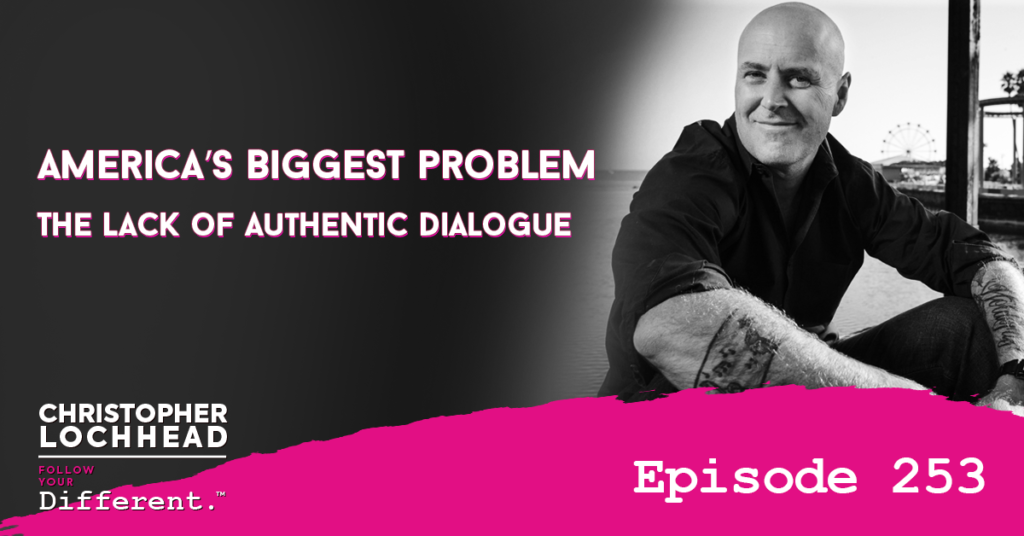 Podcast: Play in new window | Download (Duration: 6:42 — 4.6MB) | Embed
Subscribe: Apple Podcasts | Google Podcasts | Spotify | Pandora | Stitcher | RSS | More
In this special solo episode of Christopher Lochhead – Follow Your Different, I just want to share with you an element of conversation around the most recent Kyle Rittenhouse case. What I wanted to talk about is America's biggest problem when it comes to situations like this. That is, the lack of any authentic dialogue about the matter.
Too Much Yelling, Not Enough Listening
Regardless on where you come out of the issue, there are some things that wasn't properly address or we didn't hear from at all. What I hoped we'd hear more was thoughtful, nuanced dialogue and conversation. Instead, what we got is what we've been getting a lot of in the United States of late, which is yelling and hardened positions. You're only pro or anti-something. As part of that, whatever one side does, if you're on that side, everything they do is right, and everything the other side does is wrong, and vice versa.
I think that's really sad. Because thinking about thinking is the most important kind of thinking. And it's only through dialogue, where human beings can achieve greater levels of understanding. There was no dialogue sparked by this horrible circumstance, horrible situation around what do we as Americans want to do about protests and riots? There wasn't a discussion about that. Nor was there a discussion about self-defense, what do we mean by self-defense? Who decides where there's a line where we can no longer defend ourselves or not?
"What I do know is we're not having conversation. We're not having dialogue. There's a lot of yelling, and not a lot of listening." – Christopher Lochhead
Bring Back the Willingness to Listen
If you're a long-time listener of this podcast, you know that our mission has always been to celebrate real, authentic dialogue. In our case, dialogue around what it takes to design legendary business and legendary life. In hopes that we can bring back curiosity, we can bring back a willingness to listen, a willingness to co create our lives and ultimately, our culture and country together.
I got to tell you: sometimes, particularly of late, it feels like we're losing that war. We might even have lost it completely, and we might never get it back. But I do know that a conversation about authentic dialogue, and why we don't have it, and how we can have more is an important thing to do, even if very few people want to participate in that.
Bio
Christopher Lochhead is a #1 Apple podcaster and #1 Amazon bestselling co-author of books: Niche Down and Play Bigger.
He has been an advisor to over 50 venture-backed startups; a former three-time Silicon Valley public company CMO and an entrepreneur.
Furthermore, he has been called "one of the best minds in marketing" by The Marketing Journal, a "Human Exclamation Point" by Fast Company, a "quasar" by NBA legend Bill Walton and "off-putting to some" by The Economist.
In addition, he served as a chief marketing officer of software juggernaut Mercury Interactive. Hewlett-Packard acquired the company in 2006, for $4.5 billion.
He also co-founded the marketing consulting firm LOCHHEAD; the founding CMO of Internet consulting firm Scient, and served as head of marketing at the CRM software firm Vantive.
We hope you enjoyed this episode of Follow Your Different™! Christopher loves hearing from his listeners. Feel free to email him, connect on Facebook, Twitter, Instagram, and subscribe on iTunes!