200 Ministry of Common Sense w/ Martin Lindstrom
Sunday 1st October 2023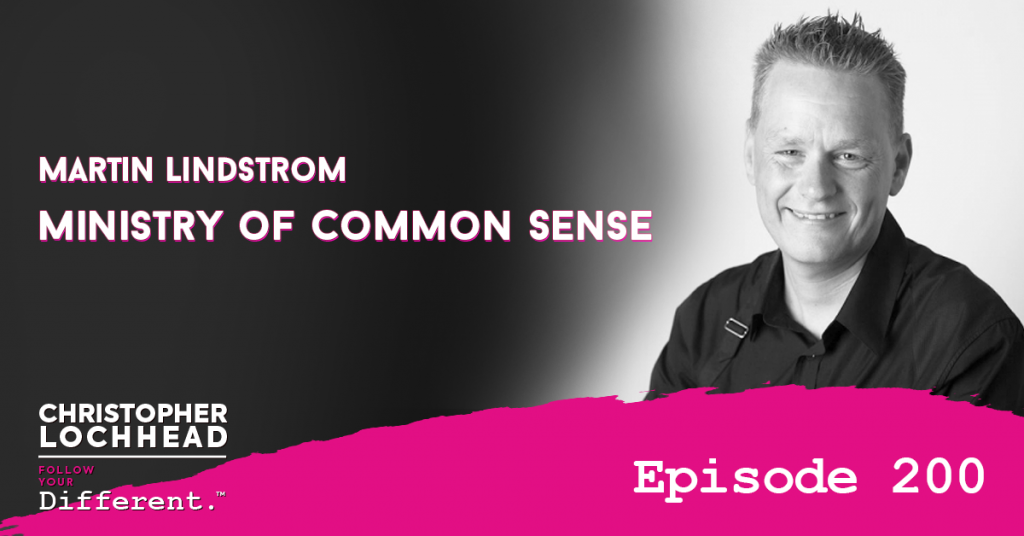 Podcast: Play in new window | Download (Duration: 1:20:34 — 55.3MB) | Embed
Subscribe: Apple Podcasts | Google Podcasts | Spotify | Pandora | Stitcher | RSS | More
Our guest today is Martin Lindstrom, best-selling author and branding and culture guru. Time Magazine calls him one of the 100 World's Most Influential People. He's got an important and timely, brand new book out called The Ministry of Common Sense: How To Eliminate Bureaucratic Red Tape, Bad Excuses And Corporate Bullshit.
We have a captivating conversation and Martin sheds light on some very eye opening ideas, like why empathy is dying and what we can do about it, why common sense has eroded and what we can do about that too. There's going to be fascinating things like how Botox is hurting the relationships between mothers and babies, why Netflix has a bizarre hugging policy, the impact of women driving in Saudi Arabia and a lot more.
Listen closely for Martin's theory on why some people get a lot more opportunities in life than others. It's quite fascinating.
The Impact of Women Driving In Saudi Arabia
Martin shares his travels in Saudi Arabia and how the country is transforming in a historic moment. He discusses how he helped bring driving schools to Saudi Arabia. This elevation of women's freedom brought him a different kind of purpose.
"For you and I, it sounds like an ordinary thing, but in Saudi Arabia it has never existed before. My driver was a woman. It was the second time she's been out driving. She was almost shaking because she was so excited about being liberated. So it's just amazing and such a warm hearted experience to see how these suppressed women are suddenly getting freedom." – Martin Lindstrom
Empathy is Dying
The thing that everyone is missing in the world is empathy. Martin discusses factors such as the use of phones, the absence of observation, and the "easiness" of social apps has contributed to the lack of empathy.
"There was a study done recently showing that the degree of empathy among more than 10,000 students in the US have dropped around 50% over the last decade. The reason why it's disappearing is not just because of the smart phones, where we don't look at each other during meals, but also because we no longer observe." – Martin Lindstrom
Common Sense Has Eroded
Martin points out that along with empathy, the world seems to have lost its common sense. He explains that when he refers to common sense eroding, he meant that no one questions things at all. This is because people have become so attached to becoming politically correct in every aspect that they no longer dare see things anymore as they are.
"One of the things that are disappearing out of our society, along with empathy, is the lack of common sense. There is no common sense in our society at all. Common sense is first of all, like muscle memory. You have to train it and in turn it becomes stronger. If you don't use it, it becomes weaker and guess what? It's incredibly weak at the moment because remember by empathy, I say you put yourself in the shoes of another person. That's really common sense because sometimes you actually have to look at things from a different point of view, exactly as if you've experienced it with your own eyes. – Martin Lindstrom
To know more about Martin Lindstrom and hear more about his fantastic book and theories on life, download and listen to this episode.
Bio:
Martin Lindstrom is the founder and chairman of Lindstrom Company, the world's leading brand & culture transformation group, operating across five continents and more than 30 countries.
TIME Magazine has named Lindstrom one of the "World's 100 Most Influential People". And for three years running, Thinkers50, the world's premier ranking resource of business icons, has selected Lindstrom to be among the world's top 50 business thinkers.
Lindstrom is a high profile speaker and author of 7 New York Times best-selling books, translated into 60 languages.
His book Brand Sense was critically acclaimed by The Wall Street Journal as "one of the five best marketing books ever published", Small Data was praised as "revolutionary" and TIME Magazine wrote this about Buyology: "a breakthrough in branding".
Links:
Website: Martin Linkdstrom
Book: The Ministry of Common Sense: How to Eliminate Bureaucratic Red Tape, Bad Excuses, and Corporate BS
We hope you enjoyed this episode of Follow Your Different™! Christopher loves hearing from his listeners. Feel free to email him, connect on Facebook, Twitter, Instagram, and subscribe on iTunes!