196 The Last Wine Frontier: Bhutan W/Michael Juergens
Friday 1st December 2023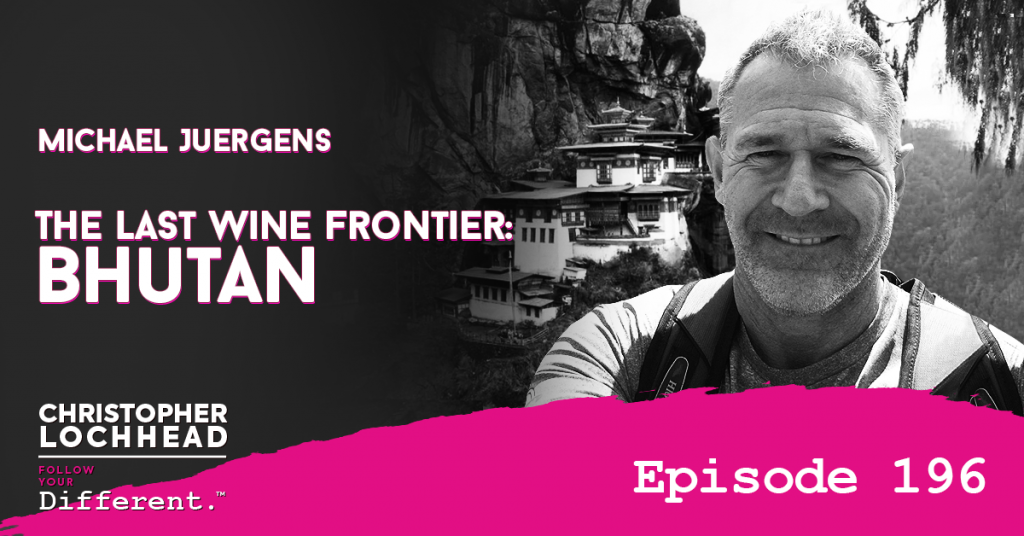 Podcast: Play in new window | Download (Duration: 1:08:34 — 47.1MB) | Embed
Subscribe: Apple Podcasts | Google Podcasts | Spotify | Pandora | RSS | More
Our guest today Michael Juergens, is a senior partner at Deloitte. He's also a super wine geek of the highest order and on a trip to the Bhutan in 2016 , he discovered there was no vineyards there at all. What you're about to listen to is the real story of how Michael, by accident, connected with government leaders in this magic little country to become the founder of a new industry and is pioneering the last great wine frontier.
Bio:
Michael Juergens doesn't fit into a simple box.
As a senior partner in a large global consulting firm, he's a seasoned business executive who spends his time advising Fortune 500 organizations.
His passion for wine has led him to be a candidate to become the 45th American to qualify as a Master of Wine and he started the wine industry in the Kingdom of Bhutan in the Himalayas.
He also owns the award winning SoCal Rum company.
He's an internationally known speaker and author, and also is a professor at the University of CA, Irvine.
He plays the drums in a punk rock band, and spends his free time diving with great whites, building motorcycles and hot rods, and running adventure races in remote locations around the world.
Links:
The World's Newest Wine Frontier Is the Himalayan Kingdom of Bhutan
The wine industry said I'm crazy: US pioneer to create 'next Napa Valley' in Himalayan hills of Bhutan
First Vineyard Planted In Bhutan
Bhutan, Land of the Thunder Dragon
Bhutan: Committed to Conservation
We hope you enjoyed this episode of Follow Your Different™! Christopher loves hearing from his listeners. Feel free to email him, connect on Facebook, Twitter, Instagram, and subscribe on iTunes!