212: Mike Maples, Jr. Silicon Valley Venture Capital Legend
Thursday 20th June 2019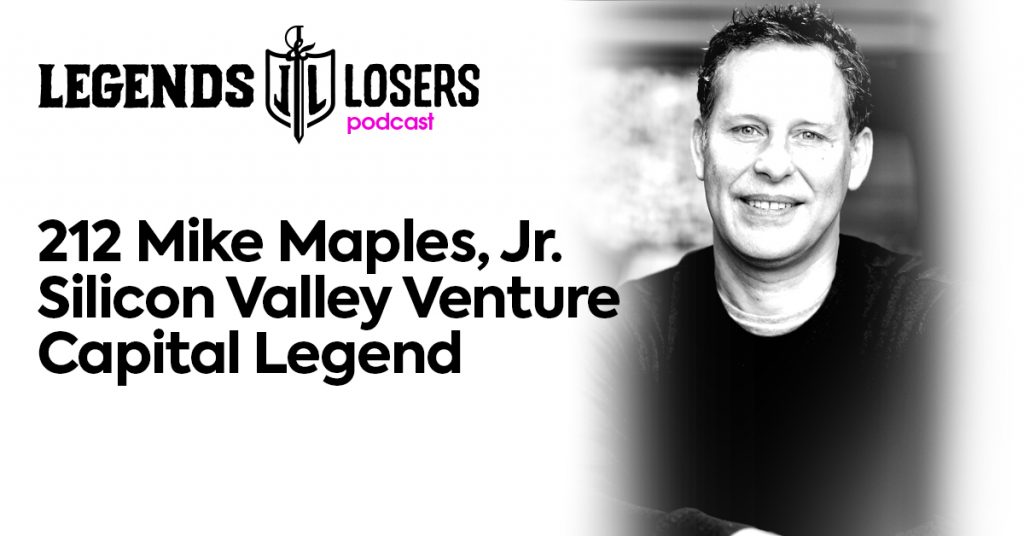 Podcast: Play in new window | Download (Duration: 1:42:26 — 93.8MB) | Embed
Subscribe: Apple Podcasts | Android | Google Podcasts | Stitcher | TuneIn | Spotify | RSS | More
How will people embrace the idea of the abundance of networks for the betterment of humanity? On today's episode of Legends and Losers, a venture capitalist in the Silicon Valley Mike Maples, Jr. joins us to talk networks and the stock market, and why we need to underscore the opportunity and hope technological innovations bring.
"We can either destroy each other out of our cynicism or we can lift each other up out of our shared purpose." – Mike Maples, Jr.
Three Things We Learned
Accepting the shift from companies to networks for business
Most people think that companies have always been there as we know them, but the truth is far from it. In the 1800s, there were no companies in America with less than a hundred employees. But since the arrival of the railroad and steam engine, the stock market came to be, hence the birth of networks.
The power of investing in networks
Corporations characterized by mass production and distribution would eventually yield to networks characterized by mass computation and connectivity. These networks would also impact transportation and consequently, energy, housing and manufacturing. Mike claims that investing in these networks is one sure way to improve one's standard of living.
Embracing networks and the future
People must start entertaining the thought that investing in networks will bring about the same kind of change 200 years ago. Prior to the stock market, people just tried to get by. Change accelerated in the 1800s after humanity embraced the power of technological innovations and their impact on overall standard of living.
When we frame the issues that surround technology and the stock market, we need to do so through the lens of opportunity and hope. We should shy away from using language that induces fear in those less informed. Instead, we should help people realize that the abundance of networks and wealth ultimately aids humanity.
Bio:
Mike Maples, Jr. is a Partner at Floodgate and is widely considered to be one of the top venture capitalists in Silicon Valley.
He has been on the Forbes Midas List since 2010 and was also named one of "8 Rising Stars" by FORTUNE Magazine.
Before becoming a full-time investor, Mike was involved as a founder and operating executive at back-to-back startup IPOs, including Tivoli Systems (IPO TIVS, acquired by IBM) and Motive (IPO MOTV, acquired by Alcatel-Lucent.)
Some of Mike's investments include Twitter, Twitch.tv, ngmoco, Weebly, Chegg, Bazaarvoice, Spiceworks, Okta, and Demandforce.
Mike is known for coining the term "Thunder Lizards," which is a metaphor derived from Godzilla that describes the tiny number of truly exceptional companies that are wildly disruptive capitalist mutations.
Mike likes to think of himself as a hunter of the "atomic eggs" that beget these companies.
Interests: Calligraphy, cinematography, and sporting clays.
Links:
We hope you enjoyed Mike Maples, Jr. on this episode of Legends and Losers! Christopher loves hearing from his listeners. Feel free to email him, connect on Facebook, Twitter, Instagram and subscribe on iTunes!