206: Joe Morgan Former CEO of Sony Chemical on Leading, Life, Business & More
Friday 21st February 2020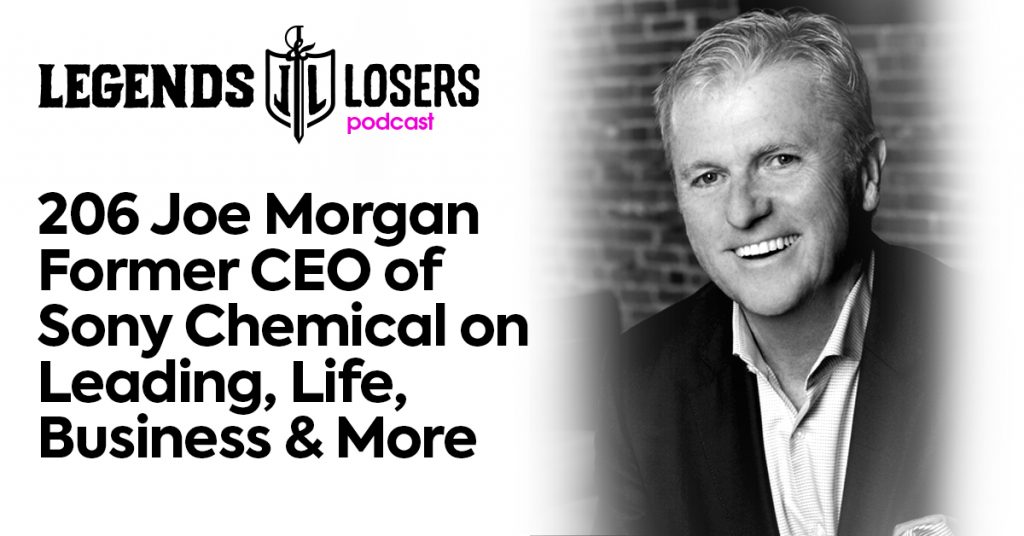 Podcast: Play in new window | Download (Duration: 1:09:05 — 63.3MB) | Embed
How do you mold a legendary career from curiosity and hard work? Today, Fortune 500 executive turned advisor and mentor Joe Morgan joins Christopher Lochhead in this free-ranging conversation. They talk about leadership, being a CEO, the power of curiosity, and so much more.
"In the microcosm of the world, because we've tried hard and we participated, I think we can leave a legend." – Joe Morgan
Three Things We Learned
Buying is an Awesome Job
Joe attributes some of his success to luck, some to being in the right place and some to being consistent. After shifting degree programs three-quarters out of college, he ended up taking any job he could due to the massive-scale layoffs in his field. Eventually, he became a buyer in a chemical company, which opened a lot of doors for the young upstart.
Doing the Work to Produce the Results
A mentor's advice on being part of what's most important to the executive team guided Joe. So even as a young man and up-and-comer, whatever the task was, he took it seriously and delivered. Soon enough, his efforts paid off and resulted in his being fast-tracked, a chance to build his career to greater heights.
Be Curious
Joe has always wondered why younger people tend leave their curiosities unsatisfied. He is someone who's always curious and has a knack of driving people into a corner with his queries. This curiosity didn't land him the "corporate training" that most young people would undergo, but he got to learn from the people at the grassroots of the company, and this helped him achieve many great things.
Some people like Joe live a life that isn't all that straightforward. However, they are able to make legends of themselves by putting in a lot of hard work, effort, and curiosity.
Bio:
Joe Morgan is the founder and CEO of siY, LLC. This is a middle-market consulting firm focused on helping leaders with transformative change, cultural development, and go-to-market strategy.   
Having spent his career serving as a CEO or Member of the Board for large public as well as start-up and growth companies. Joe brings a wealth of experience and demonstrated leadership in transformational business environments.  
He has been successful in driving value and achieving strategic growth objectives in many industry sectors. These include service, technology, and manufacturing.
Joe's experience includes having served as the CEO and Board member of Standard Register, a $1B+ public company, and recognized leader in the management of mission-critical communications for various sectors, including health care, financial services and manufacturing.  
He also served as Chairman and CEO of Uniguest, the leading provider and trusted integration partner of secure managed technology solutions with focus in hospitality and business services; Chairman and President of Sony Chemicals, a leader in specialized coatings for the automatic identification and electronics market; and President and Board Member of eflatbed.com, an on-line marketplace for transportation.
Additionally, Joe is on the Executive Advisory Board for NexPhase Capital, a private equity investment firm focused on middle-market companies.   He also serves on the Boards of Lion Group, OmniSYS, Heapy Engineering, JBM Envelope Company and Mary Queen of Angels Eldercare.
He serves on an advisory capacity at CURA Homecare, and is on the advisory board for WPI Life Sciences.
Joe is frequently called upon as a speaker and lecturer.
Links:
https://twitter.com/safeinspiredyou
https://www.linkedin.com/in/joe-morgan-0311b51/
We hope you enjoyed Joe Morgan on this episode of Legends and Losers! Christopher loves hearing from his listeners. Feel free to email him, connect on Facebook, Twitter, Instagram and subscribe on iTunes!