180: Niche Down Thank You
Sunday 19th May 2019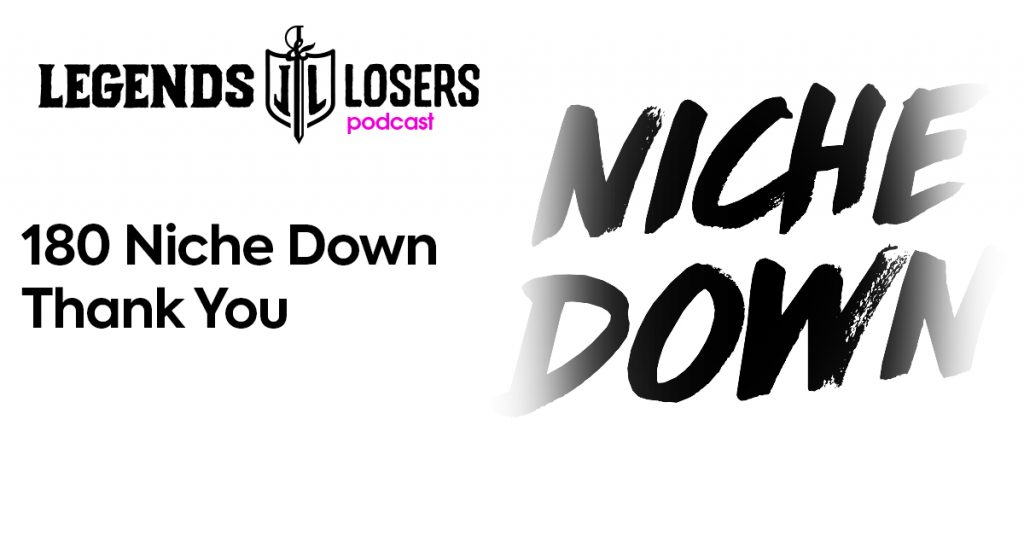 Podcast: Play in new window | Download (Duration: 8:34 — 7.9MB) | Embed
Christopher Lochhead shares good news and expresses his gratitude for the successful launch of Niche Down. He shares how dreams do come true and how moving forward in the face of no results can turn out great.

"No matter how much we think we make us successful, the truth is, it's other people who make us successful." – Christopher Lochhead

Christopher Lochhead – A Successful Launch
Niche Down was number on both of its categories on the day  it was launched. It is very clear that the main reason for this is that the listeners of the Legends and Losers podcast headed over to Amazon, bought, and downloaded the book on that fateful day. With this knowledge, Christopher wishes to thank everyone from the bottom of his heart for making this happen and for making this possible.
The Story Behind
There was once a 19-year-old entrepreneur with no education, no contacts, and no money. But he had a partner, a dream, and a book by Michael Gerber, The E-Myth. When Christopher was 19 years old, he read the book and the book changed his life.
In the book, the author lays out why small businesses fail and while franchises break through the market. It comes with guidelines on how to build a process-oriented business that can run and not be run to the ground without you. The book, along its legendary brethren, has made a huge difference in Christopher's life and helped it turn out the way it did.
Dreams Do Come True
If someone had come up to him and told the 19-year-old Christopher that he would be authoring Niche Down three decades later and said book would top and beat The E-Mythfor a time, he never would have believed it.
Overall, the experience is absolutely mind-blowing, one that he will never forget. And Christopher is eternally grateful.
"And all that has happened because of you, the Legends and Losers listener." – Christopher Lochhead
To hear more of what Chris has to share with you, download and listen to the episode now!
Find out more:
#1 Amazon Best Selling Book
Top 50 Apple Podcasts