178 Niche Down Launch – Christopher Lochhead, Heather Clancy and Jaime Jay
Friday 21st February 2020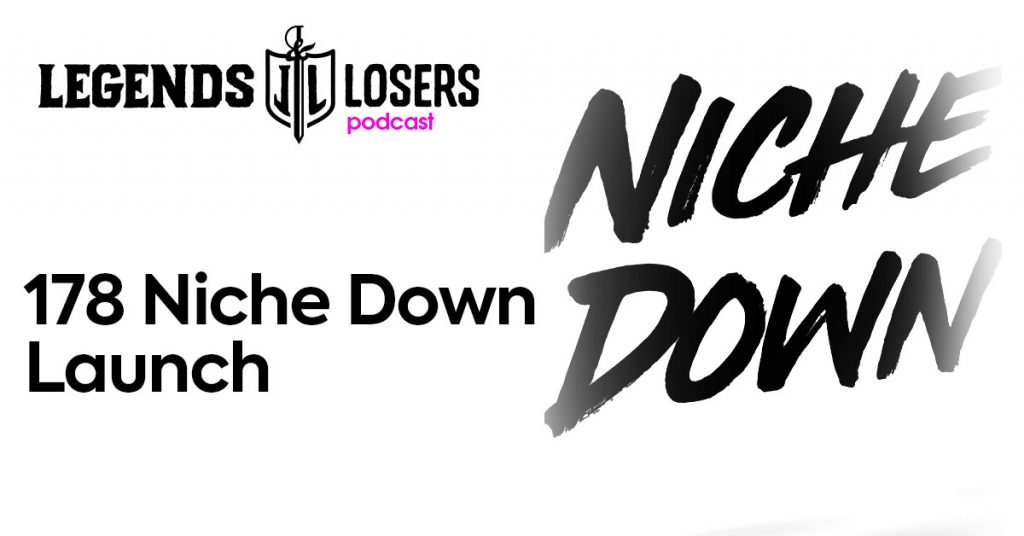 Podcast: Play in new window | Download (Duration: 1:00:21 — 55.3MB) | Embed
In today's special episode, two guests join Christopher Lochhead to talk about the most-awaited book that will help you become legendary by being different, Niche Down. Heather Clancy, co-author of the book and Jaime Jay, co-producer of Legends&Losers podcast sit down to discuss the stories and inspirations behind Niche Down, which launches today.
"Follow your soul. I've always believed that your heart will tell you what you need to do." – Heather Clancy
Three Things We Learned
Niche Down
A classic, family-run deli in Montreal where both Heather and Christopher came from is the embodiment of niching down. While smoked meat is a big deal in the municipality, their specific manner of preparing their sandwiches has helped them become their own niche. They have distinguished themselves among the others, and this is the very embodiment of the concept of finding a way to do things differently and rising above others in doing so.
Heather is Christopher's hero
Heather was one of the few journalists that taught Chris the industry back when he was only getting started with his career. He would read her column religiously every single week, absorbing her articles like a sponge. When they finally met, it was like meeting a hero, and the rest was history.
Niche Down
 was born out of public demand
Christopher's friend Jason Maynard at Net Suite first planted the idea of writing a book for category design. Coupled with the clamor following Play Bigger, Christopher pitched the book project to Heather. Much to his surprise, she said yes, and after a long time since then, Niche Down is finally hitting the shelves.
The world is saturated with people wanting to become bigger and better than others. The secret to becoming the category king is to be different. And to be different is to become legendary.
"Have the courage to niche down." – Jaime Jay
Heather Clancy (Twitter: @greentechlady)
Heather Clancy is an award-winning journalist specializing in transformative technology and innovation. She's CoAuthor of Niche Down: How to Become Legendary by Being Different.
Her articles have appeared in Entrepreneur, Fortune, The International Herald Tribune and The New York Times.
She was the launch editor for the Fortune Data Sheet, the magazine's newsletter dedicated to the business of technology.
As editorial director for GreenBiz.com, Heather chronicles the role of technology in enabling clean energy, sustainable business strategy and the low-carbon economy.
When she isn't writing, you can find Heather digging in her garden in Northern New Jersey, singing a cappella or scuba-diving with her husband.
Christopher Lochhead (Twitter: @lochhead)
The Marketing Journal calls Christopher Lochhead "one of the best minds in marketing." Fast Company calls him a "human exclamation point." NBA legend Bill Walton says he's "a quasar."
And The Economist calls him "off -putting to some."
Lochhead hosts the acclaimed "dialogue podcast" "Legends & Losers", Producer of the "6 Minutes of Legendary" podcast and is co-author with Heather Clancy of Niche Down: How to Become Legendary by Being Different and the Harper Collins "instant classic": Play Bigger: How Pirates, Dreamers and Innovators Create and Dominate Markets.
A former three-time, Silicon Valley public company CMO (Mercury Interactive, Scient and Vantive), he's been called a "godfather of category design."
Christopher is living happily ever after in Santa Cruz, California, with a wonderful woman, six hens and two wild cats. He can often be found surfing, drinking whiskey or having a very good time.
Jaime Jay (twitter: @heyjaimejay)
Jaime Jay is Managing Director of Bottleneck Virtual Assistants, a Life & Business Coach, host of the popular, Stop Riding The Pine Podcast, and he's the co-producer of "dialogue podcast" "Legends & Losers".