164 Dadcast with Mike Bloch, Jon Diller and Ben Rewis
Tuesday 18th June 2019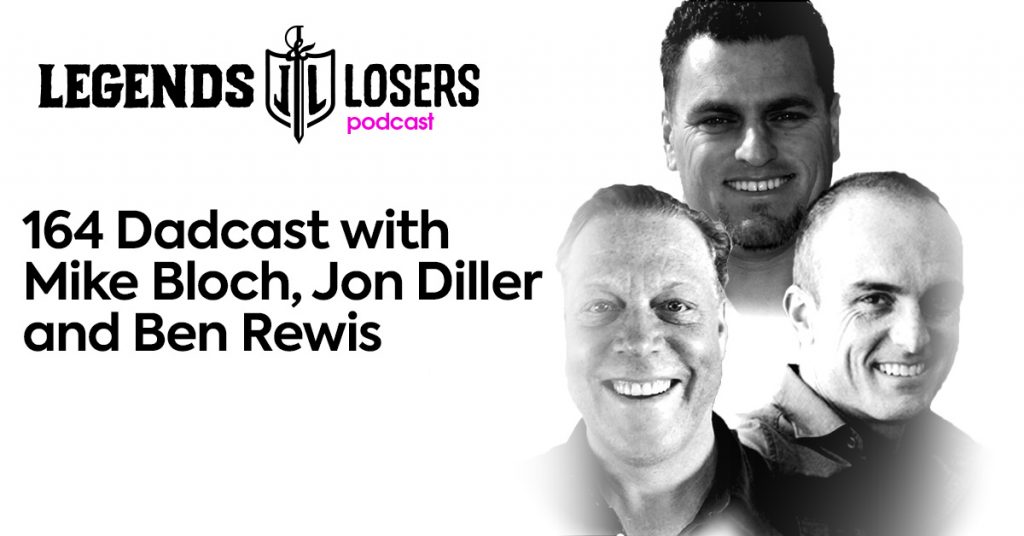 Podcast: Play in new window | Download (Duration: 1:44:13 — 95.5MB) | Embed
Apart from being successful professionals, Mike Bloch, Jon Diller and Ben Rewis are legendary fathers to young boys and loving partners to their legendary wives. In this episode, we get to hear about how they play these roles with a lot more enjoyment than expected.
"I've come to a conclusion that there's really no such thing as being balanced, but you strive for it," – Mike Bloch on being a dad in 2018
Three Things We Learned
To be a full-time career man and father means a hundred-percent commitment to both jobs. This means that setting aside time to spend with family when it's family day is just as important as focusing on work to pay the bills. Making an effort to show how devoted you are in their respective turns is a great way to be a role model to your children.
Having a legendary wife sets up a legendary life
Forget about the age-old adage that behind every successful man is a woman. Having a partner who's as goal-minded and committed as you are will guarantee a joyful adventure.
Parenting and partnering with the 3 C's
Communication, compromise, and coupling are important aspects of being a partner and a parent. Communication is probably the most important tool to ensure lasting and enduring relationships, and technology can be a significant part of it. This isn't always true, though, because there are nuances to being a partner and a parent that communication through a screen can't touch and can only be resolved by sharing popcorn in the couch.
Being a father in this fast-changing world can be difficult. Maintaining a healthy relationship with your partner is another struggle. But being with the right people and having the commitment to succeed at it make all the difference.
BIO:
Mike Bloch is a long time resident of Santa Cruz and is "living the dream" with his wife Alissa and two boys in the Pleasure Point Neighborhood. Mike has over 15 years' experience as a local Realtor specializing in Santa Cruz County Real Estate. And he's grateful for being able to live  a good life!
Jon Diller is first and foremost a husband to a beautiful wife of 12 years and dad to two incredibly fun 9 and 10 year old boys. He has balanced his family life in Santa Cruz with a 19 year career as an entrepreneur in Silicon Valley building several companies that continue to reshape how businesses find, hire and engage with skilled talent from around the world.
Ben Rewis is a FinTech executive with decades of experience. He and his wife are empty nesters inOakland. His son attends college on the east coast. When he isn't working on payments security and innovation, he's in his beloved VAN DZL in search of surf, or volunteering to Save The Waves.
Links:
https://www.linkedin.com/in/mikebloch/
https://www.linkedin.com/in/diller/