159 John Bielenberg Thinking Wrong
Sunday 19th May 2019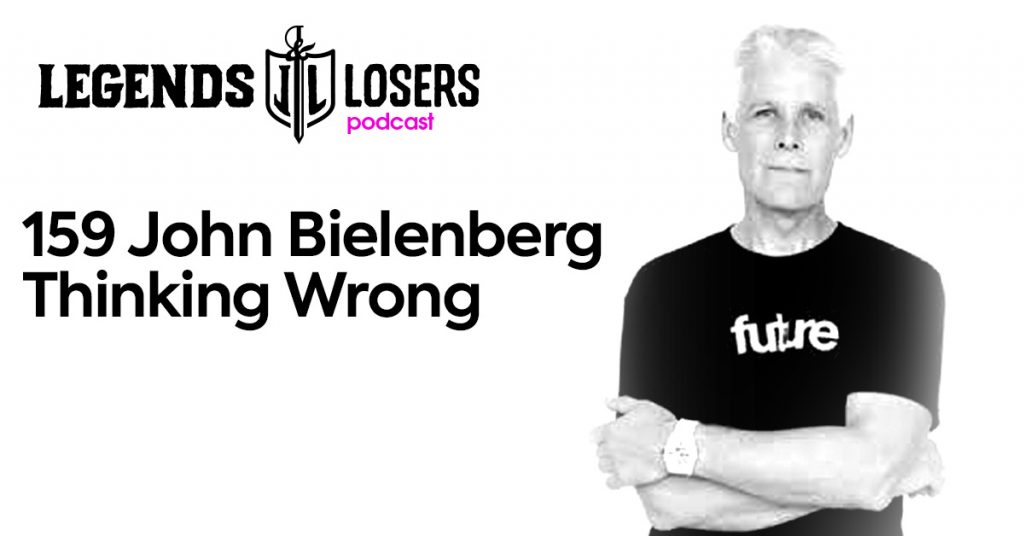 Podcast: Play in new window | Download (Duration: 1:36:40 — 88.5MB) | Embed
John Bielenberg is an advocate of not just thinking outside the box. He's vocal about thinking wrong in order to confront challenges in more effective and efficient ways. In today's episode, we hear about his take on innovative thinking, natural wrong thinkers, and our own challenge to push our brains beyond their comfort zones.
"The status quo or business as usual is like gravity. It will want to pull everything onto that linear pathway."  – John Bielenberg
Three Things We Learned
To think wrong doesn't necessarily mean to think better
It means to challenge what is widely accepted in order to create avenues for alternatives to the norm. People need to embrace the exponential value of what makes them different instead of the incremental value of what makes them better. Ultimately, a different perspective can save one's neck, much like how adaptive features can save a species through an extinction event.
Our brains are hardwired to conform, but we need to train them to think wrong
At an early age, we're all trained to do things a certain kind of way—from how to walk, how to tie our shoelaces. Throughout human history, however, people who defied the normalcy came out of it as pioneers in their own right.
"It's the thing that's different that gets people to pay attention." – John Bielenberg
There are natural wrong thinkers, then there's the rest of us
Albert Einstein, Pablo Picasso, Steve Jobs… they all went against the current at some point, and these geniuses are naturals at thinking wrong. While there's everyone else who will have to work to keep our brains from acting on the compulsion to follow pre-existing thinking pathways.
Innovative thinking can be so radical that people would likely flock to the opposite direction. It's being comfortable with the thought that deviating from what we're all conditioned to accept breaks boundaries. In the end, thinking wrong will advance our lives and our careers.
BIO
John Bielenberg is a designer, entrepreneur, and imaginative advocate for creating a better world through the application of creativity and ingenuity.
John co-founded Future Partners, a Silicon Valley Innovation firm, in 2012 to teach Think Wrong Practices to individuals, teams, and organizations around the world.
Through his client work, his partnerships with universities, and via invitations to participate in top conferences and events around the world, John engages with thousands of people a year.
In 2001, John co-founded C2 Group, a brand strategy firm, to help leaders from technology start-ups, Fortune 500 companies, and the world's top business management consulting firms develop, build and protect their brands.
In 2003, John created Project M, an immersive program designed to inspire and educate young designers, writers, photographers and filmmakers that their work can have significant positive impacts on communities.
John has won more than 250 design awards, including the AIGA (American Institute of Graphic Arts) Gold Medal for lifetime achievement.
The San Francisco Museum of Modern Art has acquired six of his design projects and staged a solo exhibition of his work in 2000. In 2009, John was awarded the Washington University Skandalaris Award for Design Entrepreneurship and an honorary doctorate degree from Maryland Institute College of Art.
Most recently, John launched Secret Project, a new Center for Thinking Wrong at the California College of the Arts in San Francisco.
Links:
https://www.futurepartners.is
https://www.linkedin.com/in/john-bielenberg-7694a/
https://en.wikipedia.org/wiki/John_Bielenberg
https://www.aiga.org/medalist-john-bielenberg