157: Dr. Darold Treffert Genius, Savants, Autism & Human Potential
Thursday 20th June 2019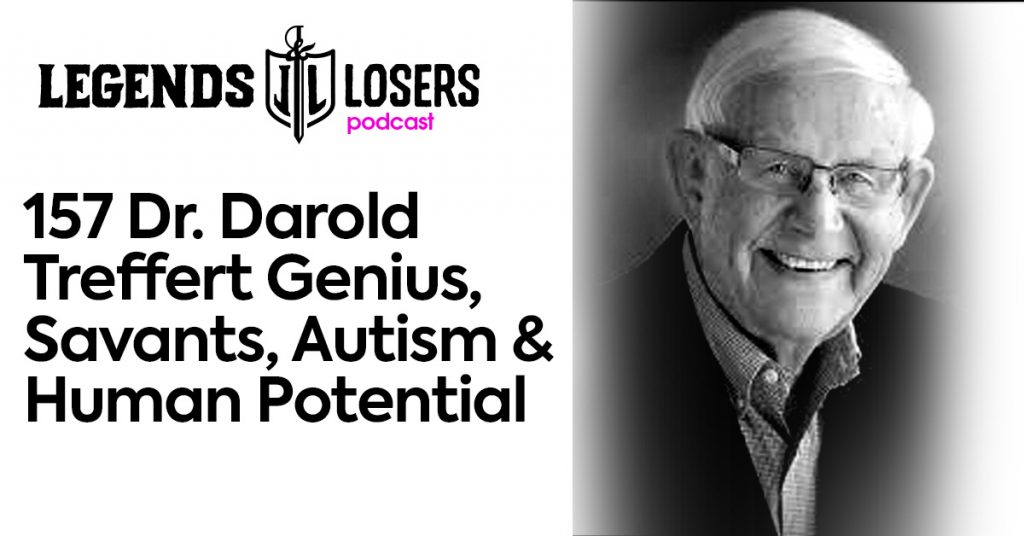 Podcast: Play in new window | Download (Duration: 2:02:40 — 112.3MB) | Embed
The human brain is a treasure trove for mysteries that continue to elude our understanding. When we hack the mind of the leading geniuses in the world, do we come close to answering our own questions? Today, psychologist extraordinaire Dr. Darold Treffert shares with us half a century's worth of brain pickings on geniuses, savants, autism, and the human potential.
"If people with this much inability can have this kind of ability, what does that mean about the ability within us all?" – Dr. Darold Treffert
Three Things We Learned
Savants display a juxtaposition of disability and superior ability
Dr. Treffert refers to savant syndrome as a rare and extraordinary condition where someone with an underlying disability has some island of genius that stands in stark contrast to overall handicap. This disconnect is so jarring that the exceptional ability immediately captures the attention of any observer. He fondly recalls encounters with an autistic child who could tell which street corner a Milwaukee bus was passing at any given time of the day and a kid who could tell him what happened in history on a given date at a time of the encyclopedia.
There's exceptional ability within us all
In order to understand our own potentials, the trick is to know how to tap our deeply-buried abilities without having some kind of brain injury or disease. These abilities lie dormant within every human mind. It's a challenge we all must take to seek it and make it bloom to become what it can be.
"Our job in trying to deal with a child with autism is to find that island of intactness, celebrate it, love it, congratulate it, nurture it, and let it come to its full human potential, and that's what I see happening in savants that I followed in many years." – Dr. Darold Treffert
When a person suffers from an injury or condition that induces brain trauma, they can develop abilities that they have never exhibited before. It can be a sudden inclination towards music or art, even mechanical abilities. These cases corroborate the claim that the human mind may be an unsolvable labyrinth.
Comprehending the workings of the complicated circuitry that is the human mind is as much a travail as learning the functions of the thousand neurons that make up the connections. It's fascinating how the human mind can be considered a separate entity from the anatomical part that is the brain. In this context, our minds, indeed, may be a dimension unconquerable by the human ability.
Bio
Dr. Darold Treffert is an alum of the University of Wisconsin Medical School in 1958, intern in Eugene, Oregon, and a resident in Psychiatry at University Hospitals in Madison, Wisconsin. Two years after joining the staff to develop the Child-Adolescent Unit of Winnebago Mental Health Institute, he was named Superintendent in 1964. After 15 years of service in the position, he divided his time between the private practice of Psychiatry and a position as Executive Director of the Fond du Lac County Health Care Center.
An internationally known researcher on Savant Syndrome, he has published several books and journals. Extraordinary People: Understanding Savant Syndrome, published in 1989, has been translated and published in eight other countries. His most recent book on the topic—Islands of Genius: The Bountiful Mind of the Autistic, Acquired and Sudden Savant—was published in 2010. Mellowing: Lessons from Listening has also been widely distributed, an earlier book on preventive mental health and stress management. Featured in various talk shows and documentaries, Dr. Treffert was a consultant to the movie Rain Man, in which Dustin Hoffman portrays an autistic savant. He maintains a Website on savant syndrome through the Wisconsin Medical Society.
In 2006, Dr. Treffert received the National Torrey Advocacy Commendation from the Treatment Advocacy Center in Arlington for his efforts on behalf of mental health law reform and treatment access for the severely mentally ill. He has been listed in The Best Doctors in America, by peer selection, beginning in 1979.
Leading various medical societies and associations, Dr. Treffert is currently on the faculty of the University of Wisconsin Medical School and UW-Milwaukee as a clinical professor. He resides in Fond du Lac, Wisconsin and is on the staff of St. Agnes Hospital in that community.