153: Bill Walton NBA Legend #2
Thursday 20th June 2019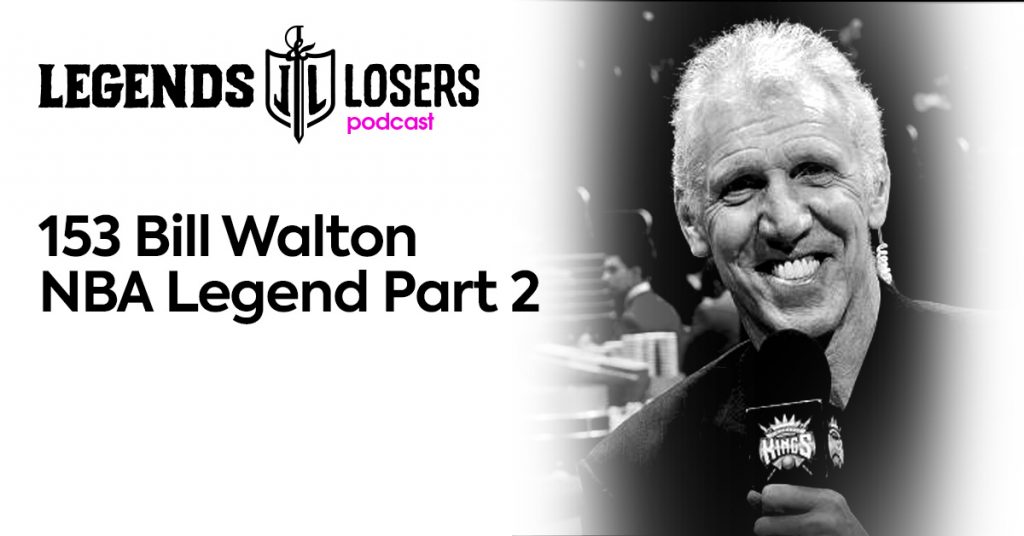 Podcast: Play in new window | Download (Duration: 50:00 — 45.8MB) | Embed
Three Things We Learned
Technology for an organized mind
When an athlete busts his knee, how can he stay in the court? How does he grow while having to lug around an injury for the rest of his career? Bill Walton joins us once again to share the story of his basketball upset-turned-success, the four laws of learning by John Wooden, and how we can all take advantage of technology to sort out our priorities.
"I changed. I had to change because I couldn't get out there and run anymore." – Bill Walton
In this age of smartphones and tablets, we get the ability to communicate, teach, lead, and plan our lives. Our phones are smaller than three-by-five cards a basketball coach or a broadcaster can write plans or cues on, but they're much more powerful. We can all utilize their full potential to help us get organized, much like how John Wooden did with his sick plays, only that now we're all high-tech.
Teach yourself how to learn
Bill shares the four laws of learning their coach John Wooden drilled into them: demonstration, imitation, correction, and repetition. In order to learn the right stuff, you need to be shown the ropes first. Once you've done like you're shown, you're corrected for anything you might have missed, and then you repeat what you're doing until mastery is reached.
You're human; you can learn to adapt
When Bill hurt his knee and could no longer run the length of the court, he learned to start fast breaks instead of finishing them off. It's a lot like how one feels when starting up a business or when pointed to a new direction and shown a new perspective. He changed, and he grew into becoming the guy who broke the opponents' defense and setting up a window of opportunity for his teammates to score.
Plans are bound to breed success, but learning to adapt to what life throws our way will ultimately determine what we become. If we don't grow out of our handicaps, we won't get out of the rut. Plan, learn, and grow by continuing to change.
Bill Walton Bio:
At UCLA, under the legendary coach John Wooden, Bill won two national championships. The Walton-led 1971–72 UCLA basketball team had a record of 30–0. In 1973 he was named the top amateur athlete in the United States.
When Bill turned pro and signed with the Portland Trail Blazers, he inked the largest contract for a new player in American pro sports history.
During his tenure in the NBA, Bill achieved 2 NBA Championships, was named NBA MVP and Finals MVP in 1978. He was inducted into the NBA Hall of Fame in 1993 and has been named one of the 50 greatest ever to play the game by the NBA in 1996.
On the road to success, Bill has overcome some horrible challenges including stuttering, a horrible bone condition in his feet and almost life ending spinal collapse.  He also lost two-thirds of his playing career to injury.
Today Bill is an entrepreneur, author, sports announcer and lover of music. He wrote a must-read and fun read book Back From the Dead. He's a member of the Grateful Dead Hall of Fame and an Emmy award-winning announcer on ESPN.