149: Roben Farzad Hotel Scarface Miami in the 1980s
Monday 20th May 2019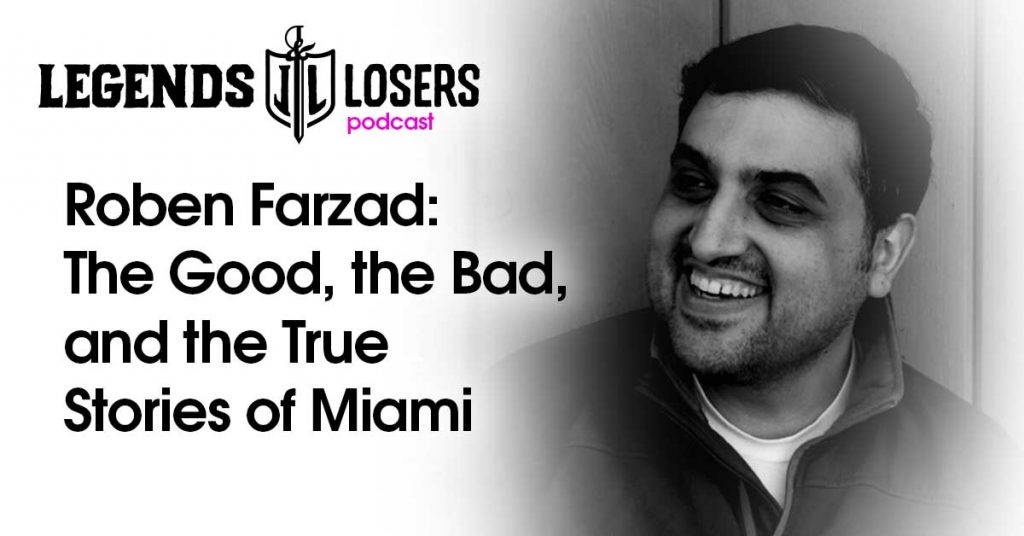 Podcast: Play in new window | Download (Duration: 1:08:11 — 156.1MB) | Embed
In 1980, Miami was basically an ungovernable failed state filled with violence, corruption, and chaos. It earned the title, "murder capital of the world". What forces led to the cocaine tragedy of the city? How did the The Mutiny Hotel become the center of this crazy time? How did the Miami of today come about? On this episode, author of the epic book, Hotel Scarface: Where Cocaine Cowboys Partied and Plotted to Control Miami, Roben Farzad talks about the very real world of Miami that inspired Scarface, the players there, and the factors that made it happen.
3 Things We Learned
The connection between Miami and Cuba
In 1980, the city of Miami took in hundreds of thousands of Cuban immigrants in a matter of months. Castro had made sure that the people leaving also included criminals who flooded Miami and worked during the cocaine explosion.
Many different cross currents had to happen for the cocaine tragedy to take place
Part of the reason Miami became a cocaine capital was the fact that the authorities looked the other way. It was a running joke in the 1980s that a cocaine smuggler who was caught could easily say they were working for the CIA selling cocaine for tactical reasons.
Podcasting can allow us to tell really great stories
Podcasting can be leveraged as a powerful free-range medium that can help us tell the greatest stories without the constraints of time or formats like movies. This means that anyone with a voice and a story has the opportunity to connect with an audience.
Scarface is one of the most iconic films of all time, but the happenings of 1980s Miami are far from fictional. The Mutiny Hotel was the epicenter of an era of drugs, insane wealth and violence, and a lot of it was caused by political and international forces that threw the city into a tailspin. It was so bad that people used to say Miami was a great place to visit because it was just next to America. The story of Roben's book paints a powerful picture, and it's an epic must-read that cannot be missed.
Guest Bio
Roben Farzad is the author of Hotel Scarface: Where Cocaine Cowboys Partied and Plotted to Control Miami. His family immigrated to the United States from Iran after he was born, and he grew up in Miami during those dark years. Go to hotelscarface.com to find out more.