146: Nancy Pfund – Betting on Elon Musk and Impact Investing
Thursday 20th June 2019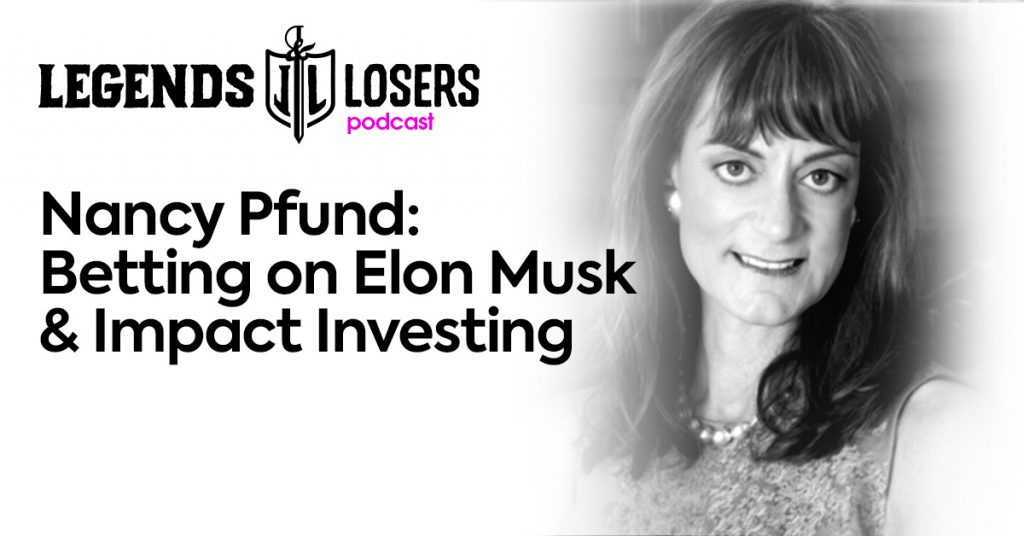 Podcast: Play in new window | Download (Duration: 1:17:26 — 70.9MB) | Embed
Who are impact venture capitalists and how does this create a new category in the venture capital industry? In this episode, Nancy Pfund, in the parlance of our times, is a legit pioneer of this new category of venture capitalist in Silicon Valley and beyond.
"We invest to drive social, economic and environmental progress in the regions and sectors in which we invest" – Nancy Pfund
3 Things We Learned
Elon Musk a superhero?
He is a very hardworking super intelligent, idealistic in his own way
he is the kind person that can inspire people to drop what they're doing and help save the world.
Impact Investing
(Nancy Invested in three of his (Elon Musk) companies:
Tesla, Solar City & Space X)
"someday … if your only investing for financial gain people will say to you "well that's not good enough you have to do more than that"
What does the world will look 25 years from now?
Transportation is electric, autonomous driving, better transportation, less pollutive plants. a cost-effective future.
on the financial side, people will expect that they are getting more out of their investment dollar than just a financial return, they will see what else they've been able to accomplish from that and this will be the norm, not the exception.
Nancy E. Pfund is Founder and Man­ag­ing Part­ner of DBL Part­ners, a ven­ture cap­i­tal firm whose goal is to com­bine top-​​tier finan­cial returns with mean­ing­ful social, envi­ron­men­tal and eco­nomic returns in the regions and sec­tors in which it invests. Nancy is also the Founder of DBL Investors. As a lead­ing player in the grow­ing field of impact invest­ing, DBLhas helped to reveal the power of ven­ture cap­i­tal to pro­mote social change and envi­ron­men­tal improve­ment, and Ms. Pfund writes and speaks fre­quently of impact investing.
Ms. Pfund is the author, along with Ben­jamin Healey of the widely cited report on the his­tory of U.S. energy sub­si­dies enti­tled, "What Would Jef­fer­son Do? The His­tor­i­cal Role of Fed­eral Sub­si­dies in Shap­ing America's Energy Future", co-​​authored with Michael Lazar, "Red, White & Green: The True Col­ors of America's Clean Tech Jobs", co-​​authored with Noah Walker, "Ask Saint Onofrio: Find­ing What Has Been Lost in A Tale of Two Energy Sources", co-​​authored with Anand Chhabra, "Renew­ables Are Dri­ving Up Elec­tric­ity Prices: Wait, What?", and co-​​authored with Kristofer Holz, "The 2017 Inau­gu­ra­tion: Empow­er­ing a Clean Energy Nation".
Ms. Pfund received her BA and MA in anthro­pol­ogy from Stan­ford Uni­ver­sity, and her MBAfrom the Yale School of Management.
Fol­low Nancy on Twit­ter @NancyPfundDBL.