108: Creating A New Category of Extreme Athlete w/Jon Devore, Professional Skydiver & Captain of the Red Bull Air Force
Tuesday 18th June 2019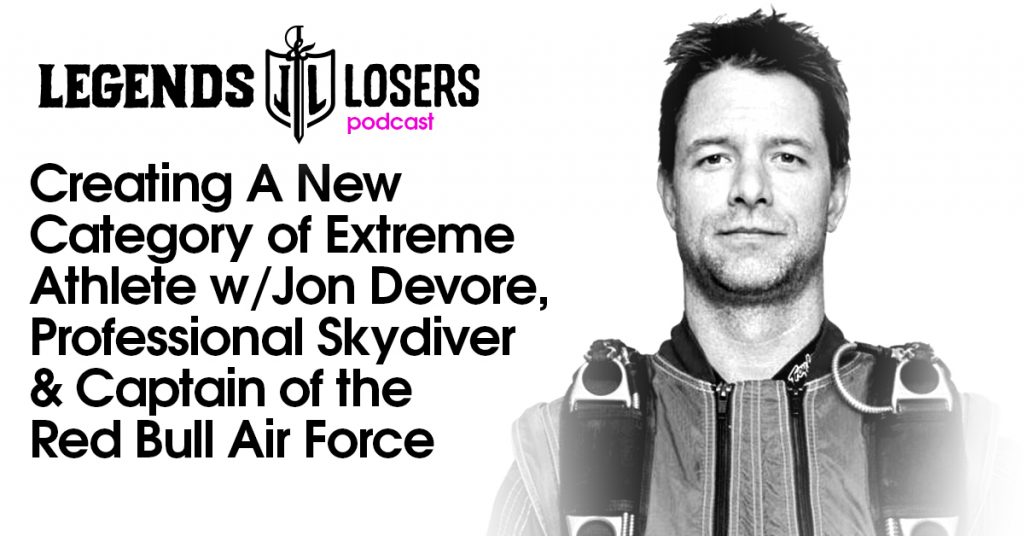 Podcast: Play in new window | Download (Duration: 1:32:23 — 211.5MB) | Embed
Everyone has looked out the window of a plane and wondered what it would feel like to fly. That's what makes extreme air sports so captivating. How did the categories of vertical free flying, wing suiting and speed riding emerge? How does it feel to do all those jaw dropping stunts? What is Red Bull's role in the advancement of extreme sports? On this episode, we are joined by Red Bull air force captain,legendary athlete, and category designer, Jon Devore who talks about the freedom of human flight.
The more people are educated that it is a sport and not a stunt, the more the sport is going to grow. -Jon Devore
3 Things We Learned
Base jumping gives you the visual sensation of flight
Point Break Was Instrumental in the Development of Extreme Sport
The virality of extreme sports comes from how it takes us out of the normal dimensions of everyday life. It's important to shift public perception so people stop seeing these athletes as adrenaline junkies with a death wish. The only way to grow the sport is to teach people that these men and women are practitioners of an artistic, beautiful, and disciplined sport. Extreme sport shows us the power of living completely in the moment– something we all deserve to experience.
Guest Bio
Jon is an extreme athlete and the captain of the Red Bull Air Force. His disciplines include Skydiving, Speedriding and Wingsuit Flying. Follow him on Twitter @Jon_Devore.