101: What It Takes to Be a Powerhouse CMO w/Jennifer Johnson, Janet Matsuda, & Deb Wolf
Sunday 19th May 2019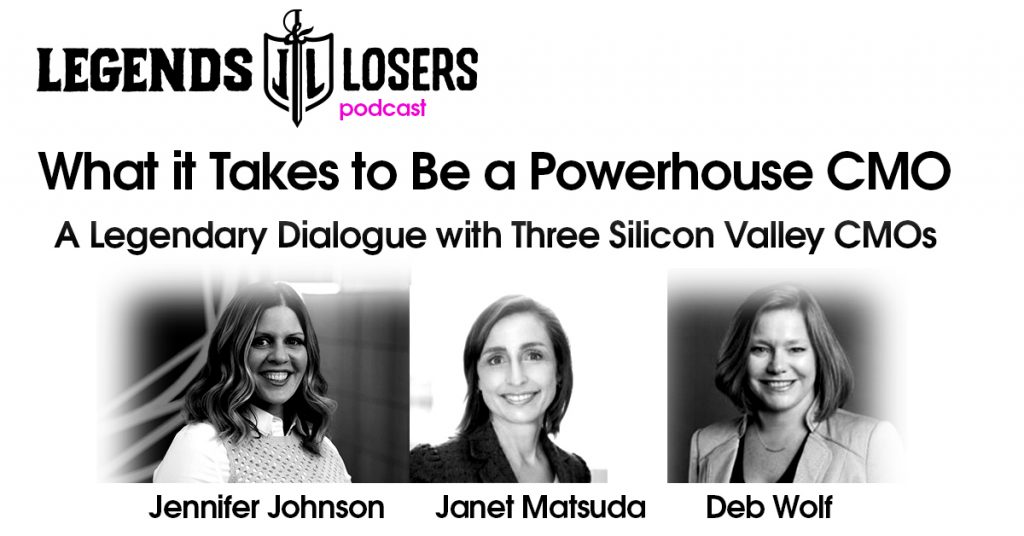 Podcast: Play in new window | Download (Duration: 2:48:07 — 384.8MB) | Embed
In marketing, being able to understand the product is valued now more than ever. How has this changed what is expected of a CMO and the work they do? What seat at the table does the CMO have in the company? How does the evolution of the company define what the CMO has to be able to bring to the table? On this episode, three legendary CMOs, Jennifer Johnson, Janet Matsuda and Deb Wolf take part in an insightful dialogue about their experiences helping brands create and dominate categories, and what it takes to be legendary at the job.
The most important criteria for any CMO to take a job is who is the CEO and do you want to work with them? –Jennifer Johnson
3 Things We Learned
We've ushered in an era where data and detail-oriented CMOs are as necessary as the creative "big idea" CMO
There's a new kind of CMO today, one that has more of a product strategy background, and they deal a lot more with analytics and data. A lot of companies still want the creative type but you can't ignore the data. This change also means existing CMOs have to be able to carry both skill sets. You can't ignore the data but you also have to be able to find the emotional hook that's going to get people.
The biggest problem in business today is too many solutions without a problem
Many marketers spend so much time focusing on the solution that they spend very little time and effort focusing on the problem. It then forces other people to figure out a solution. Without clarity around the issue, positioning yourself and designing a category is an uphill climb. If you don't get crisp on the problem you're solving, nothing else is going to matter.
Go where your work is appreciated
If you're in an organization that's not friendly to women, or doesn't gel with you, find a different job. Don't try to fix that organization by yourself, unless you're really in a position of power. Go somewhere you're more more appreciated. In the same way, if a company doesn't appreciate your skill set, go somewhere else. There are so many great places to work that will have such an appreciation for what you can do – go and work there.
The CMO has to build connections and bridges across the company, because it's all about interacting with each other to get the best out of the people and the company. For the CMO, every relationship is important, but the buck stops with the CEO. The CEO should determine whether you decide to join a company or not because that relationship will have the biggest impact on your role. Every executive should be interviewing the company they're going into, as much as the company is interviewing them. The CMO determines the strategy for going to market, but the most strategic thing they can do is design a category in such a way that the market comes to them. To achieve this, you have to start with the category and the messaging. Your positioning and category will help drive everything and define your priorities.
Guest Bio
Janet Matsuda is the SVP of Product Marketing at Palo Alto Networks.
Deb Wolf is CMO of Lookout, responsible for building awareness, communicating Lookout's value and driving customer demand across all lines of business.
Jennifer Johnson (JJ) is the first ever CMO for Tenable. JJ has experience in bringing innovation and creativity to company branding and stands behind the philosophy that category design is an essential skill for any CMO out there.