098: Social Entrepreneurship: Tom Bagamane on Solving Big Problems like Poverty & Homelessness
Monday 20th May 2019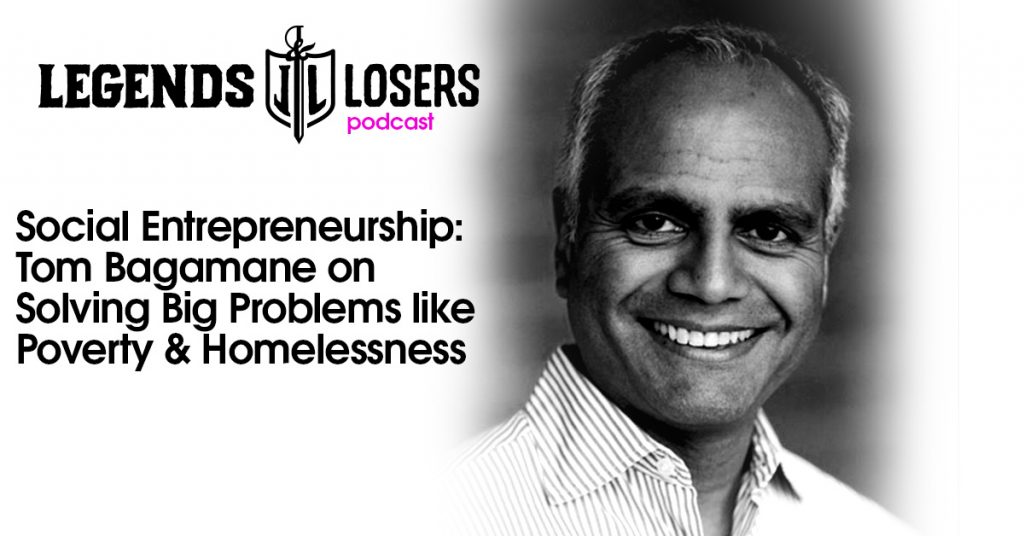 Podcast: Play in new window | Download (Duration: 1:49:53 — 100.6MB) | Embed
What really causes poverty? Can achievement co-exist with social good? What are the best practices for social entrepreneurship? We turned to Tom Bagamane, founder of The Giving Spirit, for his perspective. Tom has built one of the largest all-volunteer organizations in the country, while also launching successful brands and building a socially-conscious consulting business. Here are the top 3 things we learned from Tom on homelessness, business and social entrepreneurship.
We call ourselves the greatest civilization in history, but we can't even take care of our own people. – Tom Bagamane
Achievement & Social Good CAN Co-Exist
"I often tell my friends…I'm a capitalist by day, and a philanthropist by night." Tom applied entrepreneurial approach to philanthropy to attack a very tough problem on multiple fronts. By providing for both immediate physical needs of the homeless, while giving opportunities to get back on their feet and into the workforce, Tom has proven that you can do extremely well in business while doing good for your community.
Caring is Good Business
It's easy to neglect our existing customers in the pursuit of new ones. By focusing on nurturing and retaining existing customers over acquiring new ones, we can create win-win scenarios for our customers and generate enduring loyalty. Ultimately, this strategy is less costly and more sustainable than the hamster wheel of high churn and high customer acquisition costs.
To Truly Do Good, Seek First to Understand
Taking care of the homeless is not as simple as giving them a home. Tom points out, "As we've found out over 18 years, these people have lost their ability to understand what it's like to sleep on a bed….We train to the norms that we take for granted. So how do we solve this? We put a roof over their head, and then we teach other." There are some incredible, almost unbelievable, examples of homeless being given a home and a bed, and workers coming back a week later to find them sleeping on the floor next to the bed. We cannot simply give and then turn a blind eye to the results of our giving. We must meet people where they are, seek to understand them, and work with them to truly improve their circumstances.
As more entrepreneurs enter the nonprofit world, there are both opportunities and pitfalls. Social entrepreneurship ideas can streamline operations and boost donations, but lasting impact demands more from us. We must constantly ask, "Are we really helping those we seek to help?" It takes a commitment to feedback and monitoring results, then making critical adjustments, to create sustainable change and lasting impact.
Guest Bio
Tom Bagamane, social entrepreneur, brand developer, philanthropist and educator, founded the Giving Spirit in 1999. Moved to action by the plight of the homeless and lack of effective relief efforts, Tom's organization delivers acute and emergent survival systems to those in desperate need in Los Angeles. It has gone on to serve over 43,000 souls and become one of the largest all-volunteer organizations in the US. Tom is also the Managing Director of Profitable Good Consulting Group (PGCG), a strategic consulting firm focused on working with companies to impact and empower the communities they serve as an extension of their business strategy. To donate or find more information about The Giving Spirit, go to https://thegivingspirit.nationbuilder.com/donate
Download the latest episodes, subscribe and review Legends & Losers on iTunes. Then go out and #BeLegendary